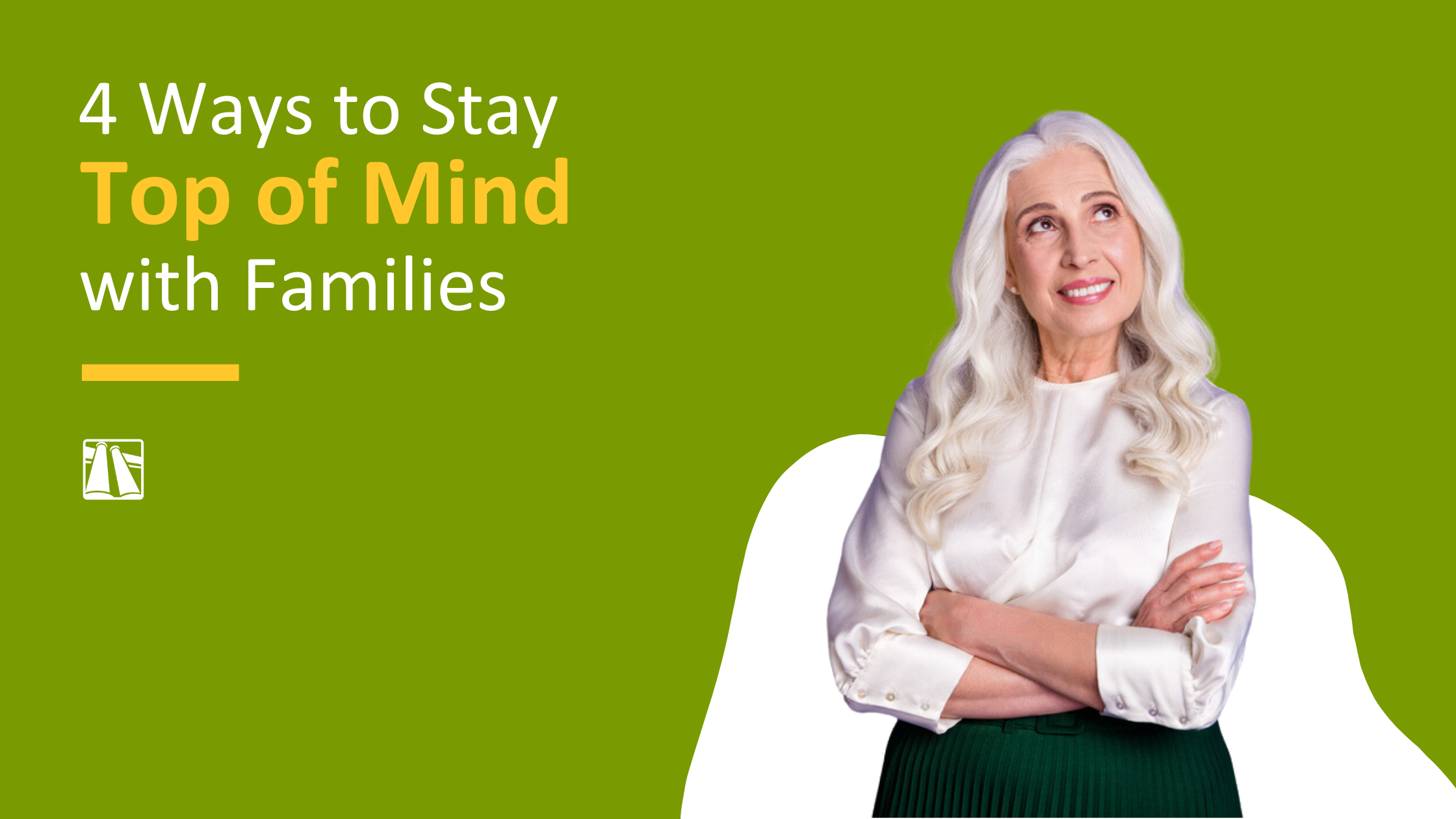 4 Ways to Stay Top of Mind with Families
Crunch!
'Oh no,' you think to yourself as you pause from gathering folders and papers off the floor.
You quickly realize that the avalanche of paperwork that crashed off your desk also swept away your cell phone.
You look down and remove your foot, which confirms that the sound of cracking plastic and glass can only mean one thing – you need a new phone.
Luckily, this is all hypothetical, and hopefully, you won't need a new phone for a while.
But if you did suddenly need a new cell phone, what's the first phone you think of? Do any models or brands immediately come to mind? Maybe you immediately think of the next iPhone release, or perhaps you're a Samsung Galaxy fan.
Either way, you likely have a company top of mind to help you with your needs.
The fact is families in your community will face something similar. They will inevitably need the service of a funeral home, whether for preneed or at-need reasons. And you likely want your funeral home to be the one they think of first.
To be top of mind with families, you need something called brand awareness.
What

is brand awareness?

Your brand awareness is the level of familiarity consumers have with your business (or brand) and how well they recognize you.

There are 4 levels to brand awareness: no awareness, recognition, recall, and top of mind.
No awareness: You're new in your market and have done little marketing, but customers don't know what you do or how you can help them.

Recognition: Consumers are starting to recognize your brand through your logo, slogan, offerings, etc.

Recall: Someone thinks of your business's services or offerings when they have a need.

Top of mind: Your business is the first one someone thinks of, consumers are loyal to your brand, and you likely have the majority market share.
Brand awareness goes hand in hand with the psychology principle of the mere-exposure effect/familiarity principle, which states that people develop a preference or liking for things simply because they're familiar with them. Your marketing, logo, and slogan all help to increase awareness and familiarity.
Take a look at these common examples:
Nike, Starbucks, and McDonald's are among the leaders in most recognized logos.

State Farm, Skittles, and All State have some of the catchiest slogans.

Netflix, Intel, and Nationwide can be widely identified by just their sound or jingle.

And don't forget about Aflac, Geico, and KFC, who have all increased their brand awareness with mascots.
These companies have crafted a successful brand image by building familiarity, recognition, and recall with consumers. You can apply similar strategies to your funeral home.
Why is brand awareness important for your funeral home?
Brand awareness keeps you fresh in families' minds
Remember the recognition and recall levels of brand awareness? If you're not staying in front of families, they might not know who you are or how you can help them. Even worse is they could start becoming familiar with a competitor over you.
Having a strong brand presence can help!
Brand awareness differentiates your funeral home from competitors
One of the main goals of brand awareness for your funeral home is to help you be top of mind with families and build customer loyalty. Through customer loyalty, your funeral home can increase its market share, which will help you beat out your competition by becoming the go-to funeral home in your area.
Brand awareness increases trust and credibility in your funeral home
Ultimately, your brand awareness equals your perceived relevance. The stronger your brand awareness is and the more you educate families about what you offer, the more likely families will see you as a credible source. You are the expert, after all!
Strong brand awareness can help your funeral home stand out in your community, gain market share, and build customer loyalty.
That way, when a family needs a funeral home to preplan or plan a funeral, they'll likely turn to you.
Here are a few ideas to improve your funeral home brand awareness over time.
1. Advertise online
Want families to start noticing your funeral home and recognizing all you have to offer? Reach them on websites they use every day.
Use these 3 online platforms to connect to your community.
Facebook
Facebook is the most-used social media platform in the U.S. with 243.5 million users. More than half of Facebook's audience are daily users, making it a great option to connect with preneed and at-need families.
Facebook is also great for sharing important information frequently and boosting content that will appear in front of thousands of people in your community.
Find out more about how Facebook is the right move for you.
YouTube
YouTube is the biggest video-sharing platform with nearly 250 million users. While Facebook may still be the most popular, YouTube isn't far behind, which is why you should promote your business on YouTube.
And with its targeting and retargeting options, you can advertise to anyone who has visited your website, ensuring that you stay in front of interested families as much as possible. Plus, you can promote video content or commercials to keep your funeral home's brand in front of families.
Google
It's not an exaggeration to say Google dominates the search engine market. Google holds more than a 92% market share, with no other brand claiming more than 3%.
If a family is researching funeral homes online, chances are that they are using Google to do so.
Spending your marketing dollars on Google Ads is a great decision. With Google, you can reach people who are interested in funeral services, see exactly where your investment is going, rank higher in search results than your competition, and more.
Plus, you only pay for the results you get and can set a budget so you don't go over.
Online advertising is crucial for brand awareness. If a family has never heard of you, how can they know what sets your funeral home apart from the rest? We can help you advertise on these websites and more. Learn more here.
2. Build social proof
Social proof is the extent to which people follow or copy the actions of others, especially when they are unsure or uncertain. It's the belief that seeing many people do something justifies that you should also do it.
Social proof is also another psychological phenomenon that can help your funeral home's brand awareness. The more you use social proof in your marketing, the more trustworthy and credible you appear to families.
Use these 2 ideas to build credibility with your funeral home.
Video testimonials
According to a study by Databox, 2 in 3 marketers saw more audience engagement from video than any other type of content. The study also revealed that more than half of those surveyed preferred viewing videos from their favorite brands and companies.
Your families likely feel the same way about you.
Use video content, like family testimonials, to drive engagement with your audience. Families can hear from those you've helped to learn about your commitment to excellent service.
And don't forget to post those videos on YouTube!
Google reviews
Online reviews are a great way to promote your funeral home to new families. And building up your reviews on Google will ensure that families will see what others say about you, including when they vouch for you or publicly recommend you (remember – social proof!).
Boost your funeral home marketing strategy by asking families to leave you Google reviews for prospective families to see. Positive Google reviews can help set you apart from your competition and improve a family's familiarity with you and your staff.
3. Improve your website
Have you considered that in 2023, your website is your new storefront?
By ensuring your website is inviting, educational, and easy to navigate, you'll make it easy for families to connect with you and learn about you.
Offer valuable resources on your website that families will be interested in and benefit from using. From easy-to-find preplanning information to grief resources, families will view your website as a great place to learn and may even bookmark your page to view it again!
And make sure you have an up-to-date staff page with friendly pictures and bios. Remember, familiarity helps with brand awareness.
4. Get active in your community
Speaking of familiar faces, spending time in the community can increase your brand awareness with families. Volunteer and work with active community members so families can physically see you and recognize your funeral home brand.
Here are 3 ways to get active in your community.
Host or participate in community events
Connecting with families in person at preplanning, veteran benefits, estate planning, and other events is a great way to start building relationships. Plus, you can host events at your funeral home and show off your facilities and friendly staff at the same time.
If you're not ready to host an event, participating works just as well to get your name out there. This can look like sponsoring a team or event, volunteering for a cause you believe in, or hosting a drive. See this list for other ideas.
Work with hospice organizations
Building brand awareness with families is important, but so is connecting with local hospice organizations.
Improve your relationship with hospice by educating them on what your funeral home offers and how you best serve families. That way, both you and the hospice group can work together to give an exceptional experience to families and become more recognized in your community.
For more ideas about connecting with hospice, read this article by Passare.
Recognized brands lead to familiar brands. And familiar brands lead to loved brands.
Building brand awareness in your community is important in promoting your preneed program and increasing your at-need call volume. Strong brand awareness means families will recognize you and call you when they have a need.
They'll also be more likely to turn to you with their preplanning questions, an unexpected death, or interest in healthy grieving.
Want to increase your funeral home brand awareness?
All you need is the right marketing strategy, so your funeral home is top of mind whenever families need you.
Request a demo of our service today!