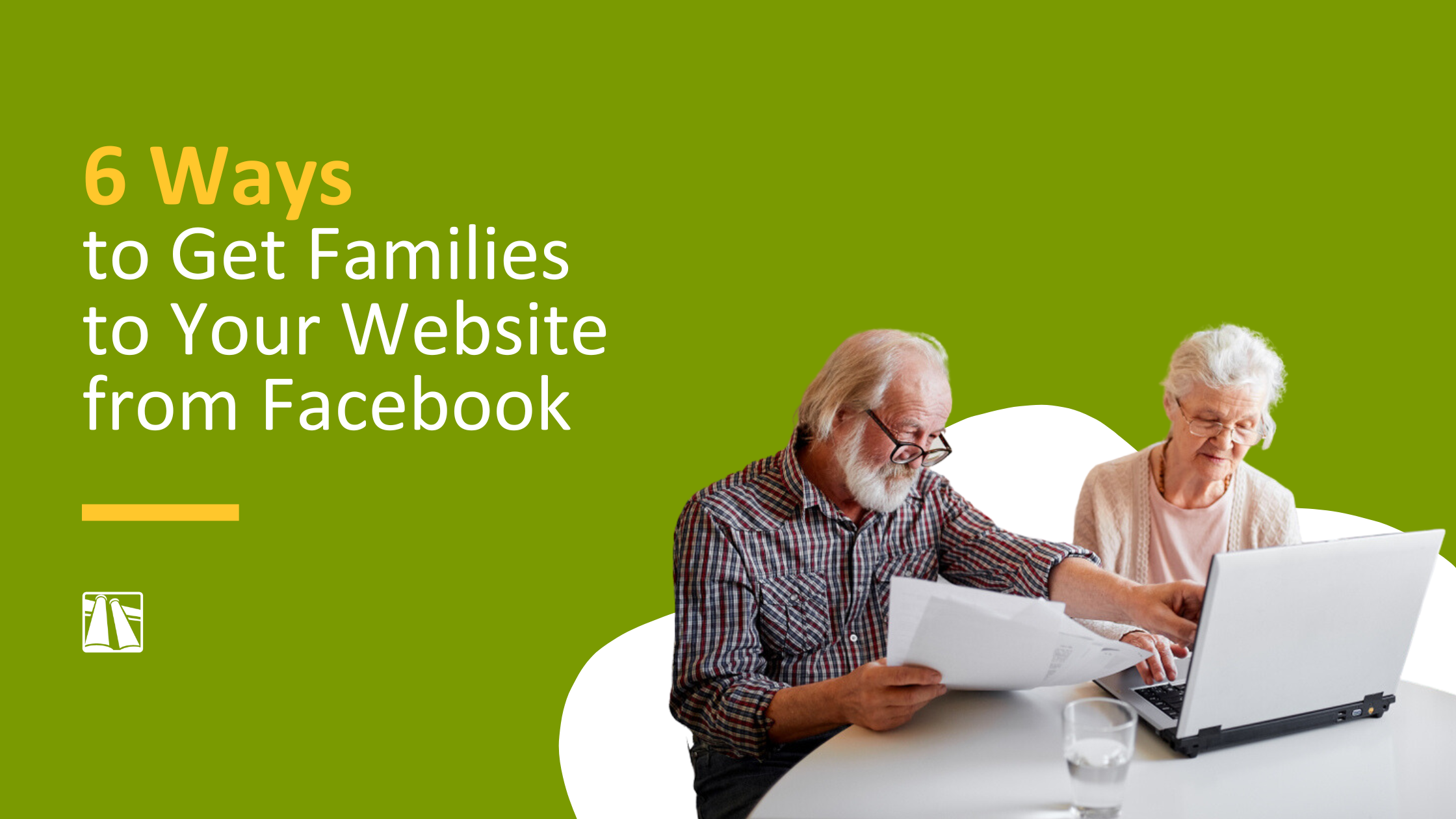 6 Ways to Get Families to Your Website from Facebook
As a knowledgeable funeral professional, you understand how important it is to connect with families on your Facebook page and funeral home's website.
Still, despite all your Facebook followers, you're left with few families visiting your website and missed opportunities to engage with your community.
You need a way to encourage your followers to click over to your website after seeing you on Facebook. You need effective calls to action.
Clear, bold, and focused calls to action will encourage families to visit your website and learn how you can help them in their time of need, explore their preplanning options, and more.
What is a call to action?
A call to action motivates families to make a decision and act on that decision. Calls to action persuade families to take the next step by explaining what benefits the person will receive if they act.
You can use a call to action to ask a family to schedule a preplanning meeting, watch a video, visit your funeral home's website, and more.
Ultimately, calls to action encourage families to take the next step in interacting with your business. That way, you can keep the conversation going, educate them, and increase your chances of serving them.
But what calls to action get results?
Here are 6 examples you can use to drive traffic from your Facebook page to your funeral home's website.
1. Preplanning
Encouraging families to preplan is a main selling point for families to visit your funeral home's website.
After you've explained in your Facebook post what preplanning is and the benefits preplanning can give families, add this call to action to encourage families to visit your website.
Get peace of mind by preplanning today!
This will open the door for families to learn more about preplanning by scheduling a meeting with your funeral home or visiting your resources page to read more.
2. Contact us
A family may not know the first thing about planning a funeral. That's where you can help. Create a Facebook post that educates families about their funeral options.
Then, add this call to action.
Create a healing and meaningful funeral by exploring your options with us today!
And how can families learn more about their options? By scheduling a meeting with you or filling out a form on your funeral home's website.
3. About us
Before building trust with a new family, you must be honest and transparent with them. Using a call to action that asks a family to learn more about you is a great way to grow a new relationship.
Write a post that discusses your commitment to serving families. End the post with this call to action.
Choose a funeral home that goes above and beyond by contacting us today!
This call to action can lead a family to read about your history and principles on your website's "about us" page. It reveals your funeral home's mission and can increase trust with families.
4. Staff page
The difference between a family choosing you or your competitor can come down to seeing a familiar face. So if your funeral home's website has a staff bio page filled with smiling funeral professionals, let your families know.
Promote your staff page by creating a post that highlights your staff. Use this call to action to encourage a family to visit your staff bio page.
Gain confidence and reassurance by learning more about our caring staff! 
Families will want to learn more about your team, see their pictures, and start seeing the faces behind your funeral home. This is important for brand awareness.
5. Price list
Did you know that according to a recent study, most families' top concern when planning a funeral is the cost? Naturally, families want to know specific prices, and you can be there for them with answers.
Price transparency builds trust with your community, so use this call to action for your next post about your price list.
Learn what options are best for you and your family by reviewing our prices today!
Interested families will see that your price list is available and be eager to learn the exact funeral costs. They might even book a preplanning appointment to discuss their options further.
6. Resource library
Most families will need help navigating their grief journey after the funeral. Encourage families to learn about healthy healing on your funeral home's website.
Use your Facebook page to let families know you have helpful tips and guides on grieving. End your post with this call to action.
Find out how to move toward healing by visiting our grief resources library! 
If you don't have a grief resources library on your website (we encourage you to!), you can link to this website full of grief articles. Families will find this information helpful whether they've recently lost a loved one or are going through a difficult season.
Still trying to understand calls to action? Let us handle it for you.
These ideas can help drive traffic to your funeral home's website, but there are a lot of other great ways for families to discover you online, too.
That's why it's important to partner with a team that can give you expert knowledge, save you time, and send families to your website.
Funeral Directors Life can do all that and more for you.
Watch new Facebook followers turn into budding relationships and preplanning appointments by requesting a demo with our marketing experts today!