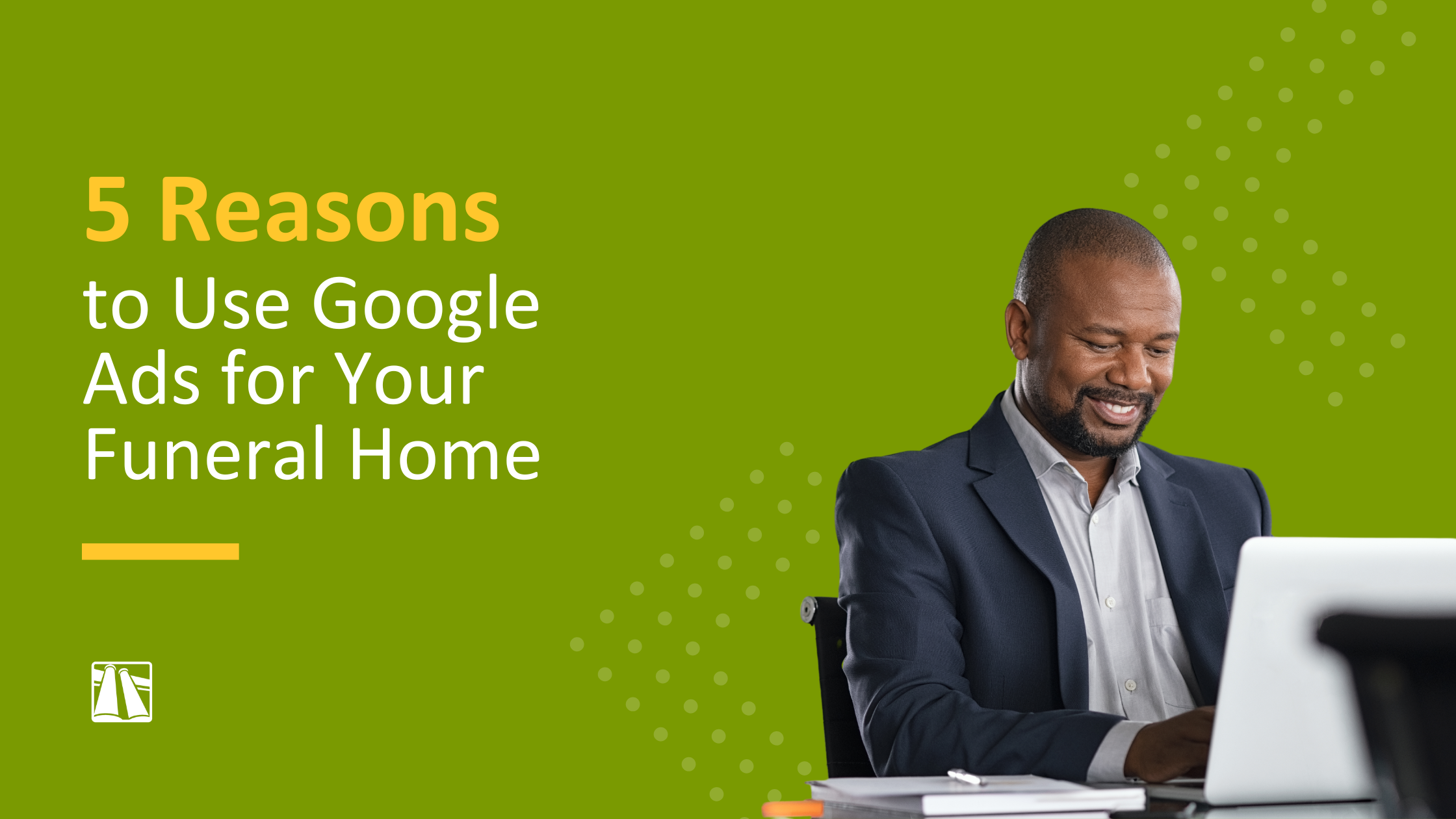 5 Reasons to Use Google Ads for Your Funeral Home
If your funeral business doesn't appear on the first page of Google (preferably near the top) when searching for "funeral home near me," it's time to come up with a plan.
Google is the primary way families find your business. Statistics show Google has a massive 92%+ market share compared to other search engines. The next-highest search engine is Bing, coming in at just 3% usage.
That said, investing marketing dollars into Google Ads is a really smart move. Here are 5 reasons your funeral home needs to use Google Ads in 2023.
1. Reach people who are

in need of your services
When someone is in need of a funeral home, they often turn to the internet to search for a local option. When they do, you want to show up at the top of the search results. With traditional marketing, you always have to reach OUT to families, but with Google Ads, your customers are reaching out to YOU!
2. Reach people who are using specific search terms
Next, you want to show up first or near the top of the page when consumers use specific search terms, say "funeral home near me." With Google Ads, you can set search terms you want to show up for, and your name will be at or near the top of the page for those search terms.
This is especially helpful if you have several competitors in your area.
3. See exactly where your marketing dollars are going
Google Ads is one of the most transparent digital marketing platforms out there when it comes to results. That's why our team recommends Google Ads so highly to funeral homes that are just getting started with digital marketing.
With Google Ads, you can see exactly how your marketing budget is being spent and tie it directly to results, such as clicks, phone calls, or even form submissions on your website.
👉 Learn more about our Google Ads service here.
4. Beat the SEO system
In order for your website to beat out the competition with organic results on Google, you have to do two things:
1. Understand Google's algorithm (which changes all the time)

2. Optimize your website to get the results you want (called SEO), which requires a lot of time and money
However, despite all the effort and expense, your website will always fall below sponsored ads on Google. So, if your competitors are using Google Ads, it will be impossible to beat them for the top spot even with perfect SEO. And they can even show up BEFORE your funeral home!
So, why not beat them to the punch (and to the top of Google) and beat the SEO game at the same time?
5. Pay only for the results you get
Google Ads is a pay-per-click system, meaning you only pay when your ad is getting results. Plus, you can cap your budget, so you don't spend more than you want to per month. That way, you can ensure that you are getting the most bang for your buck, especially if you are just getting started.
So, why would any funeral home NOT be using Google Ads?
In our experience, our clients have said they weren't using Google Ads because they had been overcharged for the service in the past and didn't really get the results they wanted. We understand. It can be frustrating to spend a lot on Google Ads and not get the results you want to see.
That is why our team follows a process with each client that really demonstrates how powerful Google Ads can be for a funeral business.
Here's how it works:
1. Choose your budget. We can work with any budget and even provide recommendations based on your area's cost per click.
2. Get monthly reports that make sense. Our team is willing to dive deep with you to answer your questions and explain monthly reports. We don't inflate the numbers and make it seem like the results are better than they are. We want to get you real results, and we work hard to do that for you!
3. Tweak, test, repeat. We are always working with our clients to fine-tune their Google Ads to get the most out of their Ads budget. We are always tweaking, adjusting, testing, and discovering new solutions to help our clients get results.
4. Integrate Google Ads with your entire digital marketing strategy. Finally, our team works with you to integrate your Google Ads strategy with your website, landing pages, Facebook ads, YouTube ads, Google display ads on partner websites, and so much more!
Want to learn more? Submit a request for more information on how to get started with digital marketing. In the meantime, you can download this complete digital marketing guide for funeral homes!