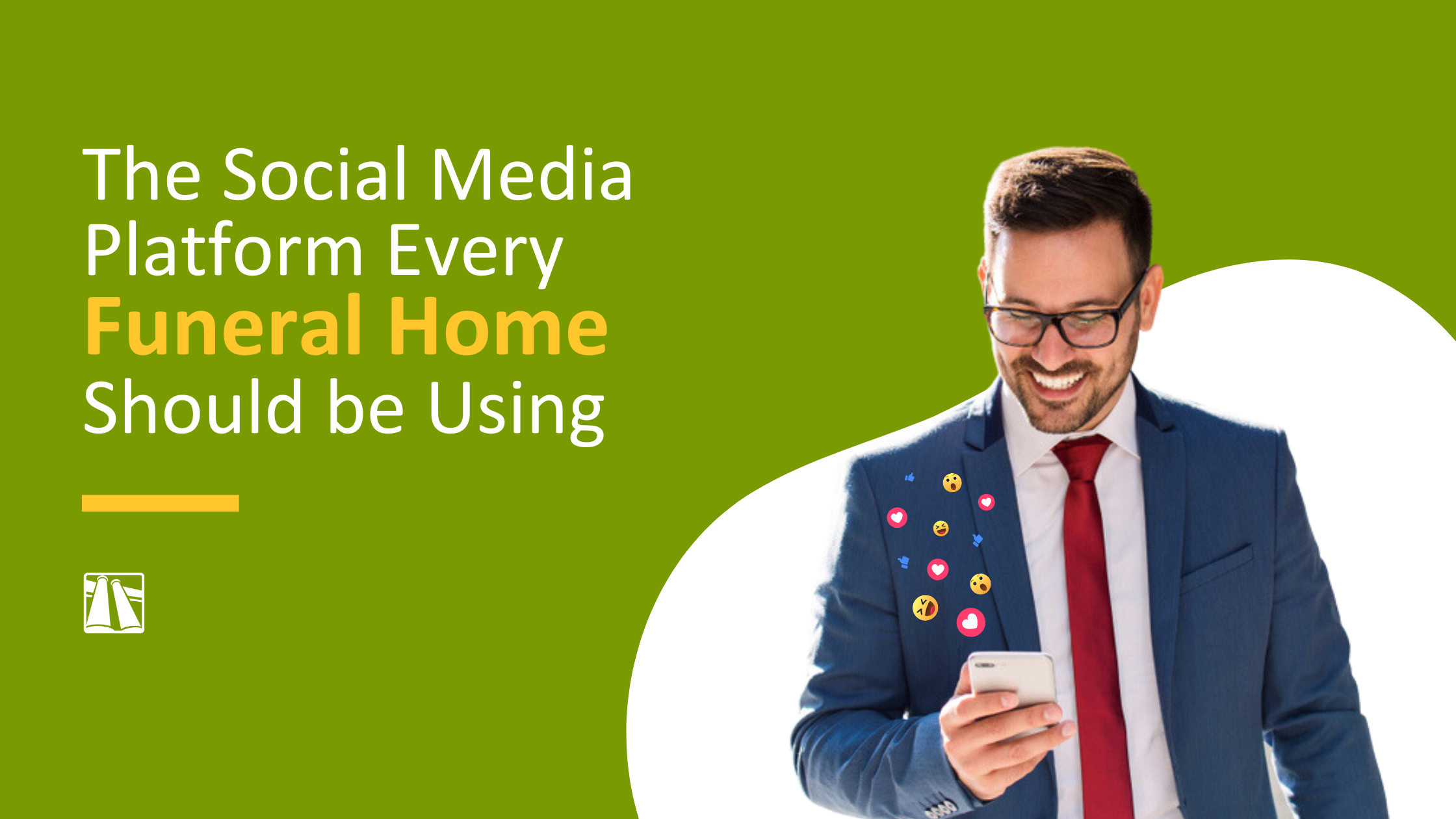 The Social Media Platform Every Funeral Home Should be Using
This is why your funeral home should be on Facebook…
Did you know that the average U.S. social media user has more than 7 social media accounts?
In fact, more than 300 million people in the U.S. are active on at least 9 social media platforms.
So, with several new and existing social media platforms to choose from, how do you know where to best market your funeral home?
Facebook is the social media platform that every funeral home should be using. These 5 reasons will explain why.
Reason #1: It's where the people are at
Based on Statista research, more than 243 million people use Facebook in the U.S. That number is expected to grow to nearly 255 million by 2027.
Similarly, in a 2021 study we did with Passare and McKee Wallwork + Co., we found that 90% of participants use social media platforms. In fact, 54% claimed to use it daily. Learn more about the findings here.
That's why it's important to leverage Facebook to connect with preneed and at-need families. Both audiences have specific needs, and when you discover what those are, your funeral home Facebook page will be one to follow.
Learn more about each audience here.
Reason #2: It offers the greatest opportunity for sales growth today
Facebook is a great way to reach out to families about preplanning as part of your overall marketing strategy. But who exactly is this audience?
The preneed audience:
Is aged 50+
Varies in knowledge about preplanning

Can easily be

targeted on Facebook
Could be interested in planning and paying for a funeral entirely online
This group may be ready to purchase a preneed plan, especially if they just experienced the death of a loved one without a preplanned funeral. This group could also be ready to take the leap and start their own prearranged funeral plan.
But most people will not fall into this audience. Most will either be slightly interested, curious, or completely unaware of the options for preplanning.
These people will need to see educational content about why they should plan ahead before you can ask them to do anything. They will need to know that you are a trustworthy funeral professional who can provide the best service for them and their families.
That's why you need to post valuable, informative, and thought-provoking content to educate them.
More on the type of content to share is addressed in reason #5.
Reason #3: It creates brand awareness
Ever hear of the psychological principle that "repetition breeds familiarity?" Familiarity builds trust, and that's exactly what you want to do online.
Simply having a Facebook page for your funeral home isn't enough. You need to share important information frequently and at the right times for the Facebook algorithm to show your content to more people.
This article breaks down how the algorithm works.
Besides posting frequently, some funeral homes take advantage of Facebook "boosting" to show their content to specific groups of people. Though this costs money, it ensures your content is shown to thousands of people in your community and not lost in the Facebook algorithm.
All in all, you want to make your page one to follow. What do you post/share? How are you different? Are you educational? That will increase awareness more than anything.
Reason #4: It helps build relationships, connections, and brand loyalty
Facebook is a great place to build community with your followers in ways that your website can't.
Build brand loyalty and a community on your page by interacting with followers and guests. This can look like replying to comments, sending direct messages, and engaging with them on your page.
Some funeral homes have even created sub-communities for grief support on Facebook, which people can join and interact with others going through similar situations.
Getting people to like your posts and follow your funeral home Facebook page is one thing; keeping them there is another. So, make sure your page is one to follow!
Reason #5: It educates families through your content
Consistently posting great content provides education that families need. If you're not debunking myths, answering their questions, or sharing helpful information, they'll just turn to Google and could end up being misinformed.
In the families' eyes, you want to be seen as a knowledgeable, trusted guide. That's why what you post on your page is so important.
Since you have two main audiences (preneed and at-need), you want to post content for both groups. Here are a few ideas to try:
1. Help each audience understand the value of a funeral.
Whether a family is curious or is at-need, knowing how to plan a meaningful funeral is important. You also want to share why it is and how it facilitates a healthy grief process. This content can look like:
A free eBook guide (perfect for capturing leads)
Going live on video to answer popular questions
Explaining what they don't get from a direct cremation
Sharing how embalming, cremation, and other disposition options work
Sharing helpful articles from reputable sources (try

Funeral Basics

)
2. Show how your funeral home is different.
Whether your funeral home is in a big city or a small town, families want to see the people behind the funeral home. Try posting things like:
Your funeral home/company values
Short videos with staff to showcase who they are and why they're in the profession
Photos or videos of grief or therapy dogs (These posts are super popular!)
3. Share reviews or testimonials.
Families are your biggest advocates, so feature them if you can! Get their consent to share their experience with you on your Facebook page. You can even "pin" it to the top of your page so it's the first thing people see.
Build a funeral home Facebook page that families love.
Though there are more than 5 reasons to get active on Facebook, these are great starting points to consider. Building a Facebook page takes a lot of time, expertise, and trial-and-error to see what resonates with families.
These reasons are why many funeral homes outsource this job to a social media marketing service. Depending on the service, it's worth the investment! Look for a solution that provides exceptional content and consistent results.
Check out our program if you want to grow your Facebook page.