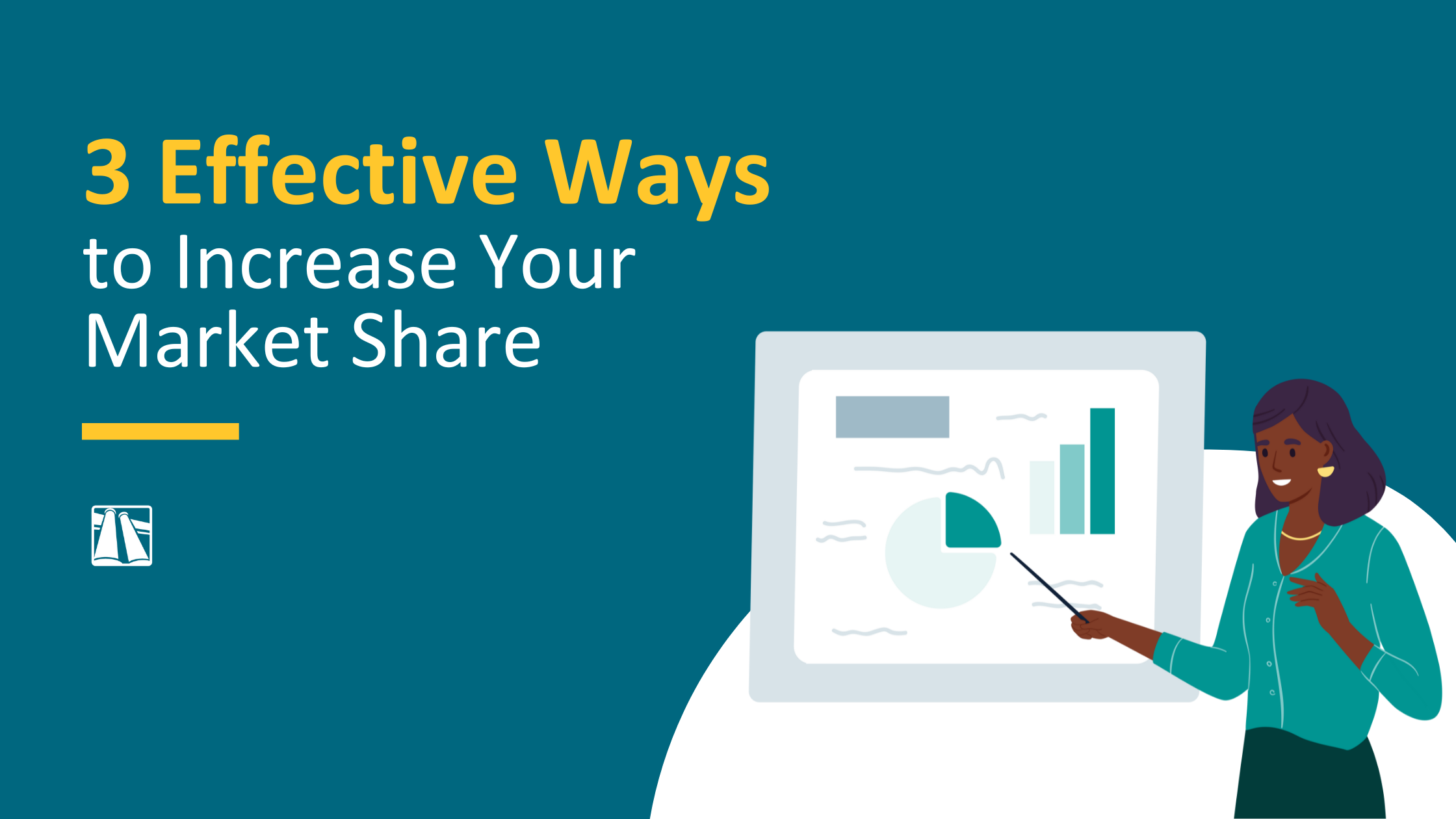 3 Effective Ways to Increase Your Market Share
By Rae Gresso, Account Executive for Arrangement Guide
Have you ever thought about how to increase your market share?
Maybe you meet with your leadership team to evaluate your business plan or read consumer reports to find out how family preferences and expectations around funerals are changing.
The fact is, holding onto and even increasing your market share is more important than ever, especially since your competition isn't just the funeral home down the block anymore.
One of the biggest problems funeral directors are facing these days is low-cost cremation societies entering their communities with marketing and picking up contracts along the way. Even if your funeral home provides the best service in your community, you can lose business to a competitor that reaches families first. We want to help you avoid that.
To increase market share, you need to ensure your funeral home reaches and connects with families before your competition. That means doing something to help you reach families in new ways.
But I understand developing a plan with proven solutions that work takes time. It can leave you spinning your wheels wondering what to try and feeling overwhelmed by your options. Worry no longer – this article is here to help!
Below, you can discover 3 ideas to try in your funeral home to reach families first by connecting with them online.
1. Get to the top of Google search results with digital marketing
What do you do when you need an answer to a question you have?
Do you consult your Encyclopedia collection? Watch a specific TV channel? Call your friend who has seen every episode of Jeopardy? (Okay, I've done that last one.)
If you're like 246 million Americans, you type your question into Google. Google boasts 3.5 BILLION searches per day likely because people can get answers instantly.
Here's what happens when people in your community have questions about funerals:
1. They open Google.

2. They type "funeral homes near me" (if they're at-need) or "plan funeral in advance" (if they're preneed).

3. They likely click on the first result at the top of the page, which takes them to a funeral business's website.
According to Search Engine Journal, the #1 result on Google's results page gets 28.5% of all clicks.
The #2 result gets 15.7% of clicks. The #3 result gets 11% of clicks. The #10 spot? A mere 2.5% of clicks.
Why should you care?
The #1 spot is 10x more likely to get clicks according to Backlino.
If a competitor is near the top of Google and you're near the bottom, chances are they'll get more website visits and potentially more preneed leads and calls. All that increases market share.
You can avoid that scenario and reach families first if you have a solid plan to get near the top of Google. The best part? There are experts who can do all of this for you. Learn more here.
These experts can also manage your Facebook page to ensure you're posting quality, educational content and reaching families who use social media. Discover how.
2. Help families preplan online with an online preplanning and funding option
I get this question sometimes: What is an online preplanning and funding tool?
In short, it's an interactive platform that families can access from your funeral home website that walks them through the preplanning process step by step. They also have the option to fund their plan.
Why consider it? A growing number of people want to explore and research their funeral options online. Sometimes, walking into the funeral home to ask about preplanning is a daunting experience for today's consumers who appreciate the convenience of an online tool.
Check out this quick, 35-second clip that explains more about our tool, Arrangement Guide:
With Arrangement Guide, you can reach a part of your market you wouldn't be able to reach without an online preplanning solution. But you need a smart tool that makes your funeral home look professional and helpful, even if you're not assisting someone face to face.
Preplanning can be an intimidating process with dozens of decisions to make, hours of contemplation, and many unanswered questions.
That's why we developed our smart online preplanning tool that gets leads and sales and keeps your funeral home (and preneed agents/counselors) connected to the process.
Here's how it works
1. Families answer a few basic questions.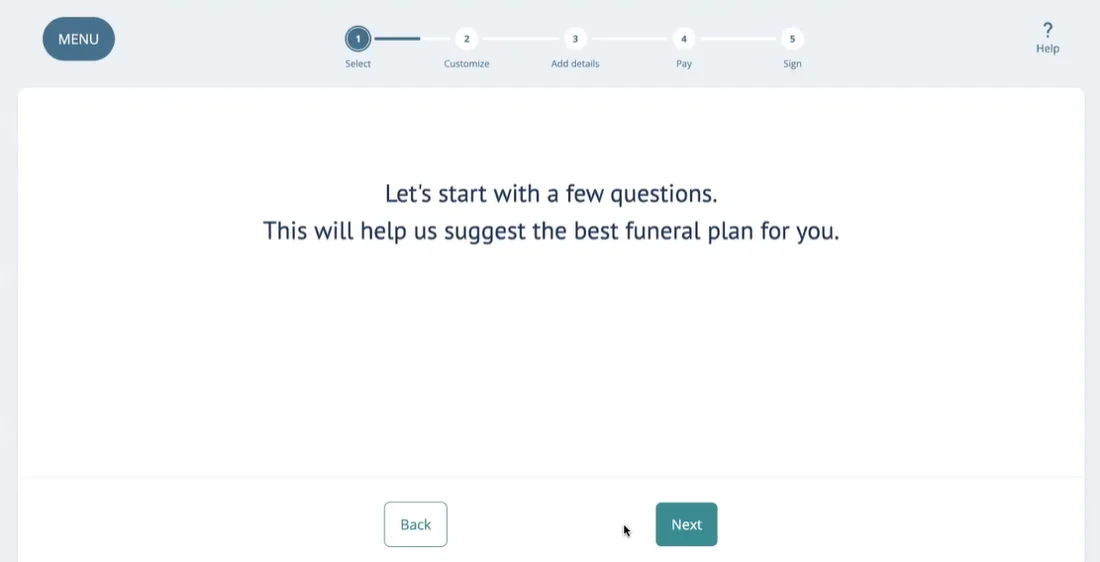 2. Arrangement Guide uses its algorithm to recommend plans based on their responses. The plans are ones that we work with you to customize for your funeral home. Learn more about our approach to plans here.
3. Families can customize their plan and then pay online in a process that takes as little as 20 minutes. But many families call or drop by the funeral home to finalize and pay for plans in person, meaning you still build a relationship with them.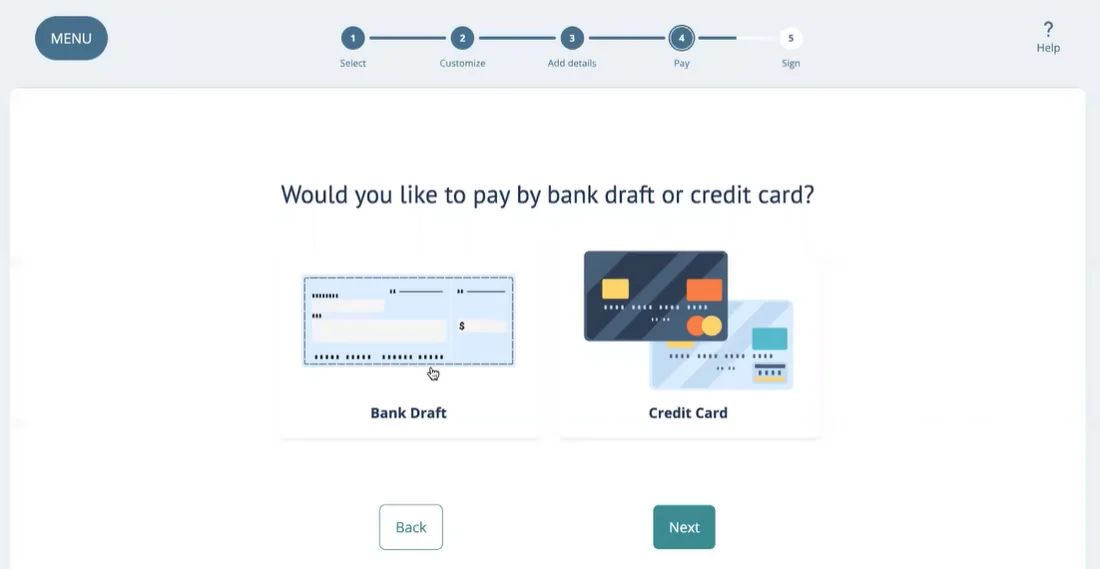 The best part?
Anyone who doesn't complete their plan becomes a preneed lead for your agent or counselor!
Arrangement Guide takes the confusion out of preplanning. This smart tool is just another way you can connect to families online before your competitors and potentially increase your market share. Learn more
Do people actually preplan online?
Yes! And these consumers aren't just the tech-savvy 50-year-olds (more on that here). A few months ago, we assisted an 80-year-old woman with her prearrangements. She found the tool online through our funeral home client's website, started preplanning her service details, selected merchandise, and then wanted to pay for her plans as well.
Users of this tool are of all ages and don't just buy direct cremation plans. To date, the largest funeral plan paid for through Arrangement Guide was over $19,000! The funeral home didn't need to nurture the lead or follow up. All they needed to do was get people to their website with digital marketing efforts and let the Arrangement Guide tool do the rest.
You can even adopt the Google strategy mentioned above to get people to your online preplanning tool.
3. Continue to build relationships and get leads with aftercare
It's not easy to make your funeral home the go-to one in your area, but it's possible if you make aftercare a competitive differentiator.
A family's journey through grief doesn't end with you; it's where their journey begins. Many funeral directors fail to leverage the relationships they've built with families to help grow their funeral homes. That's a missed opportunity because families are your biggest advocates!
You can grow your market share by connecting and growing relationships after the service through aftercare. When you do this, you can build more loyal families who will spread the word about your funeral home and help increase your market share.
How? Give them an incredible aftercare experience.
Here are the main things your aftercare program should do:
Give families grief support
Our program provides a variety of grief resources, from video courses, and articles, to Q&As with licensed therapists so families can heal. Learn more here.
Help them close a loved one's estate
"How do I close accounts? What do I do with the will? How can I claim benefits?"
Families have questions, and you can help answer them on our unique website with useful articles.
Consistently reach out in new ways
From texting with live responders to emailing valuable newsletters, checking in with a family lets them know you're thinking of them and care about their grief journey. See how technology is changing aftercare for the better.
Ask for reviews and referrals
When asked correctly, families are likely to leave reviews, give referrals, and set a meeting to preplan. And with our program, Circle of Friends+, we do all this for you.
Giving families a full aftercare experience with Circle of Friends+ could lead to more satisfied families and even increase your market share.
Want more aftercare ideas? Check out these 9 unique ones. 
You're your best differentiator
Families are using Google and social media, so reaching them online gives you a chance to reach them before your competitors do. While increasing market share doesn't happen overnight, it's worth exploring your options and working on a plan today.
I'll leave you with this: if there's one thing your competitors don't have, it's you and the unmatched service that only you can offer families.
Now let's help you reach them first.
Request a demo of Digital Marketing Services
See a demo of Arrangement Guide
Request a demo of Circle of Friends+ aftercare