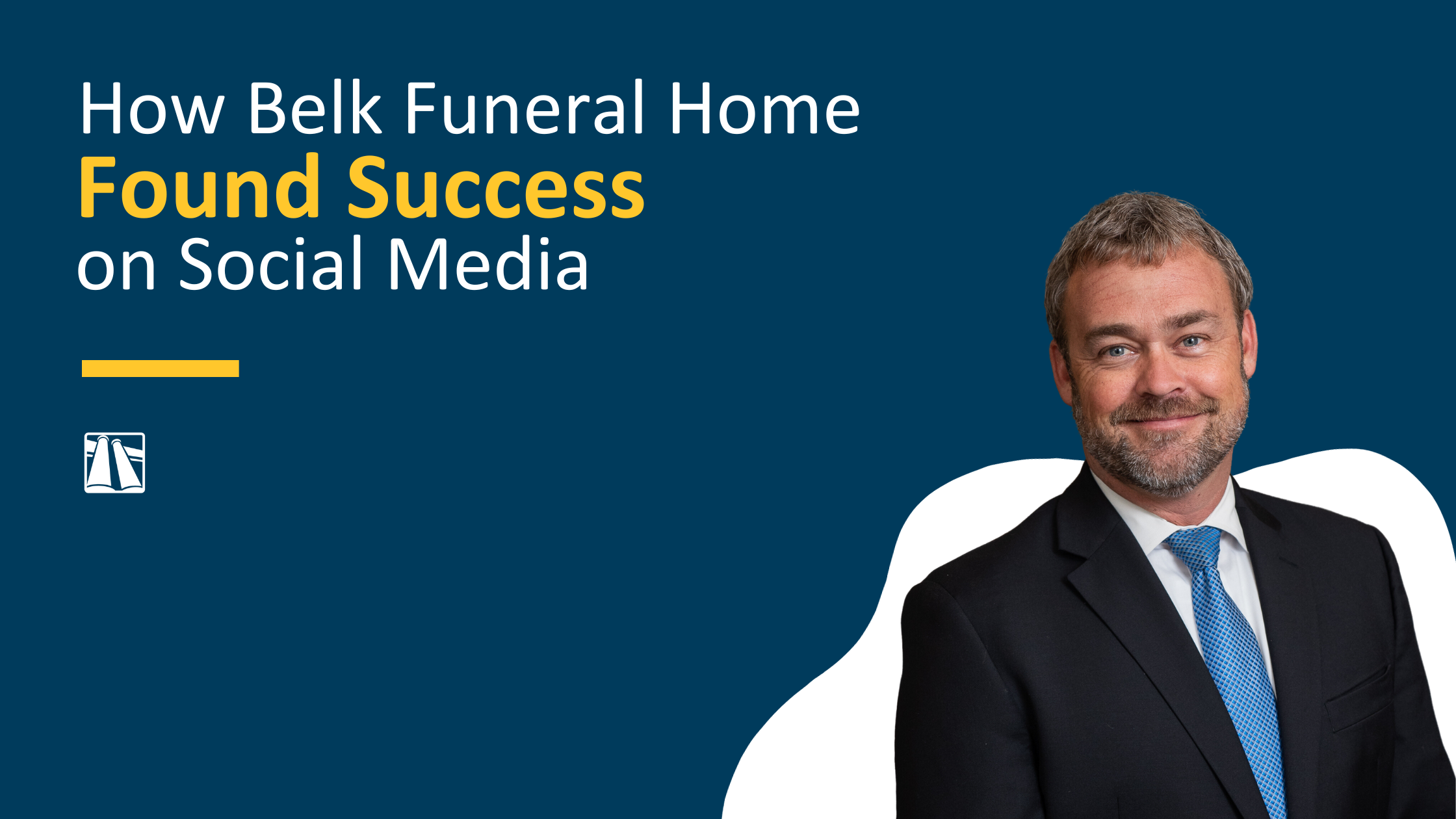 How Belk Funeral Home Found Success on Social Media
After a long day of serving families, the last thing Curry Belk wanted to do was get on Facebook. The third-generation funeral director understood that promoting Belk Funeral Home on social media was necessary for his business to succeed, but he wished the burden didn't fall on him.
Then he learned about how Funeral Directors Life's social media management service and preneed program could handle all of Belk Funeral Home's needs. Curry wasted no time in signing up, and he has been pleased with how Funeral Directors Life (FDL) has helped his social media, preneed, and other parts of his business.
Keep reading to learn more about how Belk Funeral Home found success with FDL.
How did you first learn about
FDL

?

About two years ago, I spent a few days in the FDL home office, saw what the company was about, and got to meet a lot of the people who worked there. I ended up liking the company and its products. When I got home, I went ahead and signed up with preneed, social media management, and Passare [sister company to FDL]. And recently, we just signed up for your insurance assignment processing service, CLAIMCHECK, so I'm excited to see how that helps us, too.
How has your preneed program improved with FDL?
Everything with Funeral Directors Life has been great so far. I absolutely love DIGicon [FDL's preneed contract sales software]. It's easy to use and so simple. The way DIGicon checks on everything multiple times and lets you know if contracts are filled out correctly is great. Personally, I'd rather do forms online than on paper, so DIGicon has been a great fit for us. We're excited to see how our preneed business continues to improve.
Why did you decide to sign up for the social media management service, too?
Before using FDL's social media management, I was staying at the funeral home well past 5 p.m. every day trying to update our website and Facebook. And I was mostly just posting our obituaries. Our page back then was just obituary after obituary. Plus, for all that time spent, we were still getting beat by our competitors in social media outreach. I was tired of how other funeral homes were out-advertising me on social media. That was a problem that I knew we had before I went to Abilene, and I was looking to FDL for an answer.
Have you seen success with your social media since partnering with FDL?
The social media has been great for us. I don't use Facebook personally, so I'm not too familiar with the platform. But ever since FDL took that over for us, I could tell that there was a huge difference in people noticing our Facebook posts. Some people would even call our funeral home and say, "Hey, I saw you had something on your Facebook about preplanning. What is that?" That gives me a chance to follow up and have a conversation with them.
Are you saying that your funeral home's improved social media has impacted your preneed program?
Absolutely, and I wasn't expecting our social media to affect our preneed. I always thought Facebook was a good way to keep your funeral home active with the community and remind people that you're there when they need you. But I've been pleasantly surprised. I even got a phone call from someone who saw one of our Facebook posts about half-couch caskets, and he wanted to talk about how he remembered when all the caskets were full-couch. That conversation turned into a preneed lead because he mentioned how he'd been meaning to come to the funeral home to make his arrangements. So social media has really opened doors for a lot of our funeral home's business, especially our preneed.
How long did it take you to see results from FDL's social media management service?
I saw positive results as soon as I signed up. FDL was on top of everything, and I immediately started seeing custom and branded content posted to our Facebook. They redesigned some of our logos and colors to make everything uniform. FDL went to work on all that right away. It got to the point that I actually wanted to get on Facebook to see how our funeral home was doing and what we were posting. Within the first year of being on FDL's social media management, our Facebook grew by around 400 followers.
Now that FDL handles your social media, how has that helped you on a day-to-day basis?
It's been a huge burden off of my shoulders. I don't have to come up with content and worry about putting the wrong type of content on our funeral home's social media. It's one less thing I have to worry about when I'm trying to get all my other responsibilities done. When the day is finished, I can just lock up and go home. I don't even have to think about social media because I know FDL has it covered.
What would you say to a funeral professional who doesn't see the value in their funeral home's social media?
I think I'd chuckle if another funeral director told me they didn't see the need to use social media to promote their funeral home. It's just something you've got to do nowadays. You've got to adapt and find someone who can manage your funeral home's social media. I honestly felt like if we didn't do something to improve our online presence, families were just going to see us as this old, traditional funeral home, and new families weren't going to turn to us. I've seen it happen to other funeral homes, so I knew it was a very real possibility. So, if someone does not invest in social media for their funeral home, I would highly suggest it.
Let our experts handle all your social media needs.
Fill out the form below to request a full demo of our digital marketing services or view options here.
Check out these resources to learn successful tips that can boost your funeral home's online presence.
3 Keys to Social Media Success for Funeral Homes
7 Ideas to Try on Your Funeral Home's Facebook Page