Let's Grow Together!
Our marketing services packages are designed to help you grow both the preneed and at-need sides of your business. At the same time, we will help you increase brand awareness, grow and manage your online reputation, and create opportunities for connections with families before, during, and after the service.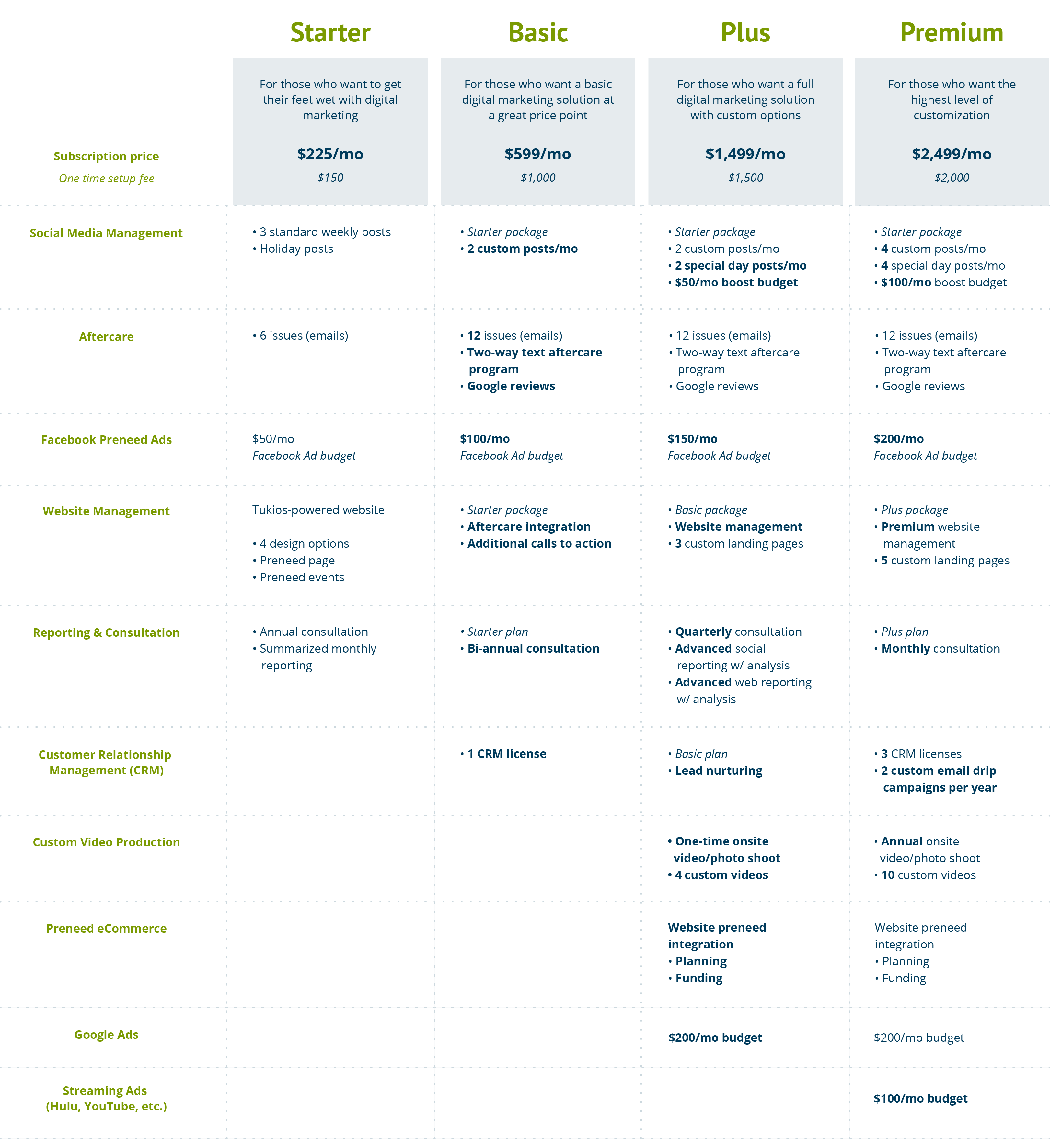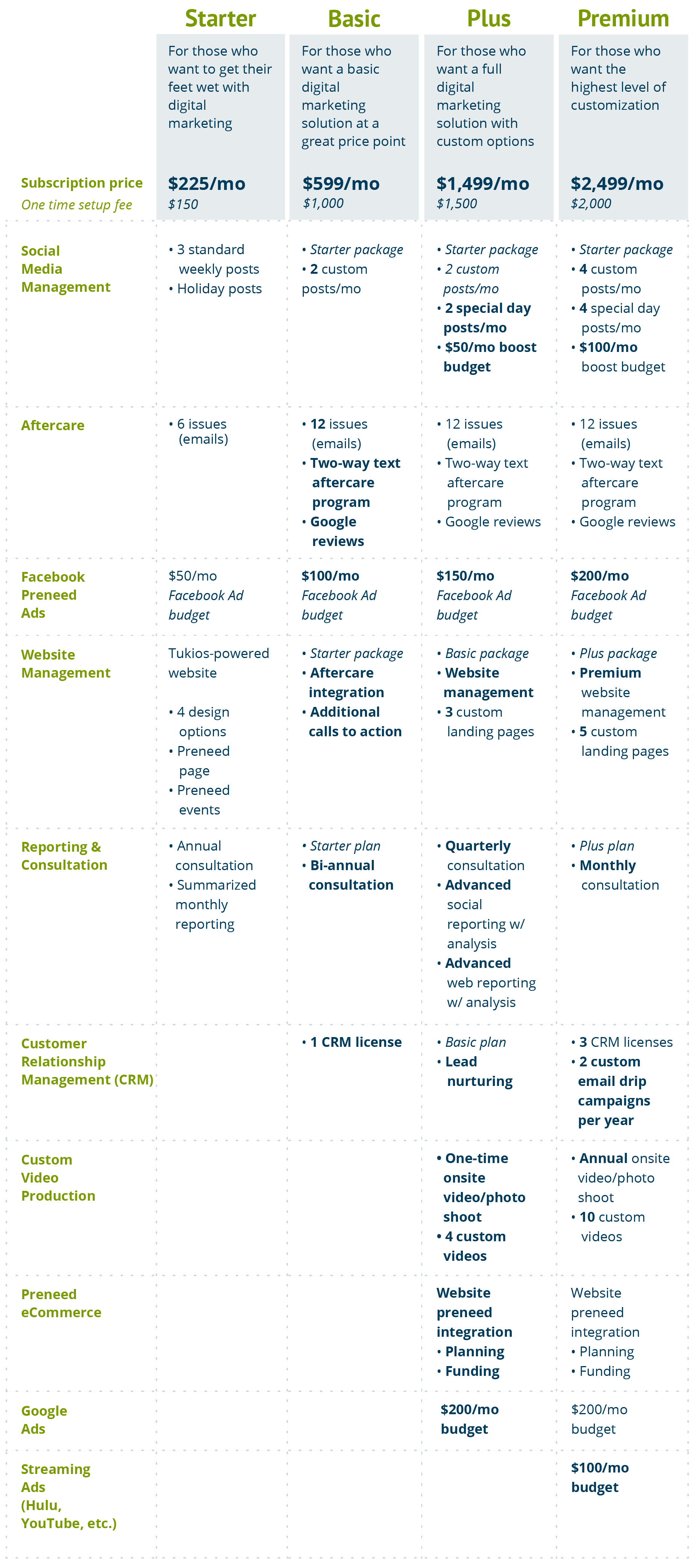 Frequently Asked Questions
Which social media platforms do you post to?

Currently, our social media management service focuses primarily on Facebook and, to some extent, Instagram. This is because Facebook is the primary platform where our target market (ages 55+) are spending their time. We continually keep an eye on trends and adapt our strategy based on where consumers in our target audience are spending their time.
What is Customer Relationship Management?

Customer Relationship Management (CRM) is a software system that allows your preneed sales representative to follow up with families who are engaging with your marketing. All of the leads from our digital marketing (website leads, Facebook leads, Google leads, eCommerce leads, direct mail leads, etc.) all filter into your CRM system so your preneed sales staff can follow up with every single one so no one falls through the cracks.
Can you tell me more about your video production services?

Our audio/visual team specializes in serving the funeral profession and travels across the country to different funeral homes to film custom videos on location. These services are available on the Plus and Premium packages, allowing funeral homes a unique opportunity to craft their message and share it across a variety of platforms, including their website, Facebook, YouTube, and streaming ads.
What is eCommerce and how can it benefit my funeral home?

eCommerce is the general term for online shopping. Our Basic, Plus, and Premium packages include preneed eCommerce, which is a complete online solution for preneed sales, beginning with education and ending with a fully funded preneed funeral contract. This is an option for families who prefer to interact with businesses online, but it is also a powerful lead-generating tool. So, if an individual starts planning online and does not finish, that contact becomes a lead for your preneed staff to follow up with.
Does the Tukios website offer commissions on flowers?

Yes! With your Tukios-powered website, you can earn commissions on flowers and almost completely offset the cost of your digital marketing program. This is a huge benefit that allows digital marketing to be completely affordable for most funeral homes.
Do you offer livestreaming services?

Yes, livestreaming services can be added onto your package pricing. We offer several tiers of livestreaming services to meet your funeral home's specific needs.
What if I have multiple brands I need to market?

If you have more brands than the packages cover, we can add more brands onto your package pricing.
Can your digital marketing team help me increase my Google ranking?

Absolutely! Our digital marketing team specializes in helping your funeral home increase your ranking on Google using a variety of strategies.
Request a Demo
Plus FREE Digital Marketing Analysis!
Don't leave your marketing to chance. If you want to start seeing an increase in your call volume and preneed sales, it's time to get started with your digital marketing plan! Complete the form below to request a demo and receive a FREE digital marketing analysis!