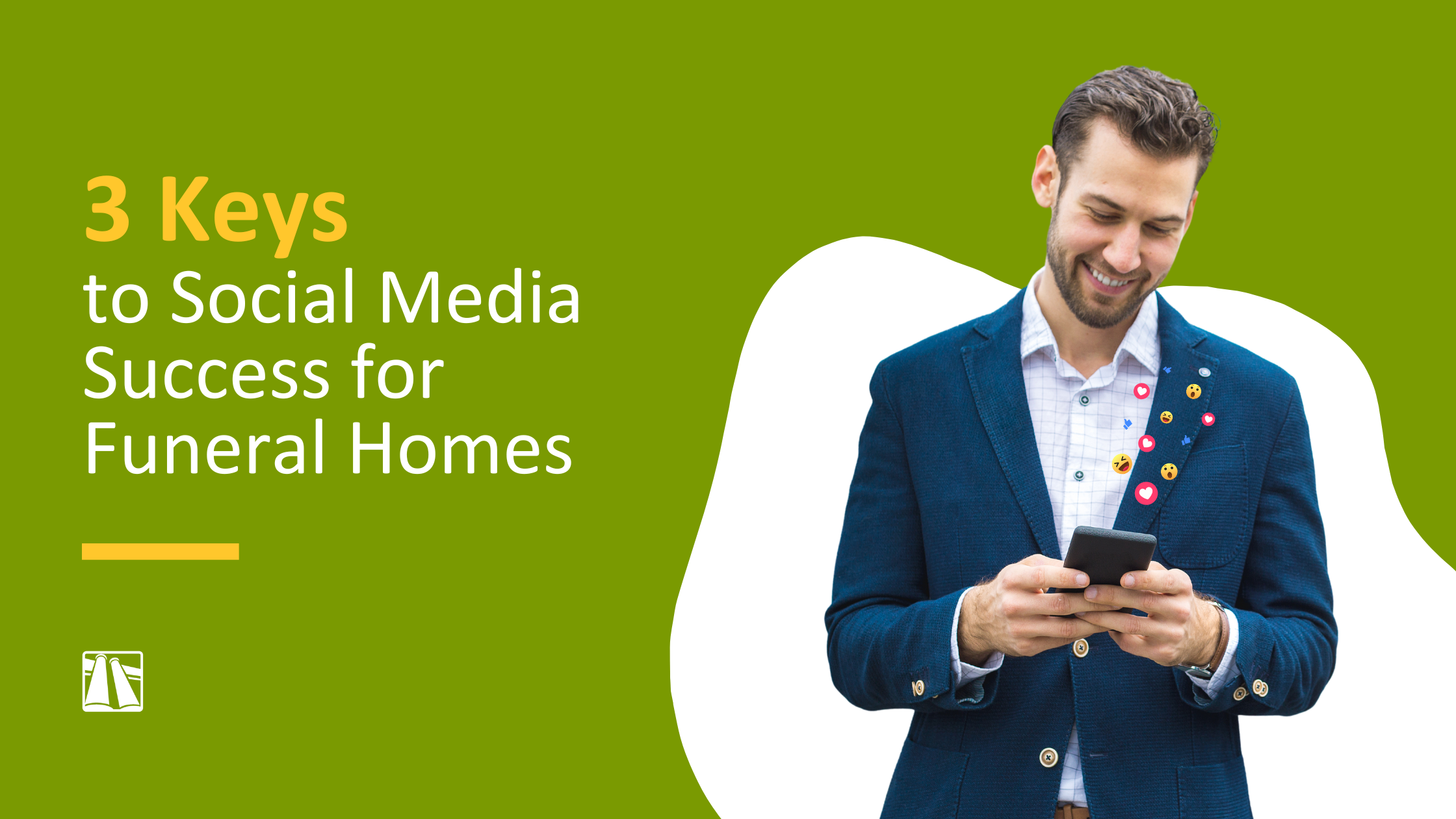 3 Keys to Social Media Success for Funeral Homes
As a funeral professional, you probably know how important it is for your funeral home to have an online presence for social media success. After all, it's one of the first places families go to interact with your business. They may post reviews, share funeral service details, check-in, or leave comments. In fact, based on consumer activities like these, Facebook probably created a page for you before you knew you needed one!
Now that you have a Facebook page and have successfully claimed it, you need to start posting content that helps you engage with the community and grow awareness of your brand.
The key to success? It starts with a plan.
If obituaries are the only items in your news feed, you are probably missing out on the opportunity to make a bigger impact on your community. You need a plan to grow your followers, engage with families to generate preneed opportunities, and provide tools and resources for aftercare.
Here are 3 keys to social media success for your funeral home:
Social Media Success Key #1. Always add value
Your Facebook page should offer more than information about funeral service details and obituaries. It's fine to post obituaries, especially if you are serving a smaller community. But you also need content that provides value with every post. Ask yourself, "Is this content going to help my community in some way? Does it provide inspiration, entertainment, education, or assistance?"
Thinking in terms of providing value to families will help you create engagement, increase brand awareness, and build customer loyalty through your social media accounts. Plus, you'll make your page one to be followed.
Social Media Success Key #2. Observe the
80/20 Rule
The 80/20 rule has been around for a long time as a best practice for social media posting. This rule helps us stay on track with the ratio of how much value we are creating vs. how much value we are asking our followers to provide us in return.
80% of the time, provide posts that create value and require nothing in return.

20% of the time, ask followers to take action (register for an event, download an eBook, book a meeting, etc.)
Keeping the 80/20 rule in mind will ensure that your audience always feels like they are getting a good deal in exchange for following you.
Social Media Success Key #3. Add variety
Finally, mix it up! It's best practice to vary the type of content you are posting day to day. Here are a few ideas for keeping your newsfeed fresh with different types of content:
Videos
Video remains one of the most effective digital marketing tools. Additionally, Facebook's algorithm continues to promote video over static images and text. That means your followers are more likely to see your posts organically if they contain a video. Here are a few ways you can add videos to your posts:
Interview-style videos featuring staff and/or previously served families (Our Audio/Visual team is able to travel to your location to create this type of high-quality custom video at a fraction of what other production companies charge)

Candid videos taken with your smartphone, for example, a video featuring a therapy dog, community event, or charitable donation.
Images
Images are also a great way to share content. This could include photos such as throwback pictures, funeral home renovation updates, group or individual staff photos, community events, charitable giving, seminars, therapy dog, or other candid photos.
You can also share business updates, milestones, or event invitations using an image in the post. Reviews or family testimonials are also great to share using an image with text on it. You can also highlight quotations, special days, holidays, and thoughts for the day using an image with text.
Links/Articles
You can also create valuable content around links to sources you trust. For example, you might search Funeralbasics.org for helpful and interesting articles to share. This website was created as a free resource for funeral homes to use to educate families about the value of a funeral service and the importance of preplanning.
You can also share educational, entertaining, or inspiring videos, podcasts, or news articles from across the web! The key to curating content for your followers is to find resources you can trust and to share content you believe will be interesting to your followers.
Polls, Questions, Surveys, and Reaction Posts
Finally, you may want to try your hand at some interactive posts such as polls, questions, or reaction posts. These posts ask your audience to share their opinions and comments with you.
You could combine this type of post with a candid photo and ask your audience to "Caption this image." You can also ask your followers to complete a survey or answer a fun question using the reaction buttons. The options are nearly endless!
Social media success requires hard work. That's where we can help.
We understand that following this type of plan involves a lot of work, but we believe it is absolutely essential to focus on social media success if you want to continue to grow your business with today's families.
That is why Funeral Directors Life employs a team of social media experts to help guide you by creating a custom plan for your business and helping you implement that plan step by step! Plus, with Funeral Directors Life's social media services, you can rest assured that the content we post for you is all original and properly licensed so that your funeral home is safe from any copyright infringement suits or settlements.
Happy posting!