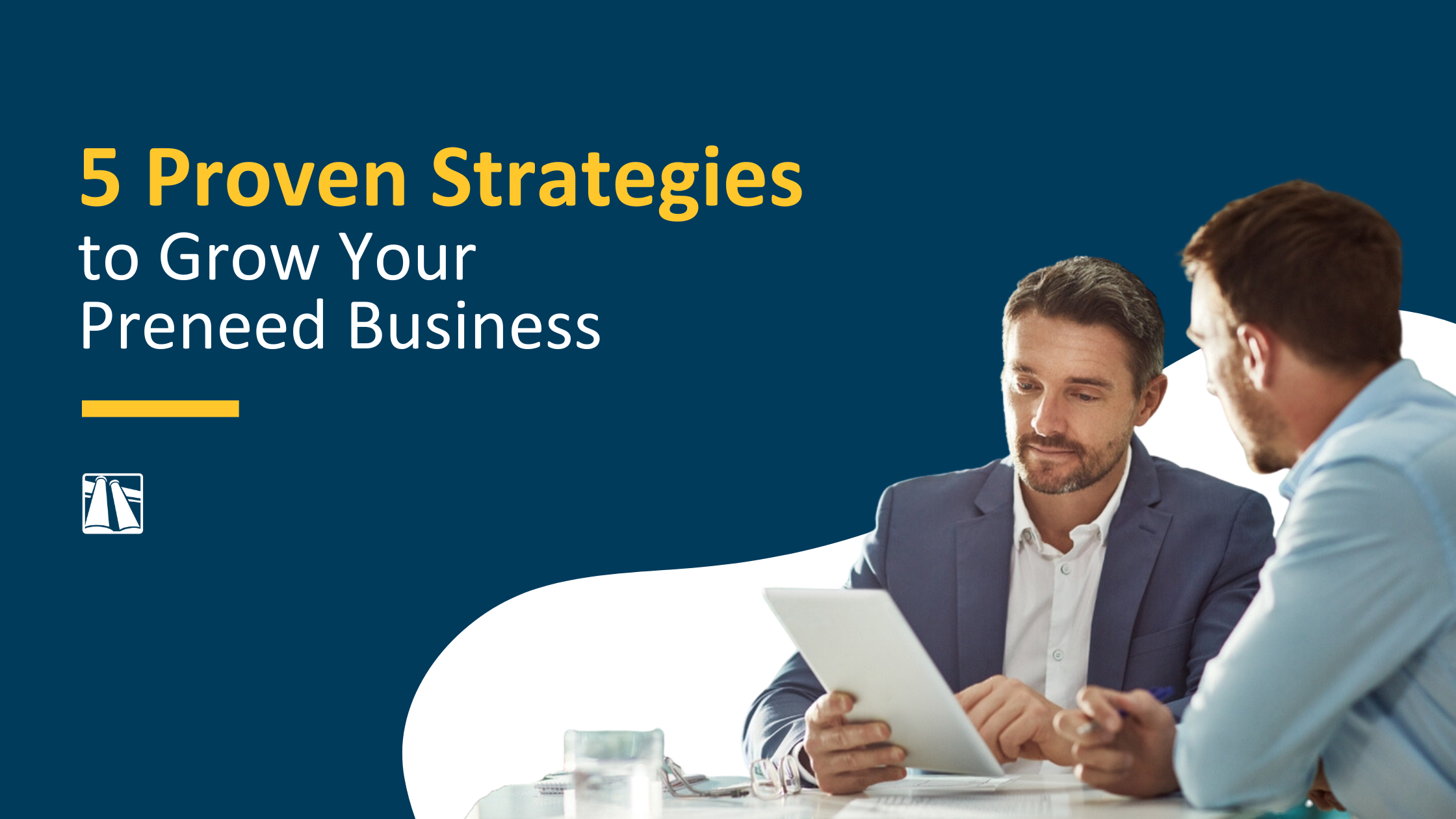 5 Proven Strategies to Grow Your Preneed Business
Have you tried these preneed marketing strategies?
Let's face it, families interested in preplanning aren't walking through your doors with their questions like they used to in the past. They're starting their search online.
And guess what? That's not a bad thing for your funeral home. Not if you have a strategy to make your funeral home easy to find online.
But how do you know which preneed marketing strategies will work for your funeral home? You may not have all the answers, but you know you must promote your preneed program effectively to increase sales.
Recently, we asked funeral directors what solutions work best for their preneed programs.
Here are 5 preneed marketing strategies they shared with us that you can try today!
1. Prioritize social media
A family is more likely to learn about you online than anywhere else. You'll lose chances to serve new families if you don't have an active and engaging social media presence.
"More and more people are looking for funeral homes on social media, so the risk is huge if you're not there for families to see. You're getting passed up every day if you think people are still looking for funeral homes in the Yellow Pages.
"We were doing preplanning events before, and if we had 5 people show up, that would be a lot. Now, we're getting 40, 50, 60+ people to show up to our events. That's all because of our commitment to advertising through social media."
– John Davenport, Vice President of Sales, Service Group of Oklahoma
Make sure your funeral home's social media is active, engages with your audience, and offers value to families.
Learn more about digital marketing options.
2. Don't overlook YouTube
Did you know that YouTube has nearly 250 million users in the U.S.? Only Facebook has more.
YouTube is the ideal place for you to share your stories and connect with potential clients in a more personal way, especially if you have exceptional video content.
So, instead of wondering if YouTube is right for your funeral home, ask yourself this: "How do we get high-quality video content on YouTube?"
"YouTube is really great for users on the content side, but also for the advertisers on ways you can target people. YouTube is a search engine, so when people go to YouTube to find content, they're searching. So, we actually upload the content that we produce onto YouTube and make sure that it's easily found by funeral consumers.
"We also do what's called retargeting. For people who visit obituaries, the funeral home's website, or an online planning and funding tool, we can retarget them later with ads [about your funeral home]. It's a great way to keep the user engaged and keep the funeral home's brand in front of them."
– Mitchell
McLean

, Vice President of Digital Marketing, Funeral Directors Life

Use YouTube to showcase your facilities, staff, offerings, and testimonials to interested families.

Learn more about custom video options by requesting a demo with us here.
3. Make sure your website is user-friendly
Even if you get families from your Facebook page or YouTube to your website, you can still lose them if your website doesn't have a way to capture contact information so you can follow up with them later.
A user-friendly website helps families find what they're looking for quickly and see the value of your funeral home.
"Our website is our storefront. So, you've got to make sure that your website looks amazing because if it doesn't, the family is going to move on to the next funeral home. With so many tools like Google directing traffic to your website, you've got to make sure your website looks good, is easy to navigate, and is beneficial to families."
– R.T. Delhomme, Vice President of Operations at Martin & Castille Funeral Home
And don't forget to include a clear and straightforward way for families to learn about preplanning on your homepage.
4. Maintain relationships with
aftercare
Actions speak louder than words. That's why your aftercare program is crucial to marketing your preneed business.
Extending support beyond the service establishes a deeper connection with families. This bond shows your commitment to families and can lead to referrals. Assuring families that their loved ones' needs will be taken care of long after their passing can deepen their decision to preplan with you instead of your competition.
"Aftercare is so important for funeral homes and families. Once a service is over and the family leaves, you need to keep the line of communication open for potential referrals, preplanning appointments, and to simply check-in."
– Michael Capehart, General Manager, New Hope Funeral Home
Supporting an at-need family can lead to new preplanning meetings. All you have to do is care for families like you always have. It's that simple.
5. Stick with direct mail campaigns
While it's easy to think that traditional marketing methods aren't as successful as they once were, the truth is that direct mail campaigns are still widely successful for many funeral homes.
Direct mail has a personal touch and can stick with customers. A flyer or postcard can live on a refrigerator for weeks, so maintaining your direct mail campaigns alongside new digital efforts will ensure successful marketing results.
"We've seen some incredible results from just a few seminars done the right way. One client in Delphos, OH, held a seminar recently in his small town with a population of less than 7,000 people and does about 50 calls per year. A mail drop was sent to roughly 2,600 people, and close to 100 people showed up at two events! Sales totaled $279,278, with an average contract amount of $8,463. 
"Needless to say, he was very pleased with the results!"
– Mike Kachenmeister, Market Center Manager, Funeral Directors Life
Direct mail campaigns can still get people interested in your preneed program when done correctly.
Learn more about marketing solutions with Funeral Directors Life.
Ready to see marketing success?
Families in your community are interested in preplanning. Your job is to make their path to you as easy as possible.
We can help you pave the road.
You can use these preneed marketing strategies to connect with new families and grow your business. Our marketing team has many other tips on how to best promote your funeral home.
Whether you're interested in social media, Google ads, video solutions, or more, we've got the answers you're looking for.
Request a demo to get started today!