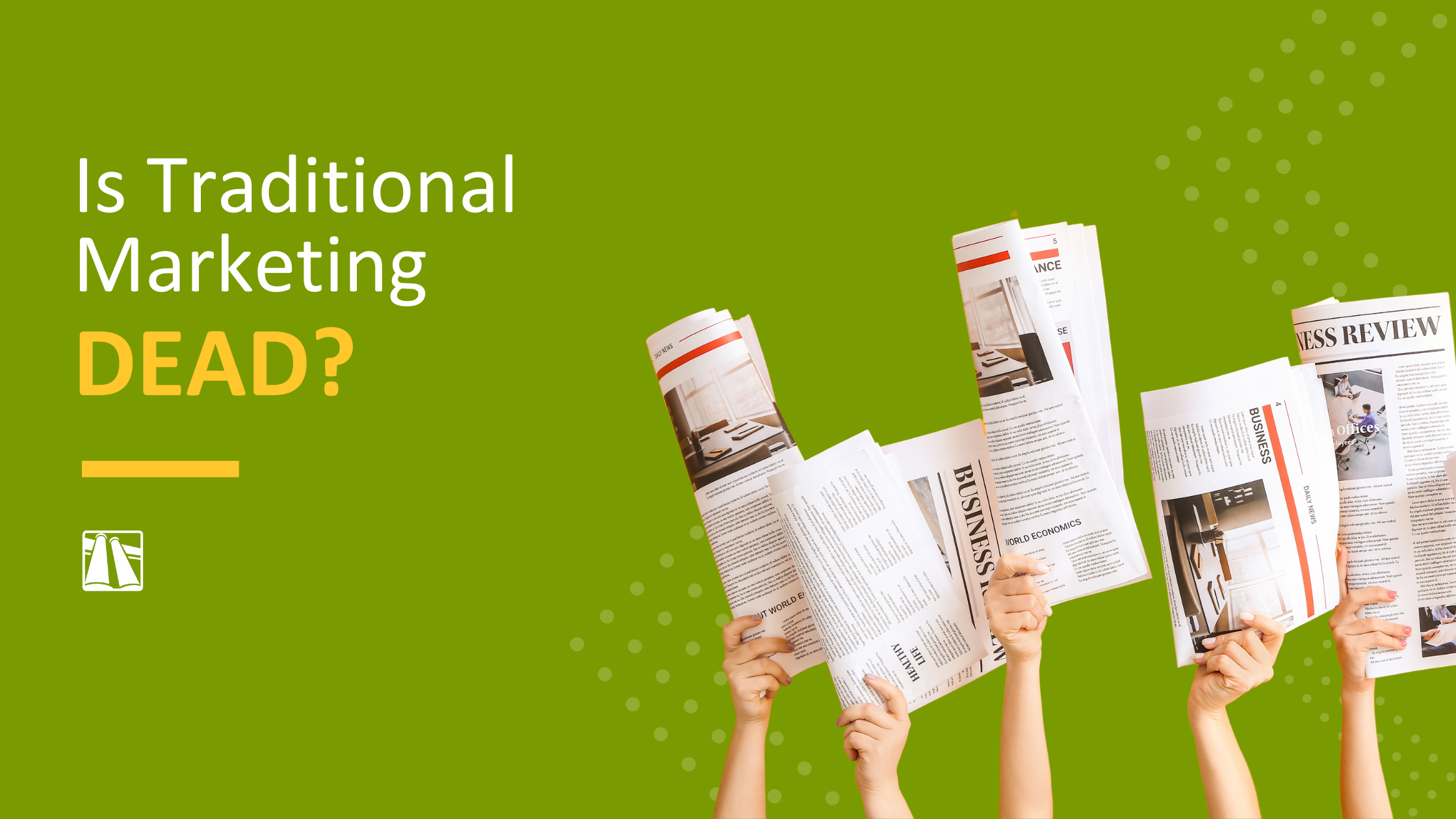 Is Traditional Marketing Dead?
The latest statistics on social media usage show that Facebook (179.7 million users) and YouTube (247.0 million users) have become absolute behemoths as advertising platforms.
In fact, according to DataReportal, "YouTube ads reached 80.4 percent of the USA's total internet user base (regardless of age) in January 2022"! Those are astounding statistics, and certainly attention-grabbing to any business that wants to advertise its services.
And, if you think about it, this digital takeover of advertising makes sense. It's where people are spending their time.
You probably can't remember the last time you cracked open the Yellow Pages to look up a business. You have Google for that. Newspapers of all sizes are experiencing sharp declines in circulation. Local radio stations are losing listeners to podcasts, XM radio, and on-demand music streaming services.
The competition for our community's eyes and ears has never been so fierce. Granted, in some markets, not all of the traditional marketing methods are dead and gone. Some of these methods may still be effective.
Nevertheless, it's time to take a hard look at where you are spending your marketing dollars as a funeral home.
Below is a step-by-step plan to make sure you are integrating new marketing strategies with traditional marketing so that you can get the best of both worlds: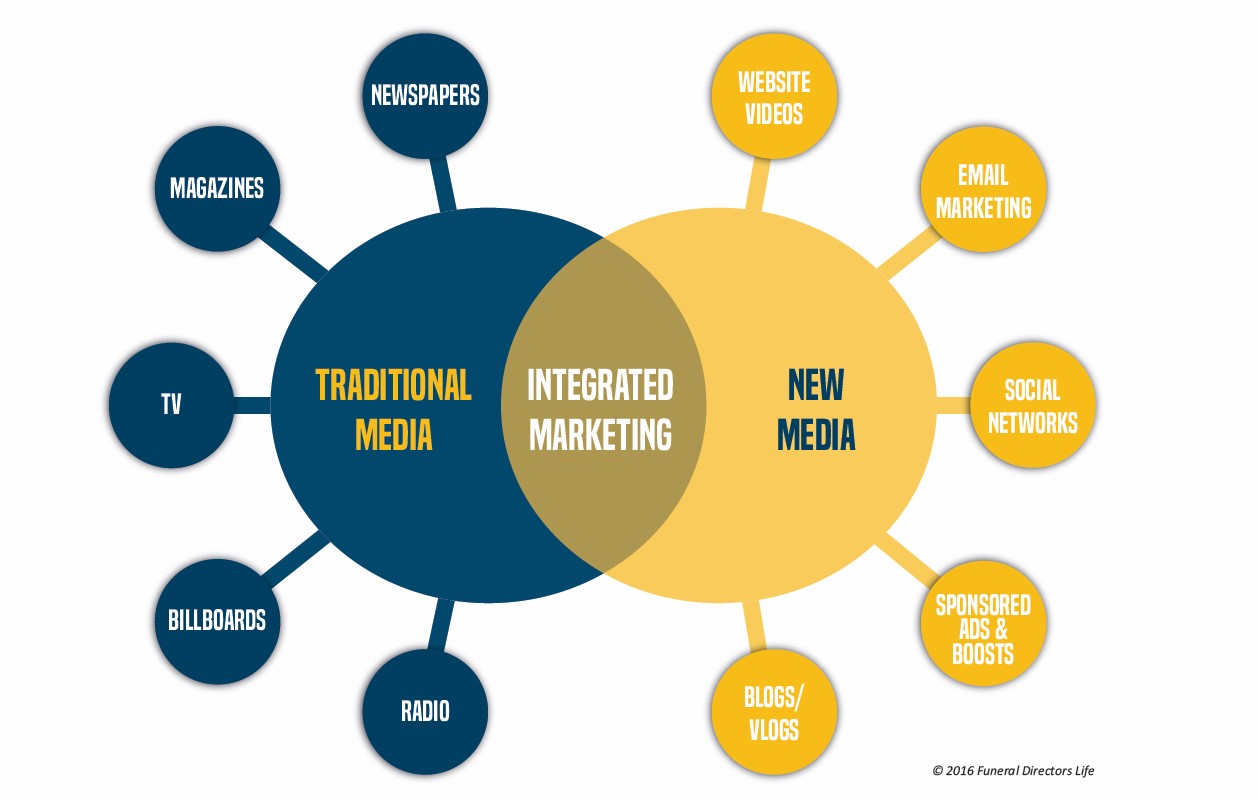 Step 1: Perform a retrospective
First, you have to take a look at where you've been to see where you are going next. Shooting from the hip may have worked in the Wild West, but it doesn't make for a good marketing strategy today.
Take a look at your marketing budget from last year. Where did your advertising dollars go? What were the results you had to show for it? Were you happy with the results? What was the impact on your business and your bottom line?
If you can't answer these questions, you need a new plan for 2023.
Step 2: Set marketing goals for the next 12 months
Now, it's time to set goals for your marketing for the next 12 months. Do you want to grow your preneed book of business by 30%? Or maybe you want to increase your market share by 20%. Once you have set your goals, you need a plan that will get you there. This is essentially your marketing plan.
Your marketing plan should coordinate your preneed and at-need marketing and integrate traditional forms of media that are still working in your community with new digital marketing strategies. These include social media marketing, Google ads, YouTube ads, email marketing, and more.
Step 3: Don't neglect Facebook – Baby Boomers certainly aren't.
Now comes the fun part! You get to start putting your plan into action. We recommend looking at Facebook first. Why? Because Facebook is where our target audience (Baby Boomers) are spending a lot of their free time. Think of Facebook as a replacement for your local newspaper…only better. Facebook is the perfect place to share your news, updates, PR events, values, and personality to attract loyal customers to your brand. Best of all, posting is free!
And if you dive into paid advertising on Facebook, you will be able to reach a targeted audience in a specific area and see instant results on the effectiveness of the marketing dollars you spend. It is also worth noting that Facebook owns Instagram, so any ads you run on Facebook can also automatically run on Instagram.
Step 4: Level up your Google ranking
If Facebook is the equivalent of your local newspaper, Google is the new and improved Yellow Pages! Families looking for a funeral home in your area should find you on the first page of Google, preferably near the top of the page. If that is not the case, something could be wrong with your website settings, and you need to have a Search Engine Optimization (SEO) audit conducted by an expert.
Like Facebook, Google offers paid advertising opportunities, which should not be overlooked. You can run text ads that appear above search results and display ads across a variety of partner websites, expanding your reach even further.
Google is a powerhouse in digital marketing today and could be the key to driving more traffic to your website and through your doors.
Check out our Google Ads service. 
Step 5: You need to be on YouTube
As stated above, YouTube has a vast audience that should not be ignored. The only catch? To advertise on YouTube, you need great video content. In fact, video is playing an ever-growing and expanding role in digital marketing.
Google search results often include video results at the top of page 1, so if you have a video posted to YouTube, your message is likely to be right there, at the top of a prospective family's search results.
Facebook also loves video, and videos get great engagement, especially when boosted to your community with a few advertising dollars. Quality videos simply round out your ability to have a strong presence on all three of the top 3 digital marketing providers in existence.
Step 6: Use traditional marketing where it makes sense
Finally, the nature of small businesses like local funeral homes is that often, traditional forms of media will work well in some instances. For example, it might make sense to still advertise on a local billboard or pay for a 30-second slot on a popular radio show. For our clients, we still use traditional media (like direct mail) every day to help local funeral homes market their preneed services.
However, we have done our own retrospectives over the years and narrowed down our traditional marketing efforts to only the most effective ones. This way, we know we are spending our marketing dollars (and our clients'!) in the most cost-effective way.
BONUS Step 7: Don't do it alone
The opportunities for digital marketing are ever changing and expanding, and it can be a full-time job keeping up with trends, algorithms, keywords, platforms, and techniques. That is why our team of digital marketing experts is here to help you plan your strategy AND implement your plan from start to finish. We understand that putting together a digital marketing plan sounds daunting, but that is why we are here!
Funeral Directors Life employs experts in the area of social media, copywriting, lead generation, graphic design, web development, SEO, Google Ads, and audio/visual production so that you can sit back and watch your plan take shape and start connecting with families like never before.
Contact our team to get started today!