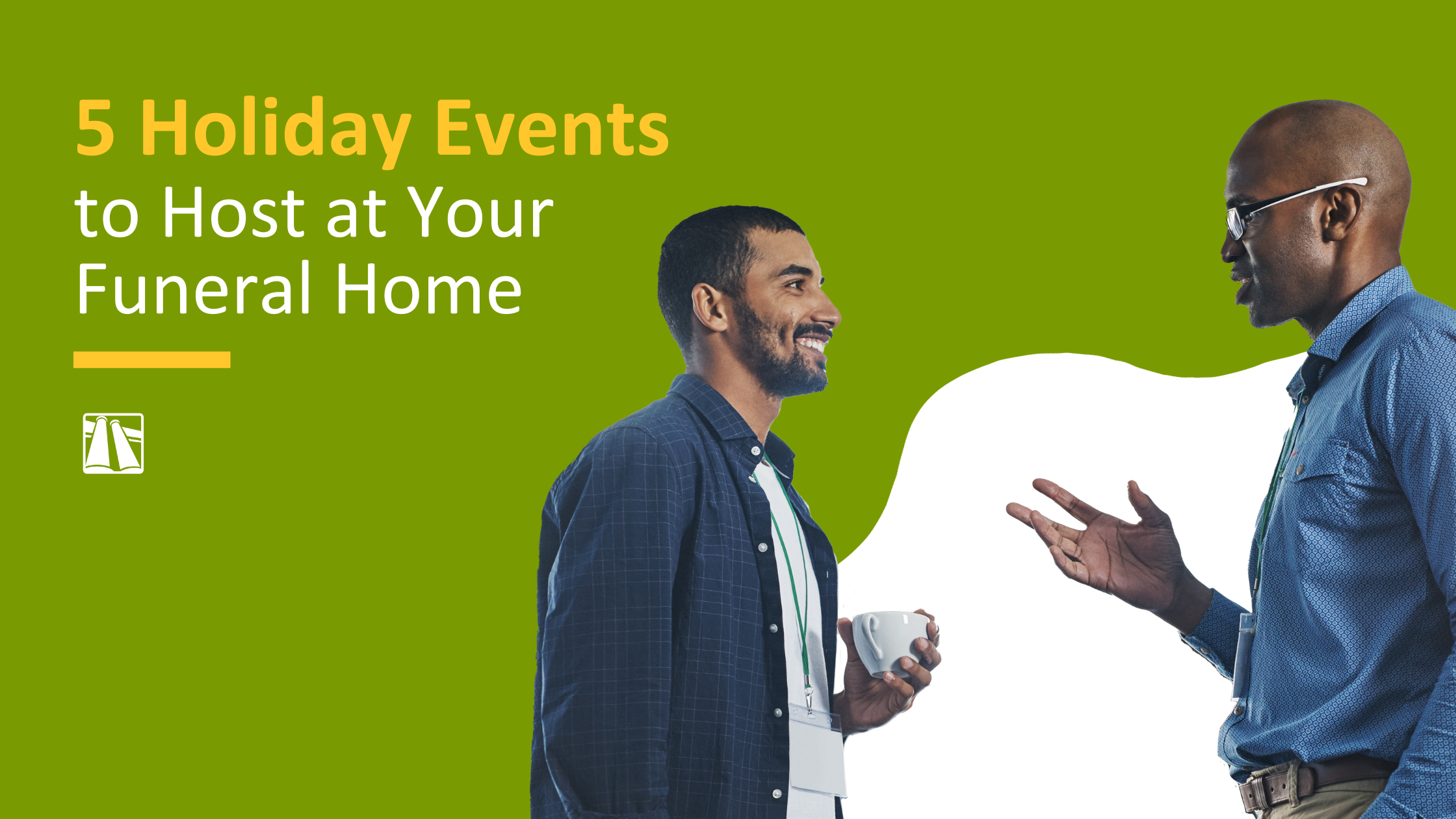 5 Holiday Events to Host at Your Funeral Home
By Tyler Ward, Digital Sales Manager
Building trust with families is one of the most important parts of being a funeral professional.
And even though your top priority is to always put families' needs first, a recent study revealed that only 51% of people know a funeral home or mortuary they trust.
The good news is you can build trust with families during the holiday season!
By hosting a holiday-themed event at your funeral home, you'll show families that you're more than just a business. You'll start building relationships with your community.
But if you want to host an event this holiday season, now is the time to plan. And we've got some ideas to help you get started.
Here are 5 holiday events that can help you build trust with families, no matter their needs.
1. Give the Gift of Preplanning
During the holiday season of giving, you can host a tried-and-true preplanning seminar. Only this time, give the seminar a holiday theme that includes gifts for families!
After families hear about the benefits of planning ahead from your speakers, let them decorate Christmas ornaments or wreaths that they can take home.
A fun, holiday-themed preplanning seminar can help families gain valuable information and begin to see you as a knowledgeable expert they can trust.
2. Host an Annual Remembrance Day
Many people have special holiday memories of loved ones who have passed. Give families a chance to share those special memories with people who understand the grief they're experiencing by hosting holiday events dedicated to remembering loved ones.
Here are 4 holiday event ideas for an Annual Remembrance Day:
– Hold a Christmas light show at your funeral home or cemetery

– Host a Remembrance service at your funeral home

– Do a dove or butterfly release

– Host a candlelight service or vigil
A Remembrance Day can be any kind of event that gives your funeral home an opportunity to connect with families.
Make your Remembrance Day an annual occurrence so families can look forward to the event each year and you can promote brand loyalty with your community.
3. Hold a food, clothing, or toy drive
Giving back to your community is a great way to build trust with families. And if you can partner with families to help your community, even better!
The type of donation you choose may depend on which holiday you want to focus on. For example, a toy drive may best be held around Christmas, while a food drive might succeed around Thanksgiving.
However, a clothing drive can be done near either holiday, so the decision would be up to you.
Hosting a food, clothing, or toy drive around the holidays can encourage people to visit your funeral home and talk to your staff. Because when you build relationships, you also build trust with families, and they'll be more likely to turn to you with their questions and needs.
4. Honor veterans with Christmas cards and care packages
Veterans, active-duty service members, and their families have sacrificed so much for our country. Christmas is an excellent opportunity to show your appreciation for all they've done.
Host holiday events where families can come together to write Christmas cards or create care packages for active-duty military and veterans in your community. You can even send these items to military families so they'll know that you were thinking of them.
Chances are, a few veterans will attend, too. If that happens, you can share materials (like this article!) about the funeral benefits veterans are entitled to.
Through this event, you'll show families how much you value your community's servicemen and servicewomen and build upon the positive foundation you've established with families.
5. Host a holiday support group
The holidays can be especially difficult for those who have recently experienced a loss or are years into their grief journey.
That's why hosting a holiday support group during the Thanksgiving or Christmas season can benefit your community. These support groups can be tailored to focus on specific grievers, like widows or widowers, or can be open to anyone grieving.
Your holiday events can also offer a variety of services for families. You can bring in a grief counselor to speak, include a grief therapy dog, do a grief support book study, or even get out into your community and volunteer.
You understand the grief and pain families can experience during the holidays. Show them that you're there to help.
Learn more about the benefits of joining a grief support group here.
'Tis the season to build trust with families
I hope these ideas have shown you how a holiday-themed event can help you build trust with your community and add value to your funeral home. Feel free to use any of the above ideas or use them as a starting point.
However, once you come up with your idea for a holiday event, there's still a lot of work left to do.
From planning and coordinating the details to properly promoting the event in your community, creating a holiday-themed event – or any event – requires a lot of time and preparation.
We're here to help with promoting it.
For our digital marketing clients, we can create unique posts on social media and spread the word to your community so your funeral home can host events to remember.