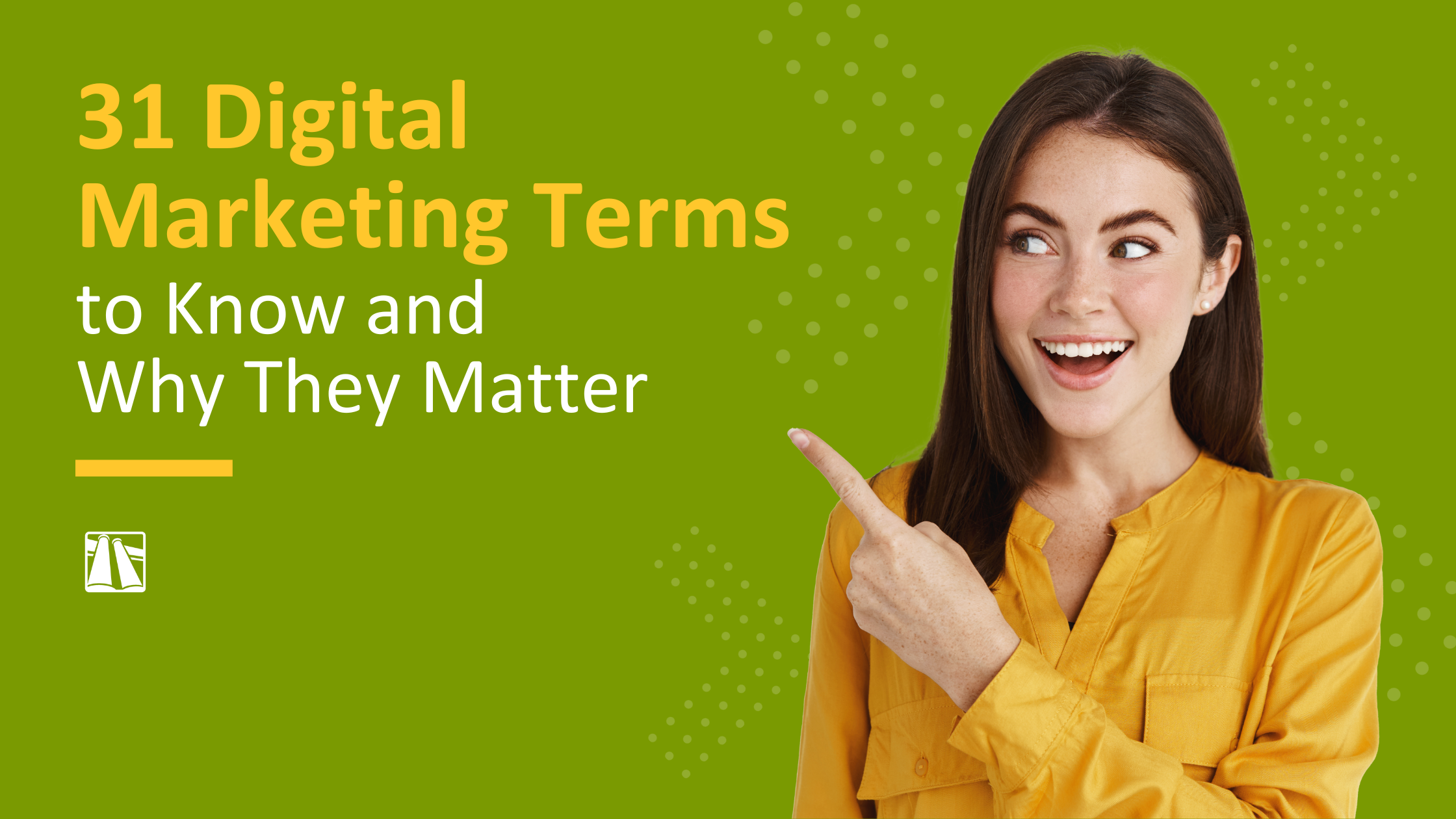 31 Digital Marketing Terms to Know and Why They Matter
By Lauren Schwenker, Digital Sales Manager
More than 318 million people in the United States – or 90% of the population – use the internet.
That means you need an online or digital marketing strategy to make sure you reach your audience and promote your funeral home.
But digital marketing is complex, and many funeral directors don't have time to learn the ins and outs of marketing terms or what they mean, much less work on a strategy.
That's OK.
Below is a cheat sheet of common digital marketing terms to know and what they mean in the context of your digital marketing plan. (Don't have a plan yet? Start your search here!)
With this list, you can get a better understanding of marketing and become an expert in no time!
Ad Spend: The amount of money that is spent to show a Facebook boost. Facebook's Algorithm controls how your money is spent by monitoring the number of active users in an area. For example, if your funeral home has a higher ad spend in a rural area, it may not be as effective as a higher ad spend in a more urban area.
Admin Access: Having full control over a business's social media page, including posting, creating ads, editing information, sending messages, and more. A funeral home's digital marketing provider will usually have admin access to social media pages so the provider can manage the page as needed.
Brand Awareness: The level of familiarity consumers have with your business (or brand) and how well they recognize you. One of the main goals of brand awareness for your funeral home is to help you be top of mind with families and build customer loyalty.
Calls to Action (CTA): How you motivate families to make a decision and act on that decision. Calls to action persuade families to take the next step by explaining what benefits they will receive if they act. Common calls to action for funeral home marketing include "Download now," "Learn more," or "Talk to our team." CTAs can also be displayed as a clickable button, text, forms, and more.
Campaign: An organized strategy to promote a specific company goal. Funeral home marketing campaigns can involve a combination of emails, printed pieces, videos, social media posts, and more. The goal of a marketing campaign can range from raising awareness to capturing customer feedback.
Clicks: How many times users click on a post, a link, an ad, etc. Clicks are a great way to measure your funeral home's organic or paid for engagement. They also allow you to see how many people took the time to interact with your post or ad to know more about you. For Google, you can use a PPC (pay-per-click) model. This will drive traffic to your website, and you'll only pay for the amount of clicks an ad produces.
Click-Through-Rate (CTR): The rate at which customers who saw your content clicked on the link in your post or ad to take action. CTR is a great way to let your funeral home know what families are interested in and what topics they want to know more about.
Client Success Manager: The one point of contact for all your digital marketing needs here at Funeral Directors Life. The CSM (also known as "Customer Success Manager" at other marketing providers) guides you through your marketing plan and goals and answer your questions.
Content Strategy: The planning, development, creation, and management of all content for a marketing plan. Your funeral home's content strategy ensures that every piece of advertising is working to achieve the goal of the campaign. A content strategy is necessary to make sure your marketing plan is successful.
Conversion Rate: The rate at which people saw your funeral home's ad and then acted on what they saw. This action can be filling out a contact form, calling to set up a preplanning meeting, requesting grief resources, and more. Conversion rate allows you to see if a particular customer touchpoint is performing well.
Custom Post: A social media post with a "branded" static image or video. The media features your funeral home's colors and logo. Custom posts can help your funeral home stand out and build your brand awareness with families. Custom content can also help make your funeral home appear more professional and relevant to families.
Engagement: Any action taken on your post or ad. These can be clicks, comments, shares, and more. Engagement is one of the strongest measures of social media campaign success, especially if your funeral home's focus is to increase followers.
Facebook Boost Post: A paid ad promoting an existing post from a business page. Facebook Boost Posts amplify the reach of your funeral home's content to appear to a broader range of your target audience outside of people who already follow your page.
Google Analytics: A web-based service offered by Google that tracks website traffic to create reports that provide insights into your business. Google Analytics helps provide insight into how your funeral home's digital marketing, specifically your search engine optimization (SEO), is doing. (Keep reading to learn more about SEO.)
Google Display Ads: Graphic ads that appear online on websites, mobile apps, and social media. Display ads usually include text, images, video, and sometimes audio. The main purpose of digital display advertising is to post your funeral home's ads on third-party websites where interested families might be.
Google Search Ads: Text ads that are shown among search results on a Google results page. This type of Google ad allows you to pay to appear in the top 3 or 4 search results when users search for specific keywords. Google search ads are especially helpful if your funeral home is in a competitive market.
Impressions: On Google, impressions are the number of times your ad appeared. Impressions could mean that your ad appeared multiple times to the same people over a period of time. On social media, impressions measure the number of times people viewed your post. These are calculated by using your funeral home's organic and paid reach. Impressions are a good metric to measure brand awareness for your funeral home.
Inbound Marketing: Marketing that creates valuable content and experiences to attract possible customers. Inbound marketing aims to make your funeral home easily searchable for families that are looking for you to solve their problems. (Keep reading to learn about outbound marketing.)
Landing Page: A single web page that is created to obtain a potential customer's contact information. The landing page will offer a downloadable eBook, a chance to schedule a meeting, options to start preplanning online, and more.
Lead Generation: The process of educating consumers on your funeral home's products or services so they will exchange their contact information with you. Lead generation works best when you offer a valuable resource to capture families' info so you can later follow up with them and continue to nurture the relationship.
Monthly Reports: An email that a CSM sends to your funeral home each month. The report details what content is scheduled to be posted to your social media, analytics showing how your digital marketing strategy is performing, data on your Google Ads, and more. These reports are important and necessary to make the most informed decisions about your funeral home's marketing.
Organic Reach: Describes a result you get for free. Organic means the social media platforms choose to show your marketing to a user at no cost to you. The benefits of a high organic reach for your funeral home are that it's cost-effective and appears more authentic to your families than a paid ad.
Outbound Marketing: Marketing that is awareness based. With outbound marketing, your funeral home is the one trying to connect with families.
Paid Reach: The number of people who see a paid social media post in their news feed. Paid reach is when your funeral home pays to share its content with specific, new targeted audiences interested in your offerings. You do this through "boosting" organic content or designing unique advertisements. (Keep reading to learn about target audiences.)
Rank: How high a search engine puts a website on a list of results. There are various factors that influence whether your funeral home's website has a high rank. These include content relevance, the quality of backlinks, and more. The higher you rank, the more likely a family will choose you over your competitor.
Search Engine Optimization (SEO): Processes aimed at improving a website's visibility in search engines to get more organic traffic. It also helps your website rank higher on a search result list than your competitors. SEO is about fulfilling consumers' search needs by creating relevant, high-quality content and providing the best possible user experience.
Search Term: Words and phrases the users typed in when they saw a specific ad. Ultimately, the goal for your funeral home is to get these terms to be transactional keywords, such as "funeral home near me."
Standard Content: A social media post with media that is not branded. Standard content can be static images with motivational quotes, human-interest articles, holiday celebrations, and more. This content is a great way to keep your social media active without spending much time creating customized content.
Target Audience: The ideal people who are interested in the services your funeral home provides. For example, most men and women aged 55-plus who may be interested in preplanning options could soon need at-need services for a close relative. They might even benefit from your aftercare. On Google and social media, you can target a specific audience based on demographic information, search history, or interests.
Transactional Keywords: Words consumers use in their searches that show they're ready to act. Transactional keywords (or "buyer keywords") indicate a consumer is ready to buy something. Common funeral home transactional keywords can be "funeral home near me" or "plan funeral in advance."
Views: Indicate how often a visitor interacts with digital content, such as a video. So, use views to determine what digital content resonates with your audience.
Congratulations! You're a marketing expert!
So now what?
Use these digital marketing terms to gain familiarity with your funeral home's marketing. If your current marketing strategy is lacking in any of these areas, you may need to consider making a change.
Creating one synchronized marketing strategy that helps your preneed, at-need, and aftercare businesses takes a lot of time and energy. And you need to use your time and energy to serve families who need you.
Let us take care of your marketing needs, from lead generation, to aftercare, and everything in between.
Fill out the form below to request a marketing demo or explore your options here.