Sales
Drive preneed sales…the right way.
At Funeral Directors Life, we believe your preneed sales program should be a service to your community. How we sell preneed is just as important as what we sell. That is why we work with funeral homes across the country to build preneed programs that really make a difference in the lives of the families we serve.
Turn-key Preneed Solutions
Reach Families in Your Community
Select Producer Program
Most preneed programs fail because of a lack of training, leadership, and support. The Select Producer Program is the solution. Select Producers are employees of our company who are highly trained and carefully selected to help your funeral home connect with more families and grow your preneed business quickly and easily from the ground up.
Learn More

»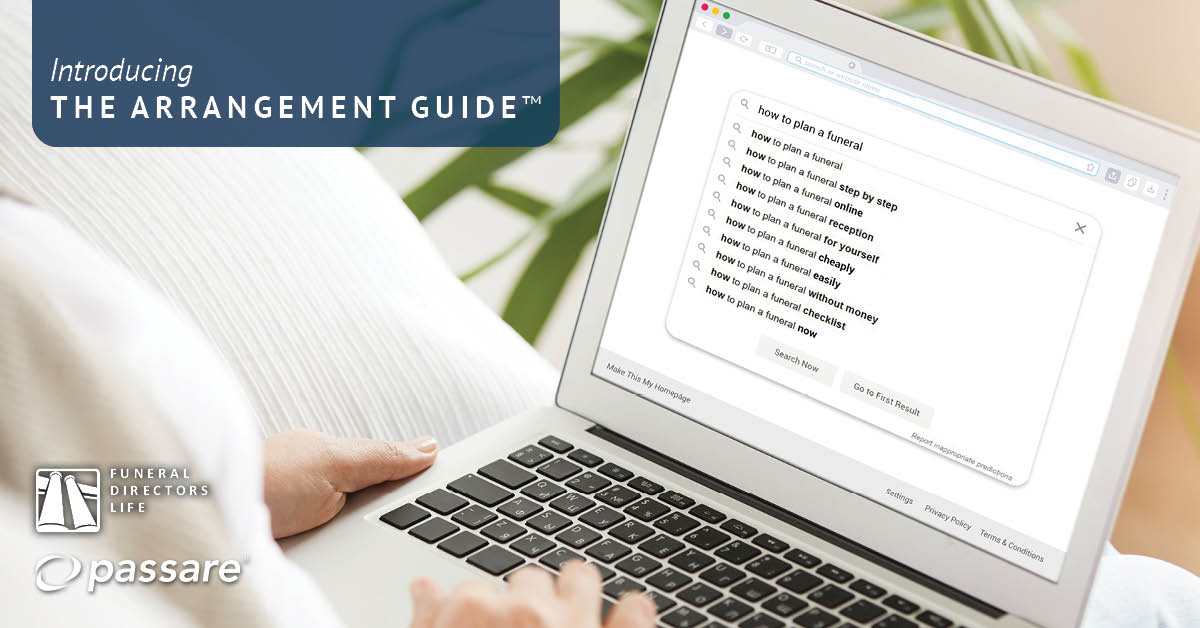 Serve More Families Online
The Arrangement Guide™
Offering a one-two punch, the Arrangement Guide along with the Select Producer program work hand in hand to grow your preneed business. The Arrangement Guide is the funeral profession's most advanced online planning and funding tool and will help you reach families you have never reached before…those who prefer to plan ahead online!
Learn More

»
Want to see how it works?
Download this case study demonstrating the results that a client experienced after joining the Select Producer Program.
Unmatched training, technology, and support
With industry-leading recruiting and training, unmatched technology and resources, and incredible ongoing support, your Select Producer will be able to not only serve families the right way, they will also be able to help you grow your business both now and in the future.
Training
Your sales professionals will receive the same industry-leading training, including consultative sales, Medicaid/BSI sales, Aftercare training, and our exclusive Wolfelt Experience training.
Technology
Your sales professionals will use DIGicon®, the industry's most advanced preneed sales software. DIGicon saves time, increases accuracy, and offers a better sales experience for families.
Learn more about DIGicon®

»
Support
With Funeral Directors Life, your sales professionals will receive incredible ongoing support from our sales management team, from field training to coaching, regional training sessions, and more.
The Process is Simple
Take the guess work out of preneed
We know your life is busy. That's why we make the process of growing your preneed program simple. Here's how it works:

Meet with Us.
First, you'll meet with one of our regional sales managers to discover opportunities and set your goals for preneed growth.

Create a Custom Plan.
Next, we'll determine the best plan of action to help you achieve your stated goals. Once we finalize the plan, we're off to the races.

Start Getting Results!
Finally, we'll gather the right team, the best training, the best marketing, and ongoing support for your staff so you can start seeing results.
Ted Beck
Funeral Director/Owner
BUCH FAMILY OF FUNERAL HOMES
"At the end of our first year with a Select Producer, the amount of preneed that we were doing had tripled. All of a sudden, the future of our funeral home is looking really secure, and at the same time, all the families are really well satisfied."
Steve Kish
Funeral Director/Owner
SCHUMACHER-KISH FUNERAL HOME & CREMATION SERVICES
"Our Select Producer with Funeral Directors Life increased our preneed sales by 275% in his first three years. He has brought consistency to our program and has helped us lock in future business. We now have a quality block of business on file. If you are looking to grow your preneed, take a look at this program."
Marty Ballard
Funeral Director/Owner
BALLARD & SONS FUNERAL HOMES
"For 30 years, we have not hired anyone outside the family because we believe our manner of care cannot be imitated, taught, or emulated. Then came Andrea. Andrea represents our family as a specialist in advanced care. She has shown a wonderful array of talents in meeting people and more importantly, giving them assurance, love and compassion. We are proud to have her on our family's team."
Ready to start growing your preneed business?
Request a free consultation today, and one of our sales management team will be in touch to set up a time to visit with you, get to know your goals, and offer solutions that will work for you and your business.