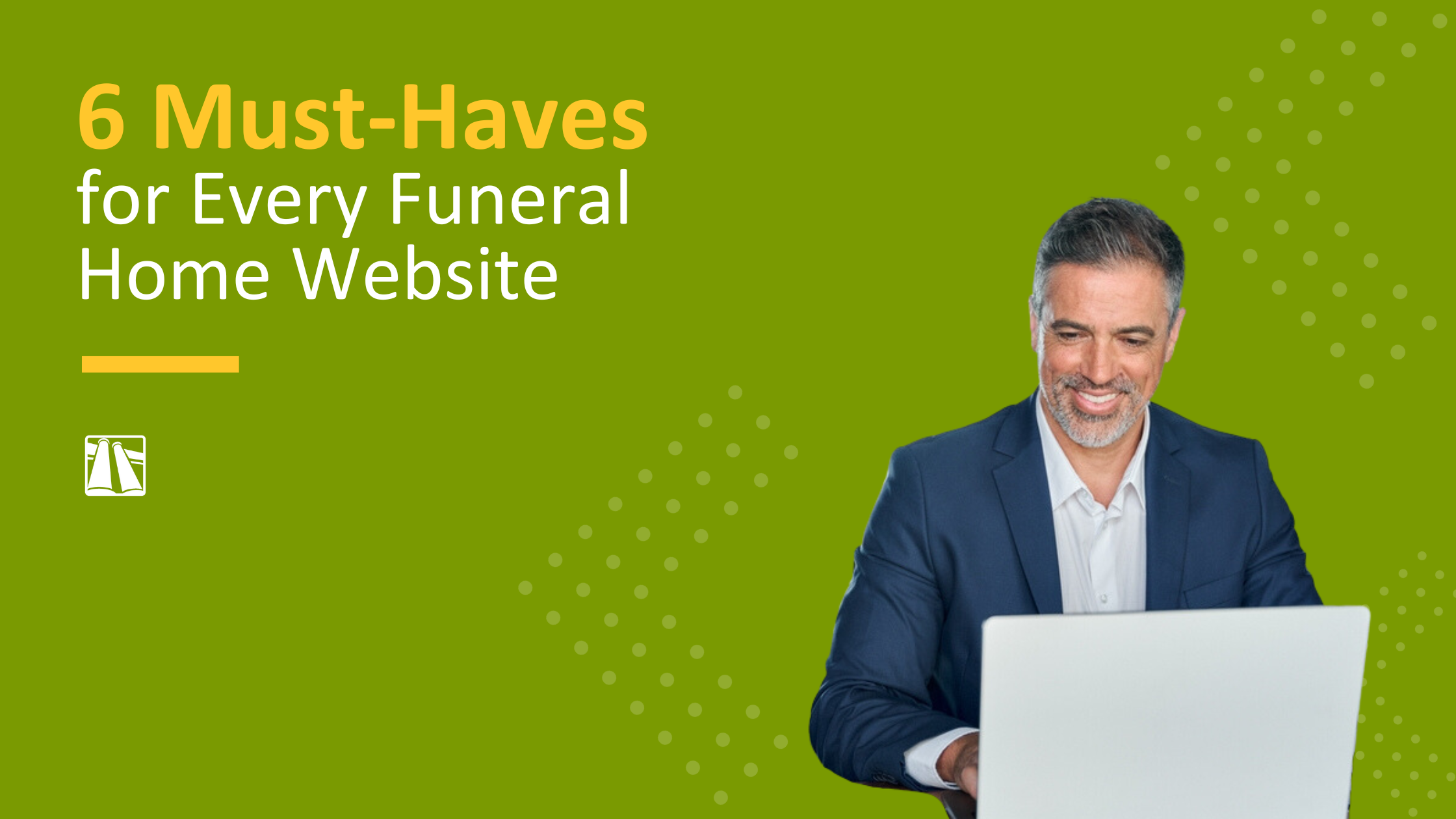 6 Must-Haves for Every Funeral Home Website
When a family first visits your funeral home's website, what do you want their experience to be?
You probably want them to find important information – like your phone number and address – quickly and easily. Or if a family wants to meet with your staff, you likely want scheduling an appointment to be as simple as possible.
However, you don't want a family to visit your website and be unable to find answers to their preneed or at-need questions. Because even if new families are consistently visiting your website, your funeral home can still miss out on connecting with them if your website is confusing.
Your website is your new storefront in today's digital marketplace, so it needs to be helpful, easy to navigate, and personalized so that you can assist every family.
Here are 6 must-haves every funeral home website needs to best serve families.
1. Remember the basics
There is a lot of information you can put on your funeral home's website. But remember that your website's priority should be meeting the immediate needs of families. That means including information that families generally seek at a time of loss.
Your phone number and address should be
prominently

displayed so families can find it within seconds of visiting your website.

And don't forget to include other important information like:
– Services offered

– Funeral packages

– Prices

– Your mission statement

– Obituaries
These topics will be what many families will want to know about you, so make finding these answers easy for them.
2. Make your website fast and user-friendly
No one likes waiting for a website to load or clicking through multiple pages to find information.
Today's consumers want answers quickly, so your website needs to be fast and user-friendly.
Most internet users expect a website to load within 2 seconds, and a study by Google reported that 53% will leave a website after 3 seconds.
Once a family is on your website, 61% of users want to find what they're looking for within 5 seconds, or they'll visit another site, according to Forbes.
So, again, speed and clarity are everything to today's families.
Being mobile-friendly is also a must for your funeral home's website.
Most consumers spend more than 6 hours a day on their phones, according to a report by DataReporal, Hootsuite and We Are Social. And the Pew Research Center found that 86% of consumers use their mobile devices to go online.
Families will likely see your website on a cell phone or tablet for the first time, so make sure your website's mobile view looks just as good as it appears on a desktop computer.
(Keep reading for more reasons to make your website fast and mobile-friendly.)
Those are a lot of statistics to consider, but here's the number you should remember. A consumer is 88% less likely to return to your website if they have a bad experience (Toptal), so ensure that your website is helpful and user-friendly.
That way, families can visit you again and give you more opportunities to connect with them!
3. Offer educational resources
Families can find information on Google that undermines the importance of funerals or doesn't clearly discuss the value of a funeral. That can lead families to feel unsure or uneasy about what to do.
Your website can be a reliable source of knowledge for families by offering educational funeral resources.
You'll also promote yourself as the funeral expert families can rely on, and they'll know to bring their questions to your website.
Your resource page should let families access links or guides on topics like the value of funerals, grief, funeral etiquette, and more. You can also direct families to other trusted websites – like FuneralBasics.org – for more information.
Your resource page can also promote your aftercare service and let families know that your care for them doesn't end once the funeral is over.
4. Include calls to action
Your top priority is to help a family during their difficult time. One important way you serve them is by guiding a family toward beneficial decisions.
Use calls to action on your website to guide families to the answers they need.
There are 2 types of calls to action, and both are needed to help serve families:
Transitional – Gives the customer more information in exchange for their contact information.

Direct – Invites the customer to take action and commit to a next step with your funeral home.
Transitional calls to action can ask a family to register for a preplanning event, request to download an educational resource, explore your funeral home's services and offerings, and more.
Direct calls to action ask a family to call your funeral home, schedule a meeting, begin the preplanning process online, and more.
Your website needs to give direction to families in need so they don't have to wonder how you can help them. And be sure to include a call to action on your homepage to help your funeral home better turn leads into customers.
5. Use video to personalize your funeral home website
Many families don't know all you do or how you go above and beyond for them. And fully explaining your commitment to families can be difficult to share through words on a website.
That's why video is such a powerful tool for your website.
High-quality video content can showcase how well you care for families and communicate your commitment to them. Here are a few video ideas that will help set your funeral home apart in your community:
Testimonials – Ask satisfied families to speak about their experience using your funeral home and the benefits of relying on you.

Heart for service – Explain to prospective customers why you're passionate about serving families and ensure them that they can fully trust you.

Facilities – Did you recently renovate your business? Show families! Since most families will learn about you online, let them see what your funeral home offers.

Personalization options – Use videos from unique funerals you've conducted to show families the options available for a personalized and meaningful funeral. Just be sure to get the family's approval before using the footage.
Using video will make your website more favorable to Google and other search engines. And don't forget to share videos you use on your website also on social media to help build your overall online presence.
6. Prioritize your SEO rankings
And speaking of search engines, your website won't be helpful to families if they can't find you when they search for "funeral home near me" or "cremation in my area."
That's where Search Engine Optimization (or SEO) comes in.
Ranking well with search engines – especially Google – can increase your chances of a family finding and visiting your funeral home website.
Several factors can impact your SEO ranking, but here are a few things your website needs to rank high:
– Mobile friendly

– Quick loading times

– Security

– Relevant content

– Internal linking
And if your website has a high SEO ranking, you may enjoy free advertising and traffic! However, many search engines frequently update their algorithms, making it difficult for your funeral home to rank high consistently.
Click here to learn how Google ads can keep you near the top every day.
Turn new visitors into well-served families with a reliable funeral home website
Your online presence is your first impression to many families, so start on the right foot with a helpful, easy-to-navigate, and personalized website. Give families a platform they can trust to find the right answers quickly and with ease.
A successful website is important in ensuring your preneed and at-need programs are secure.
However, creating a successful website takes time, which is hard to do when you have families to care for.
That's why finding a partner like Funeral Directors Life is your best move.
With our brand-new website offering, there's never been a better time to evaluate your website and how it works with your marketing plan. We worked with Tukios to develop proprietary templates that include everything listed above.
We even help you market it to your community!
Fill out the form below to learn more about how our digital marketing packages can help you connect with families like never before.