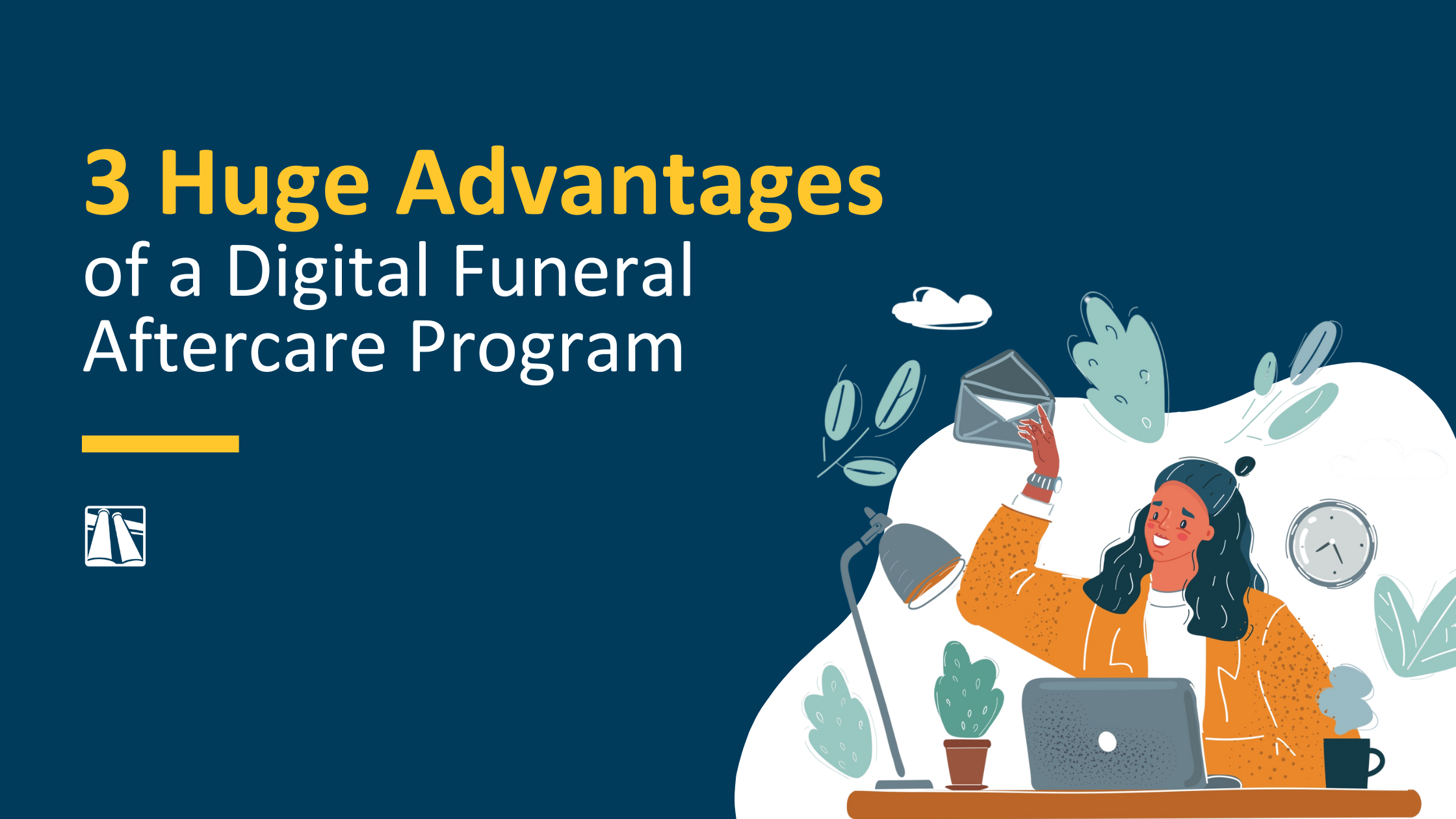 3 Huge Advantages of a Digital Funeral Aftercare Program
If you don't have a funeral aftercare program, you're missing out on the chance to connect with families, get referrals and Google reviews, improve your service, and grow your market share.
But how can you know if your aftercare program is worth the investment?
One way to know for sure is to use a digital funeral aftercare program (like this one). With a digital program, you can get instant updates and analytics, track responses from families, and see what content your families are engaging with, from grief resources to estate settling content.
Here are 3 other advantages of having a digital funeral aftercare program.
1. Get instant feedback to improve
How do you know if families appreciated the service your funeral home provided? How can you personally improve for the next service? What exactly did you do right in a family's eyes? One way to get the answers to these questions is through feedback surveys.
With your funeral aftercare program, you can send surveys to families to complete. For our program, we help our clients send digital surveys. With these types of surveys, you get the results immediately, and families appreciate the convenience. Plus, you don't have to wait on USPS to get your surveys back via mail.
And don't worry about the length. Families will fill out a long survey if you provide excellent service.
In order to grow and train your staff, you need actionable feedback from families to improve. So, don't skip out on sending surveys through your aftercare program!
2. Automate everything
Another huge advantage of a digital aftercare program is you can use it to automate your manual processes, like sending emails and texts. You can even set a schedule that automatically sends touchpoints to families on specific days. You'll never forget to send special reminders, like messaging a family on a loved one's birthday or anniversary of death.
Plus, you can send the right content at the right time. Let's say a family had a lot of questions about settling a loved one's estate. With an automated program, you could send them information about how to close a loved one's accounts and how to transfer banking information. Just make sure you don't automate your program to send estate information 6 months after a service.
Automation means you can be more efficient AND add that personal touch you're known for. Not to mention, you can maintain those relationships with families. Talk about a win-win.
With our program, we automate everything.
3. Improve your reputation online with Google Reviews
Every funeral home wants Google reviews.
Few know how to consistently get them.
Google reviews are important to build your funeral home's credibility. The more Google reviews you have, the better your funeral home's reputation looks to families in your community.
The best way to get them is to ask for them, and the best way to ask for them is through your funeral aftercare program, especially after you've served the family well. And with our program, you don't have to be the one who asks for them. Read these 10 dos and don'ts of getting Google reviews.
The digital funeral aftercare program for you
Though there are more than 3 advantages of a digital funeral aftercare program, these are enough to make you think twice about the effectiveness of your current aftercare program. Digital is the way to go!
Still not convinced? Read this article about how technology is changing funeral aftercare for the better.
If you need help with where to start or what program would be best, reach out to me or click here to learn more about Circle of Friends+.