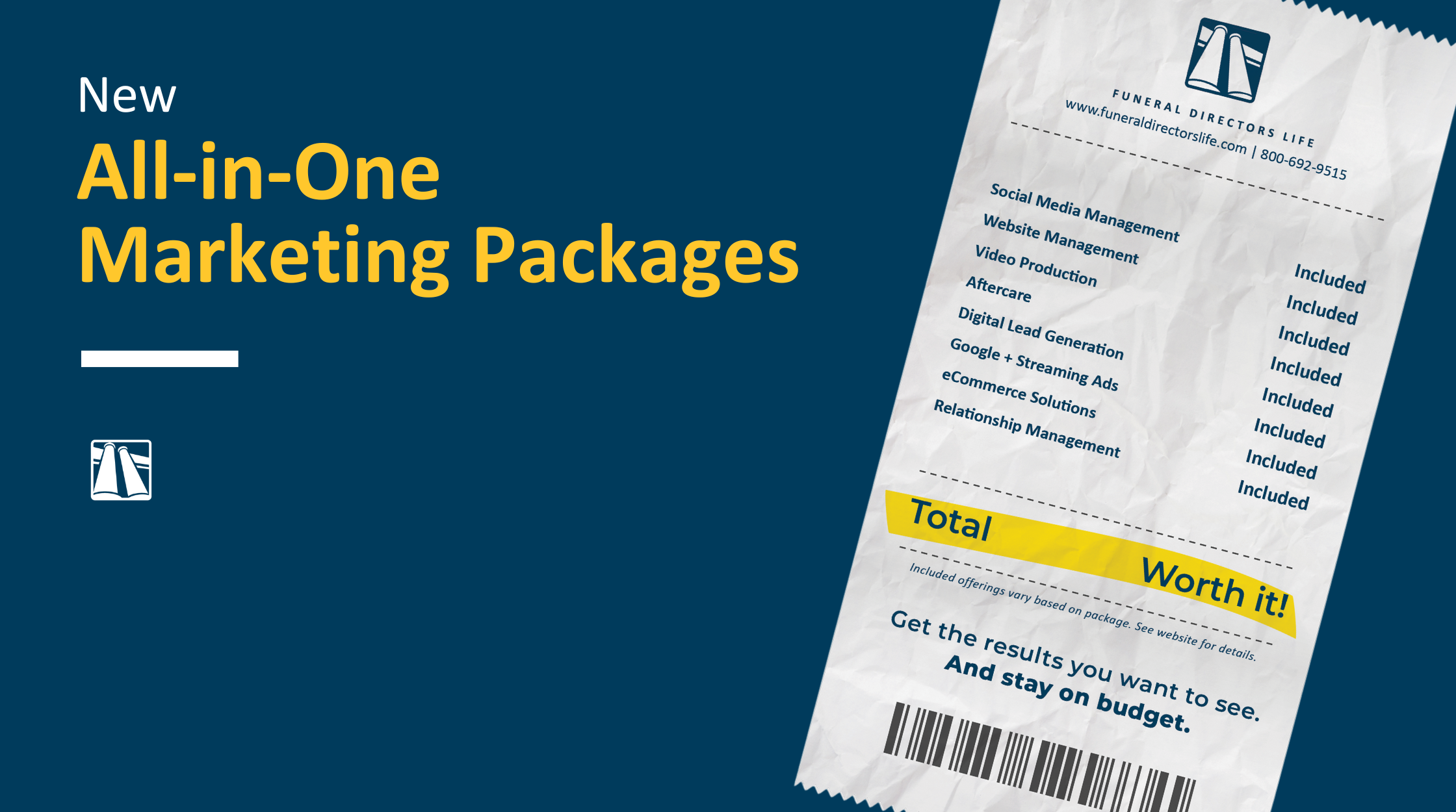 Funeral Directors Life Announces All-in-One Marketing Packages
ABILENE, TX – Funeral Directors Life (FDL) is pleased to introduce its new all-inclusive marketing packages for funeral home clients. These packages offer a range of digital marketing options, including social media management, Google Ads, Facebook ads, YouTube ads, custom video production, customer relationship management (CRM), preneed eCommerce, website management, aftercare, and more.
"What sets FDL's marketing packages apart from other options available to funeral homes is that all these services work together in one ecosystem," said Drew Seale, Executive Vice President and Chief Marketing Officer. "This means that funeral homes benefit from working with a single marketing company with a cohesive message and strategy across all marketing channels."
Funeral homes can now quickly and easily implement digital marketing strategies to increase brand awareness, generate preneed leads, improve Google ranking, stream ads on various platforms, and manage their website professionally, all with one marketing service. In addition, any consumer who responds to any aspect of the funeral home's digital marketing will filter into a centralized CRM system, making it easy for preneed sales professionals to follow up with every lead.
Plus, website management is a new offering that is now included in the marketing packages.
"Our goal is to provide top-level service to funeral homes, especially when it comes to websites," said Drew. "We have partnered with Tukios to provide proprietary options with messaging that builds the value of the funeral and offers multiple options for capturing leads. The websites are created by professionals who understand the funeral profession, and it shows. We want to offer funeral homes something they can't get anywhere else—an affordable, high-quality website with customization options and the exceptional content and customer service our clients have come to expect from FDL."
To learn more, visit www.funeraldirectorslife.com/services/marketing-services.
Or request a demo of our marketing packages below!