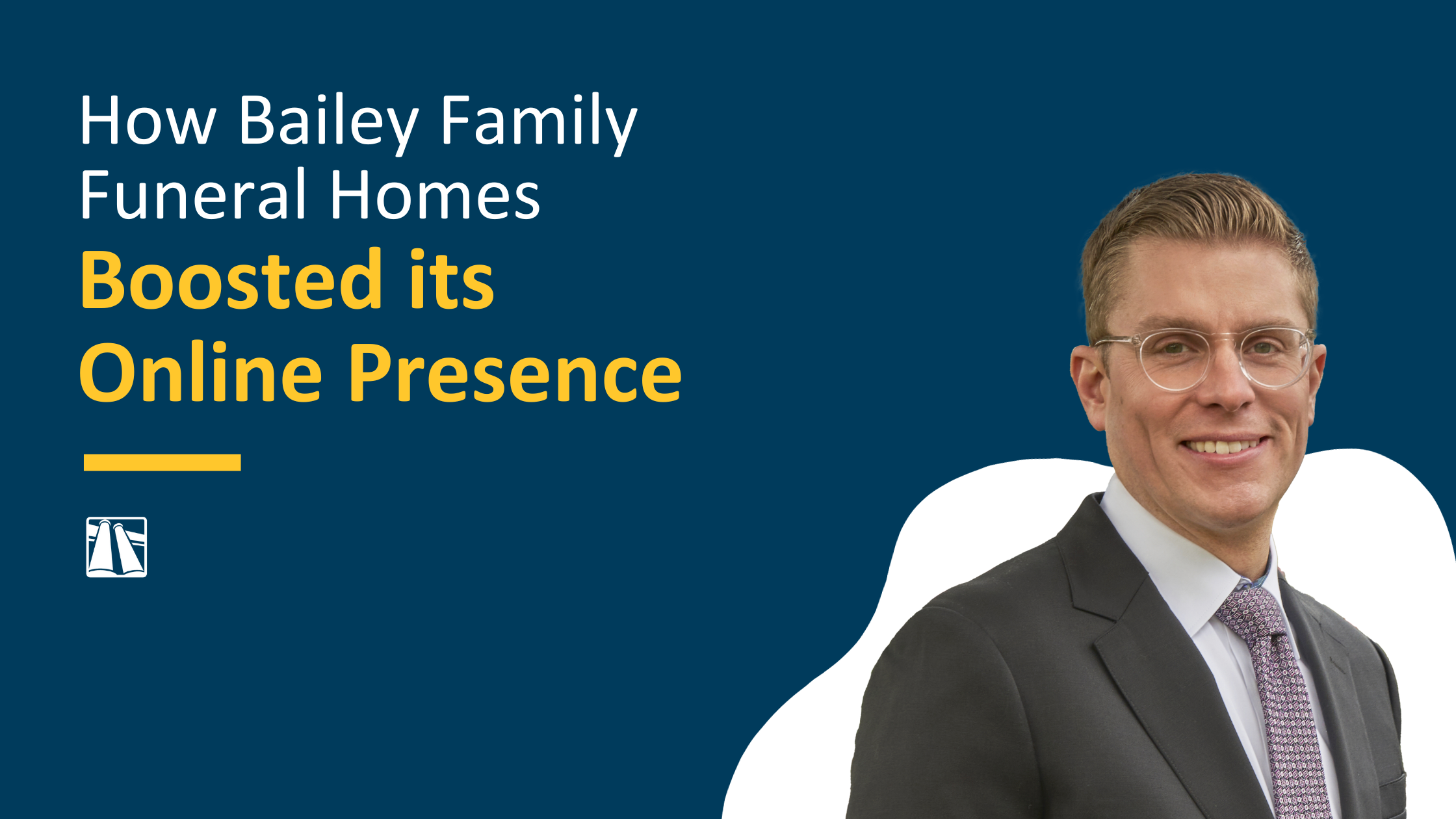 How Bailey Family Funeral Homes Boosted its Online Presence
Matt Bailey
President & Funeral Director
Bailey Family Funeral Homes
Wallingford, Plainville, & Southbury, CT
Average call volume: 450 calls/year
When Matt Bailey decided to find a new company to run his funeral home's social media, he knew he wanted two improvements: more custom content and unique videos. Luckily, his search didn't take long once he learned about Funeral Directors Life's (FDL) social media management service.
Matt was impressed by FDL's commitment to personalized content and high-quality audio/visual solutions. Plus, Matt was already familiar with the company, so partnering with FDL made perfect sense.
Read more to learn how FDL helped Bailey Family Funeral Homes stand out on social media.
How have you liked using FDL's social media management service?
We've had a positive experience so far. We partnered with FDL's social media management service in 2022, and their team has done a good job of checking in with us. In fact, we met earlier this year to map out a social media plan for 2023 to help us with our goals and what we wanted to accomplish. Since then, the service has been very streamlined. I'll get emails on specific content that is scheduled to be posted, which is nice because there's not much I have to worry about now that FDL has taken over that for us.
What were you hoping for when you partnered with FDL?
My initial expectation was that FDL would take social media off of my plate. The idea of me being the one to constantly post on our social media and keep our pages updated was not appealing. One reason we stayed with our other social media provider for so long was that even though they weren't perfect, at least they were still handling it for us. We didn't have to be the ones to post or think of ideas. But when I learned that FDL could take that burden for us and improve our social media, I was very interested in joining.
Your funeral home was using another social media management service before switching to FDL?
That's correct. The other company wasn't bad; they just didn't cover all of our locations as well as FDL does. I also felt like we weren't getting true custom content in our social media content. It did not feel specialized in the way that we were hoping it would be.
How did that lack of custom content impact your business?
It was definitely frustrating, which is why I started looking for other options. It was not a small financial investment on our part, either. At times I would think, 'Well, if we're going to spend this much per month and get these results, why don't we just hire someone in-house to run our social media?' We wanted to make sure we were getting the best value for what we were spending. We didn't feel that way about our old provider because they didn't offer anything close to the personalized photos and videos that FDL does. For around the same price, FDL offers more custom content.
How did you learn about FDL's social media management service?
Our funeral home has been heavily involved with Passare for years, and I've met some of the FDL team, too. I made a trip to FDL's home office and was introduced to all their different offerings. At the time, I thought I had a pretty good understanding of what FDL provided to funeral homes, but I realized that they offered much more, including social media management. They showed me a bunch of posts they created for other funeral homes, and I was very interested – especially in the videos they created.
Why did FDL's video production interest you so much?
I believe in the power of video, and I think it's an important tool to use nowadays. Video is how many customers learn about services, offerings, and companies. Videos are a great way to tell stories and can convey emotion in a way that words on a screen can't, particularly with testimonials. With video, you can see someone's eyes, you can get a sense of who they are, what they're passionate about, and what they truly believe in. I believe that video has a greater impact on the viewer.
You recently had FDL's video production team visit your funeral home. What did you think about that experience?
We had a really good visit and it was great to finally meet with them. Things stay busy at our funeral home, so the FDL video team did a great job of working around our busy schedule and visiting us at a time that best worked for us. They visited all of our locations and got videos of our staff and facilities. Everything was positive with the video team, and I can't wait to see how the videos turn out.
Besides custom content and videos, were there any other factors that made you want to partner with FDL?
The people at FDL are really special. Everyone that I've worked with and interacted with has been positive and helpful. When it came to customer service, there's been nothing to worry about.
What would have happened to your social media had you not switched to FDL?
I think we would have become stagnant. In this business, you always have to look forward and think about new ways to connect and serve families. And today, social media is necessary and one of the best ways to reach families. FDL takes a productive and proactive approach, which so far has benefited our business. They're forward-thinking, and we enjoy the partnership.
Ready to stand out and reach families on social media with custom content?
Fill out the form below to request a full demo of our digital marketing packages or view options here.