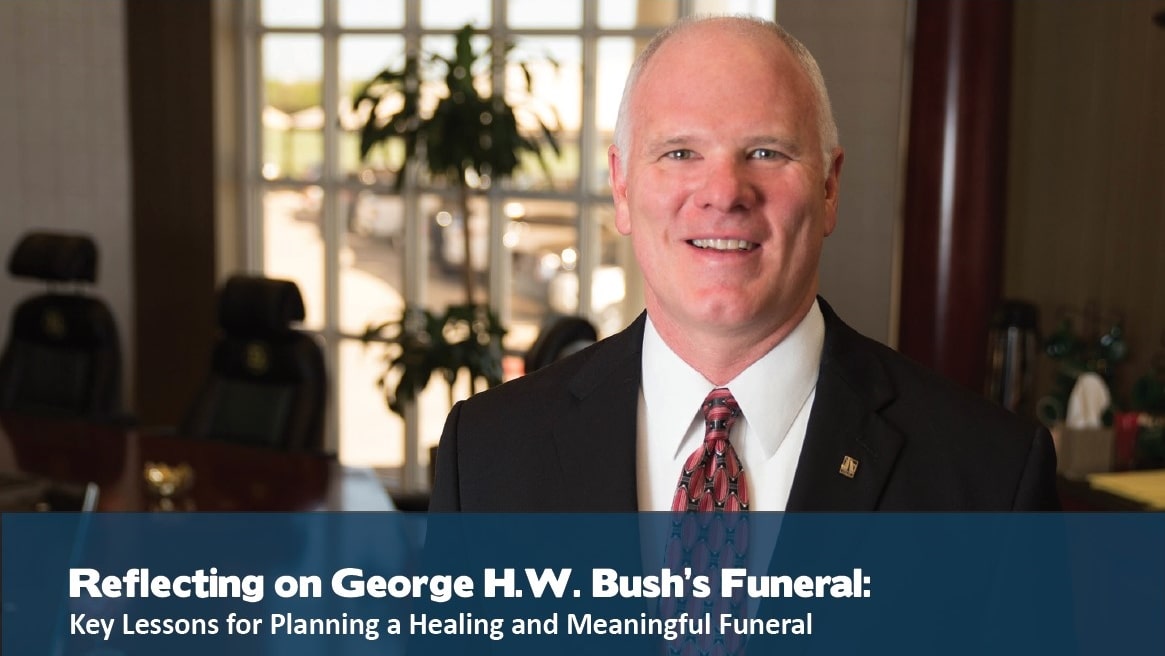 Reflecting on George H. W. Bush's Funeral: Key Lessons for Planning a Healing and Meaningful Funeral
BY KRIS SEALE, President & CEO, Funeral Directors Life
Most of us have by now had an opportunity to view some of the elements of George H.W. Bush's funeral, whether on the day those events occurred or on social media after the fact. Personally, I was moved by moments such as George W. Bush's touching eulogy, the heartfelt photos of Sully the service dog, and the salute of former senator Bob Dole to his friend and fellow World War II veteran, to name a few.
From start to finish, this funeral was rich with ritual, tradition, symbols, and meaning. As I thought about all of the planning that was involved in creating such an intricate and personalized tribute, I began to think about what we can learn and share with our families about what it takes to create a healing and meaningful funeral experience.
I'd like to take a few minutes to reflect on how the elements of a meaningful funeral were utilized to honor and remember George H. W. Bush. This funeral is one of those memories that we now share with most other Americans. As you meet with families, either in a preneed or at-need situation, you may be able to open up the conversation about the value of a funeral ceremony by talking about these elements and how they all came together to create a very meaningful celebration of life. These are key lessons that we can carry over into preneed or at-need planning!
The following is an excerpt from an article posted on funeralbasics.org, a consumer site developed by Funeral Directors Life that offers relevant educational content and resources for at-need and preneed funeral planning. Feel free to share the original article with the families you serve!
Dr. Alan Wolfelt, a nationally respected grief counselor and death care educator, tells us that there are several important elements to include in a meaningful and healing funeral ceremony. These elements are necessary to facilitate the six needs that a funeral fulfills: 1) acknowledge the reality of the death, 2) embrace the pain of the loss, 3) remember the person who died, 4) develop a new self-identity, 5) search for meaning, and 6) receive ongoing support from others.
Let's look at how these important elements were utilized to honor and remember George H.W. Bush in a way that was meaningful for his family, his friends, and his fellow Americans.
Music
Music sets the tone of a funeral and brings emotions to the forefront. In fact, one of the purposes of a funeral is to allow mourners to grieve together. In many ways, music says what words cannot. George H.W. Bush personally requested that Michael W. Smith sing "Friends are Friends Forever," which was a touching tribute to a dear friend. He also was a huge fan of country music, so it was appropriate and touching that Reba McEntire sang in his honor during a funeral ceremony at his home church in Houston, Texas.
Readings
Readings add another facet to a meaningful service. They are another way to invite mourners to express their emotions and bring the unique spirit of the one who has died to life. As part of the ceremony, several of former president Bush's granddaughters read passages of the Bible. As a man of strong and lifelong faith, the reading of the Bible gave both hope and comfort to his family while highlighting the personal faith of George H. W. Bush.
Viewing/Visitation/Reception
The visitation is a time for people to gather to express sympathy and support and to pay their respects. Throughout the several days that encompassed Bush's funeral ceremony, there were several opportunities for visitation. From Monday afternoon to Wednesday morning, Bush's casket lay in state in the rotunda of the U.S. Capitol building, allowing thousands from the public to pay their respects. After the events in Washington, D.C., the casket was transported to Texas, where Bush lay in repose at St. Martin's Episcopal Church. Both of these opportunities allowed all mourners the opportunity to acknowledge the reality of the death and pay tribute to Bush's life.
Eulogy/Remembrance
The eulogy is the single most important aspect of a funeral service. It is the time to acknowledge and affirm the significance of the life lived. A number of individuals gave eulogies at George H.W. Bush's funeral, including his son, George W. Bush, and his grandson, George P. Bush. He was remembered by his son as "a great, noble man, and the best father a son or daughter could have," and his grandson said that "it's the honor of a lifetime to share his name."
Symbols
Symbols, or symbolic acts, offer a focus point for the bereaved as well as a sense of comfort. In the case of Bush's funeral, one of the key symbols was the American flag. It symbolized the life he dedicated to the service of his country. The presence of the military and their ritual actions to honor Bush, a World War II veteran, are also part of the symbolism. Additionally, the fact that Bush's family wore black clothing and chose to have a memorial at St. Martin's Episcopal Church are symbols in action.
Gathering
The gathering is an opportunity for people to come together after the funeral service to share stories and to support each other. With former president Bush's funeral, this aspect was displayed on a much larger scale than is usual. While he lay in state at the U.S. Capitol, people gathered and shared stories and offered support to each other. Also of note, all living presidents and first ladies gathered for Bush's ceremony in a rare moment. And of course, Bush's family and friends had many opportunities to gather together, recall memories, and comfort one another before and after the service.
Actions
And finally, by inviting others into action, you engage mourners and invite them to put their grief into motion. Action can take place in many ways. For Bush's funeral, having attendees stand with hand over heart as the coffin was brought into the church and sing hymns are actions that invite mourners into the grieving process. And the processional train ride in the 4141 locomotive to Bush's final resting place brought together mourners and supporters who lined the train track, offering their support to the grieving Bush family and their respect to George H. W. Bush.
When all the elements of a meaningful funeral come together, they create a powerful, emotional, and healing tribute to a life well-lived. In the case of former president Bush, the entire funeral experience allowed family members, friends, civic leaders, and regular, everyday American citizens join together to honor the memory of a good man who loved his God and his country with all his heart.
To view a video that goes into more aspects of what we can learn about the George Bush funeral, click here.
About the Author: Kris Seale serves as the Chairman, President, and Chief Executive Officer of DIG and its subsidiaries, including Funeral Directors Life Insurance Company. In addition, Kris currently sits on the board of directors of the Community Bank of Snyder and the Abilene Youth Sports Authority. He is a member of the Texas Society of Certified Public Accountants and is a graduate of Baylor University with a Bachelor of Business Administration degree. Kris grew up in the funeral service profession as the son of a funeral director, the late Bill Seale, who served as a funeral director for over 57 years. He is passionate about inspiring employees, sales professionals, and clients to succeed in all aspects of life, from their spiritual lives, to their personal lives, to their business and work life. He is also committed to serving funeral directors and clients by providing them with valuable services and excellent products through DIG and its subsidiaries.