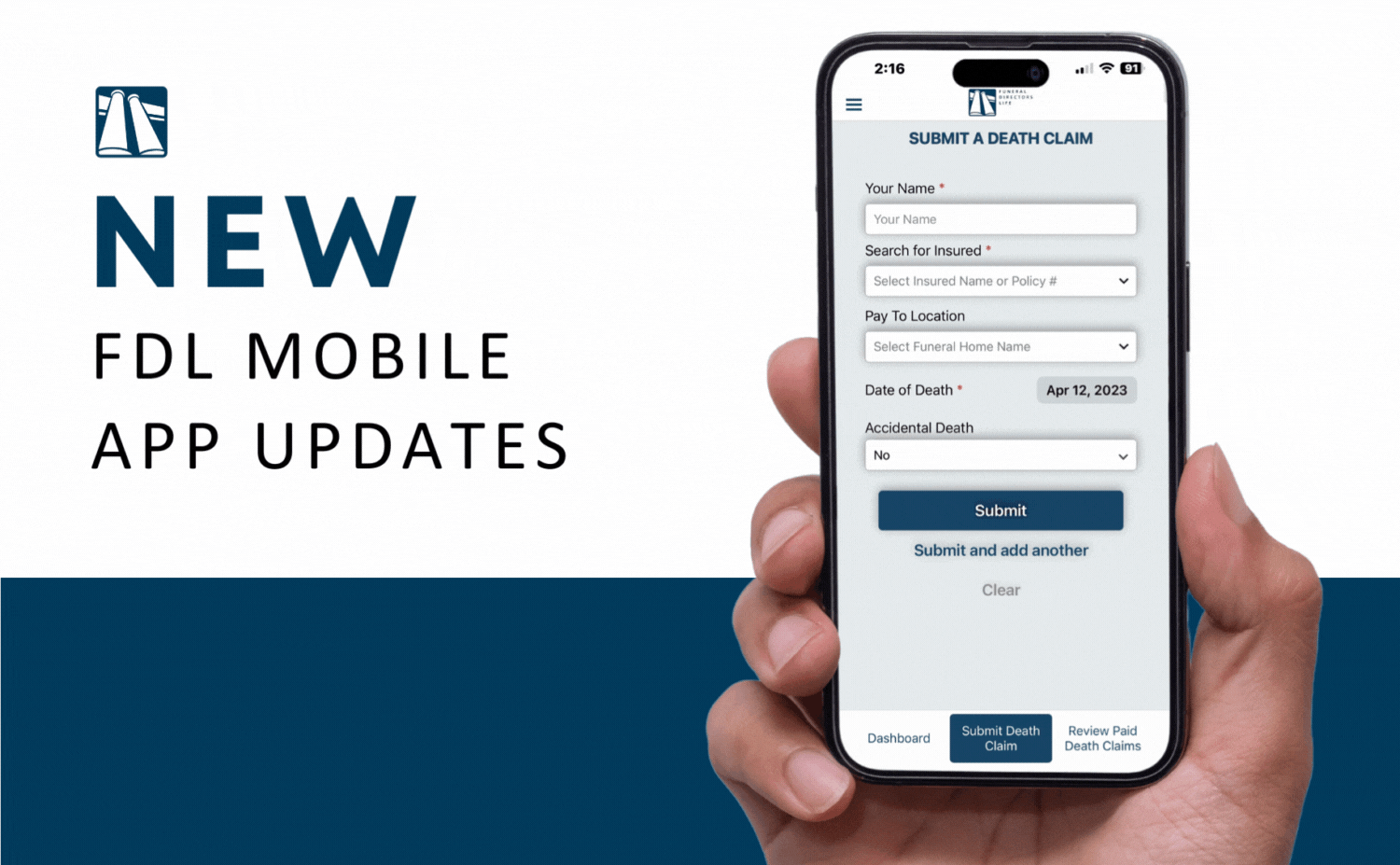 Funeral Directors Life Launches Major Upgrades to Preneed Mobile App
ABILENE, TX — Funeral Directors Life (FDL) is excited to announce improvements to its revolutionary preneed app, "FDL Mobile," available in the Apple Store for iOS devices and on Google Play for Android devices. Improvements include an updated design, upgraded security measures, built-in scanner functionality, and more.
"We've listened to the needs of our customers to introduce major upgrades to our mobile app that will make managing their preneed information a breeze," said Kyle Swearingen, VP of Development at FDL. "Not only can users have their preneed policies and other business insights at their fingertips, but they'll experience a sleek, new design with tools that are easy to find and use. They can also submit insurance assignments with CLAIMCHECK, submit claims online with our DIGiclaim® integration, and more, all from their phones."
To keep sensitive policy information safe, users of the mobile app will experience added security features, including brand-new biometric authentication login options such as Face ID and fingerprint recognition.
"We have strengthened security to continue to keep all policyholder and confidential business information safe and secure," Swearingen added. "This is due to our ongoing initiative to maintain the highest level of security across all of our platforms."
Additionally, the app now boasts document scanning technology to save users time on finding a scanner to upload documents, such as preneed contracts or policies.
"Many of our app's users are preneed professionals and funeral home customers, and not everyone has a scanner at home or when they're on the go," continued Swearingen. "That's why we put this technology in the palm of their hand. Users can upload documents using their phone's camera as a scanner. Plus, the app creates a clear and cropped image every time. This newly updated app is a huge step forward to making preneed policies and contracts easier than ever to manage."
For questions about the app, contact the FDL Help Center at [email protected] or 800-692-5152.
About Funeral Directors Life
Funeral Directors Life is focused on being the best, most-respected provider of service to the funeral profession with preneed solutions, financial services, and technology offerings. We help our clients improve their businesses and grow their profitability through our full-service solutions. Your business requires more than preneed solutions – that's why we're more than a preneed company. For more information about Funeral Directors Life, request a consultation below.