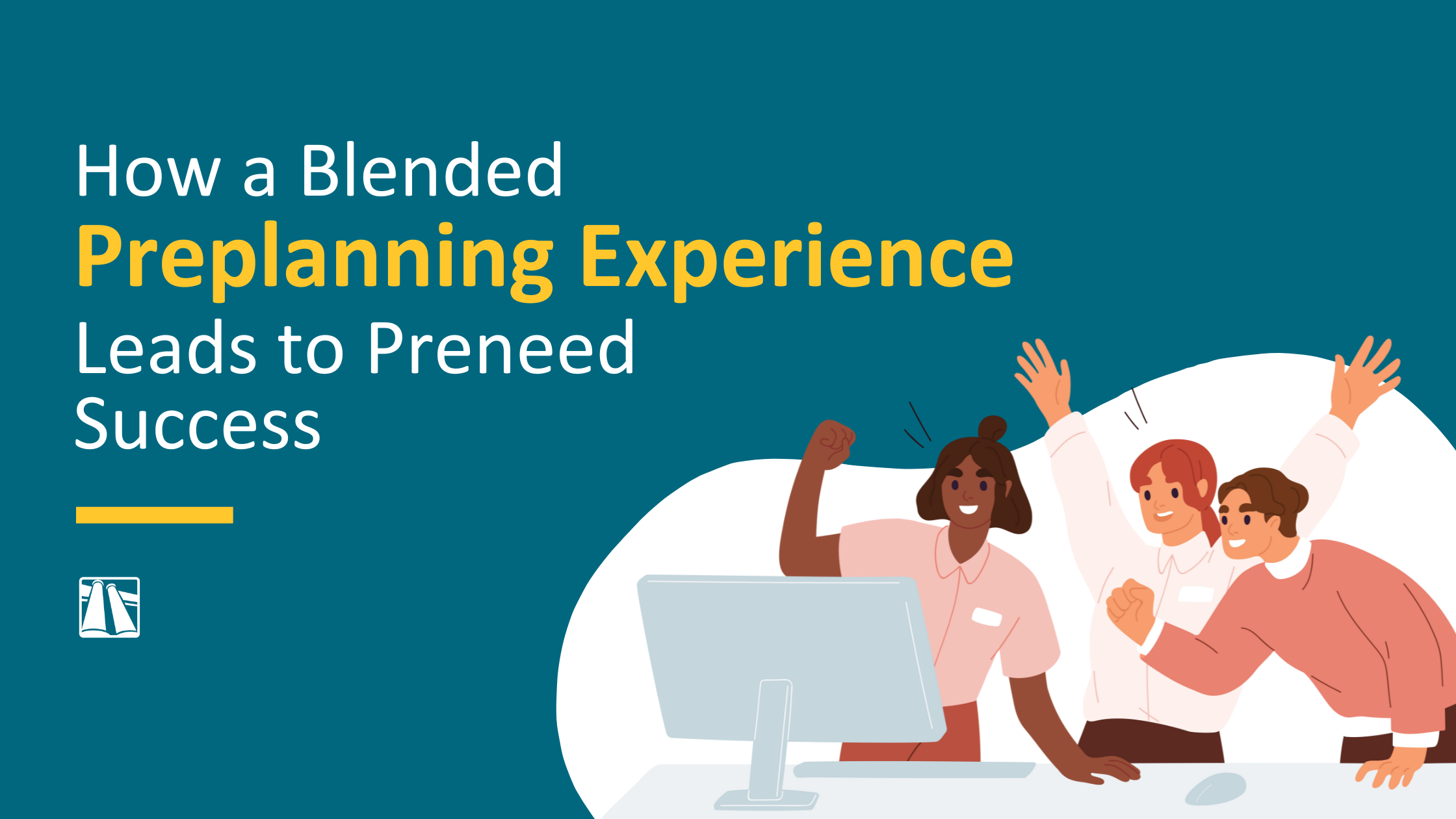 How a Blended Preplanning Experience Leads to Preneed Success
Recently, I was in the market for a new TV so I could watch my Dallas Cowboys in HD.
So, I began by researching my options online.
I found the perfect deal on an 85″ Samsung QLED TV and was ready to buy, so I added it to my cart.
Then, I was asked if I wanted to throw in new speakers.
"Maybe it will feel like I'm on the field…" I thought. So, I added them.
Card in hand, I filled out my billing and payment information. They'd even deliver the TV to me? Score! (Pun intended…)
I never expected to read the words on the next page.
"Item available for store pick-up only."
I wanted to do everything online. And I was frustrated when I couldn't.
The truth is, this is the online preplanning experience for families today.
Watch EVP and Chief Marketing Officer Drew Seale explain this concept even further.
Why you shouldn't neglect your preneed program
Your preneed program should be a revenue generating source for your funeral home. Maybe you have a preneed salesperson to assist with walk-ins and to help set preplanning appointments in person.
But do you have a way for families to start the preplanning process online?
And I don't mean a basic questionnaire or survey.
Do you have a digital storefront where families can start making prearrangements online, select merchandise, and plan service details from the comfort of home?
It may sound like a wild concept in theory, but it works, especially to reach the funeral consumer that wants to plan online. Download this eBook to learn more about funeral consumers.
In a study we did on funeral consumers, 45% of participants said they'd likely preplan and prepay for a funeral. 31% were undecided, and 24% weren't interested. Since nearly 50% of people (on average) would preplan for a funeral, you need many ways to connect with them, whether that's in person, online, or both.
A blended preplanning experience
Every family is different, so the more options a person has to start preplanning, the better.
Simply put, relying on walk-ins or call-ins shouldn't be the main source of your preneed leads. To truly see your preneed block of business take off successfully, you need:
An online preplanning tool to serve those families who want to start the preplanning process online and maybe even pay for their plans, too
A preneed salesperson whose sole purpose is to bring in leads and contracts and to represent your funeral home
A marketing strategy that gets the word out about how families can preplan with your funeral home
When you have all three working together as a blended preplanning experience, you should start seeing preneed success.
And happier, well-served families.
See our online preplanning tool in action.