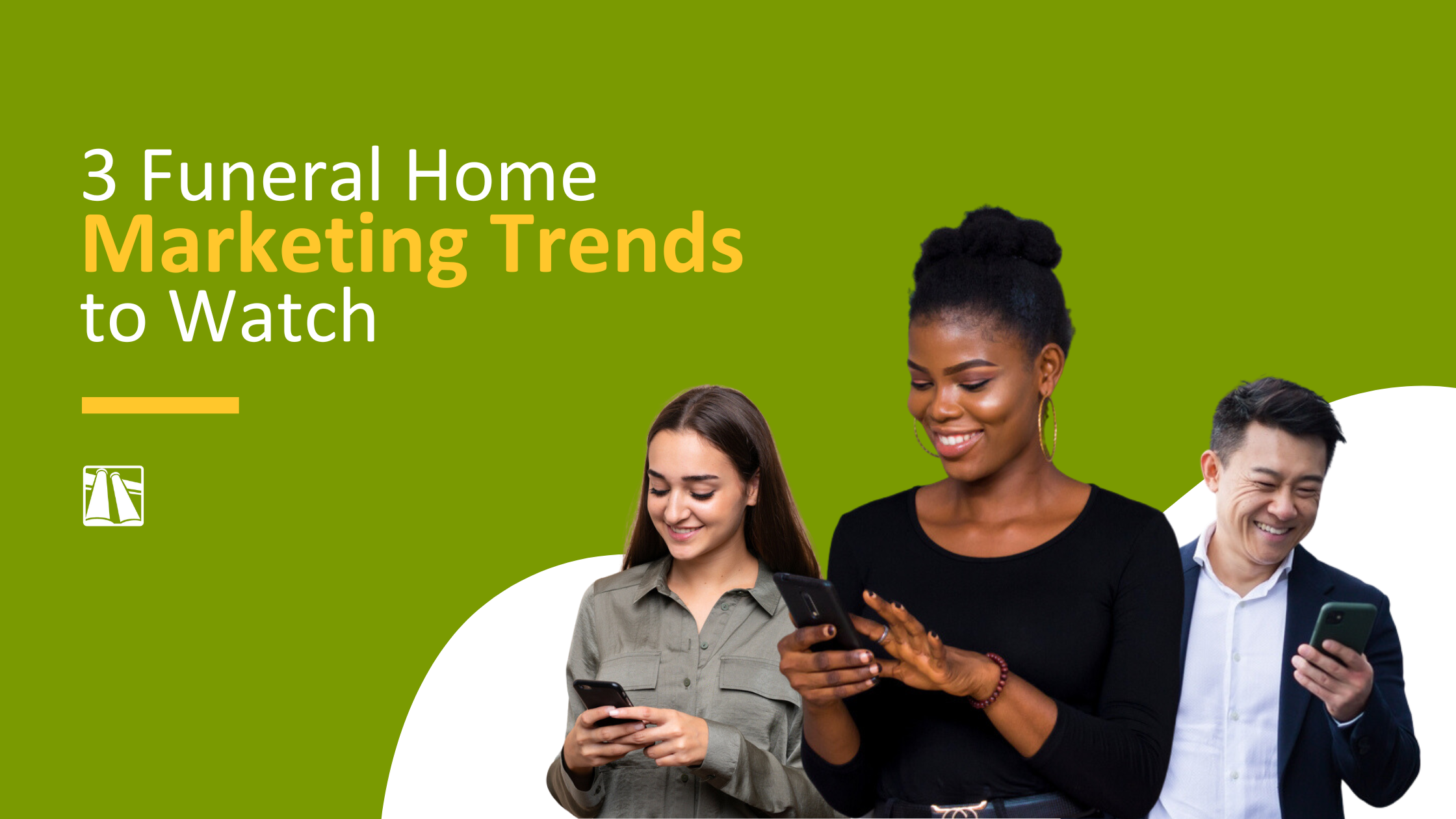 3 Funeral Home Marketing Trends to Watch
By Rae Gresso, Account Executive
It's no surprise that funerals look different today than they did decades prior.
Consumers have changed, and so have their preferences for funerals and funeral planning.
The digitization of society and other influences have had an impact on the profession, and we've been keeping an eye on how trends throughout the decades have evolved. Download our findings here.
Overall funeral home marketing trends have changed, too. Consumers now have drastically different expectations of how and where they interact with your business. It used to be that someone would pick up the phone and call with a question. Now, consumers will look online first for answers.
That's why you need to start reaching families online/digitally with your advertising efforts.
But there are a lot of digital marketing options available, and paying attention to what's new or trending is overwhelming. Plus, just because something works in one industry doesn't mean it will work for our profession.
But the marketing strategies outlined in this article aren't simple trends. This type of online advertising will help you reach families, generate leads, and improve your brand awareness.
Let's get started!
1. Facebook reigns supreme. But YouTube is a close second.
Can you guess what percentage of the Baby Boomer generation is using Facebook?
At least half?
Higher. 👆
70%?
You're close.
Over 3 in 4 people aged 56+ are on Facebook – or 78%. In fact, this generation uses Facebook the most of all users on the platform.
And people use Facebook for many reasons, such as connecting with family, staying informed about news, and interacting with local businesses.
Similarly, about 2 in 3 – or 67% – of this group uses YouTube to watch videos related to their interests and see ads before a video plays.
What does this mean for your funeral home? The Baby Boomer generation is your audience. And these social media platforms can help your funeral home reach them online.
How exactly?
By using Facebook or YouTube ads, you can share preplanning information, show a video of your funeral home, and more, all from users' feeds and videos they play. Best of all, you can decide how often your ads show and stay on budget. See how to grow an audience on Facebook
These two platforms are proving to be more cost-effective than television while producing more leads for funeral homes. Though other social media platforms, like TikTok and Snapchat, have made gained traction with people, only 2% and 5% of Baby Boomers are on those apps.
Focusing on YouTube and Facebook is going to be key to connecting with families in the coming years.
2. Google is helping funeral homes reach families first.
Ever wonder how to bring in new families to your funeral home?
So are your competitors.
Sadly, the best funeral home (like yours) doesn't always win a family's business. It's the funeral home that gets to them first.
How can you do that?
Use the power of Google searches.
When a family has a question about planning ahead or needs to contact a funeral home after a death, they're turning to Google to help them find a business. They'll type, "funeral home near me," "funeral home in [city]" or another variation of those keywords.
And when Google shows them the results page, most people click on links near the top. If your funeral home is far down the results page, you're missing opportunities to connect with families without even realizing it.
To reach families first, you need to be near the top of Google. We can help you get there. More on that here
Here are other benefits of using Google for your marketing strategy.
3. Your website is crucial for lead generation.
Many funeral directors are looking for ways to serve new families, so grabbing the attention of people who visit your website is important. Whether people go there to look at an obituary or learn more about planning ahead, your website needs to be optimized to meet their needs.
But many funeral home websites aren't. Here's why:
1. They don't help funeral homes get new leads
2. Helpful resources are buried on pages that aren't easy to find
3. Page layouts aren't set up for success
4. They don't capture visitors' contact information to follow up about services
The points above are essential qualities of your website. Overall, if your website educates families, is easy to navigate, and provides value in exchange for a visitor's information, that greatly increases your chance of getting leads now and in the future.
Learn more about website tips here.
A combined funeral home marketing strategy improves brand awareness and sales.
When you combine the power of Facebook, Google, and YouTube to promote valuable content and share your story, you're building brand awareness in your community.
Plus, if those channels are sending people to your helpful website that builds authority and helps you get contact information, you'll serve people exactly when they need you. And they'll think of your funeral home first.
With a combined digital marketing strategy, you stay top of mind in families' eyes.
But of course, you want a digital marketing strategy that all works together. If you work with one company for your website provider, one for Google and YouTube ads, and a separate one for social media, things can get complicated fast.
We want to help simplify your marketing strategy and help you get better results – for BOTH your preneed and at-need business.
When you partner with us, you get a custom marketing plan tailored to your needs. You work with one dedicated team of experts who can handle content creation, reporting, and strategies. And yes, we help you stay on budget. 👏
Ready to see success with funeral home marketing?
Fill out the form below to request a demo today!