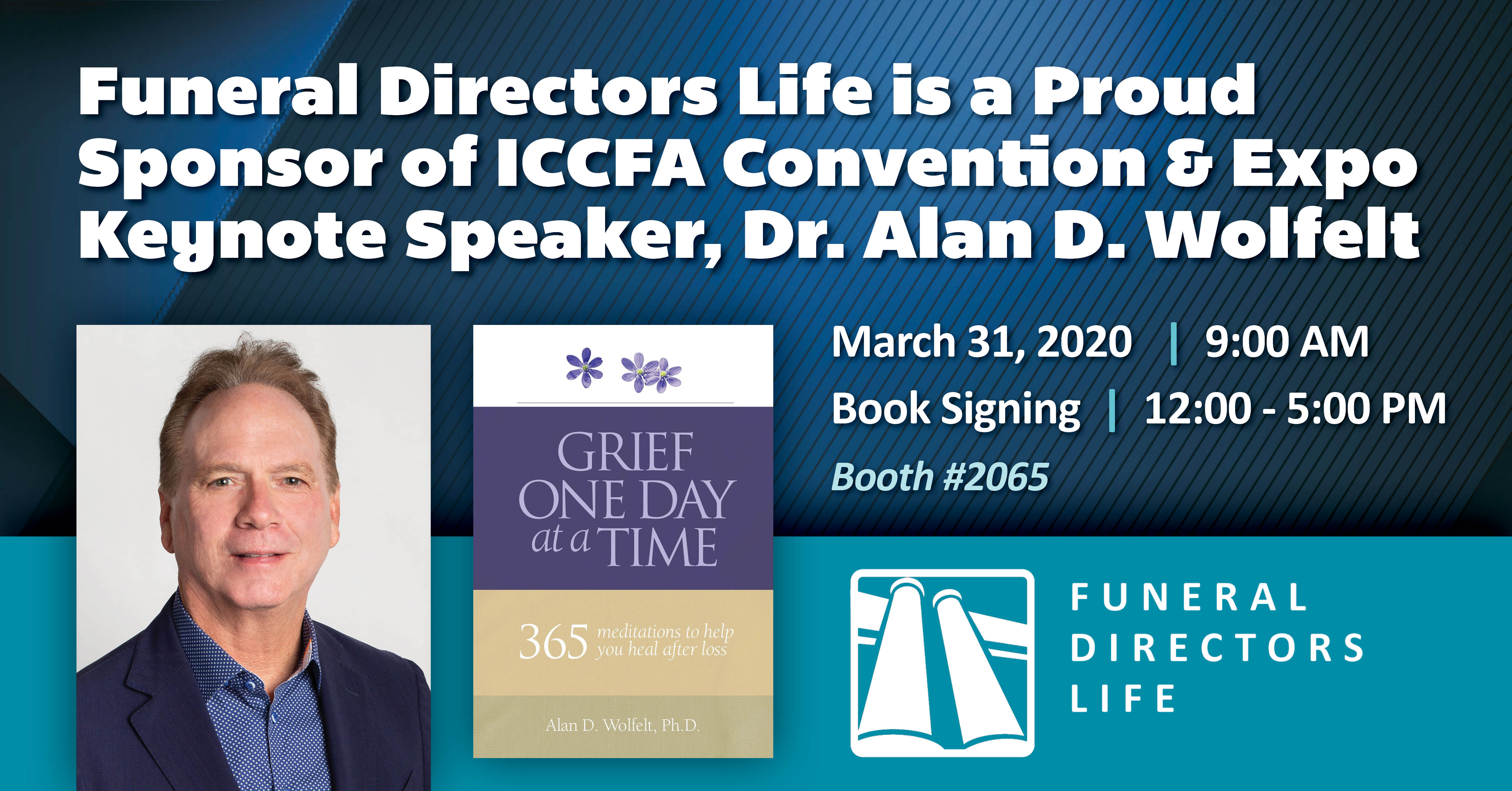 Funeral Directors Life to Host Dr. Wolfelt Book Signing at the 2020 ICCFA Convention & Expo
Funeral Directors Life is proud to sponsor keynote speaker Dr. Alan Wolfelt for the 2020 ICCFA Annual Convention & Expo.
"Dr. Alan Wolfelt is a renowned author and grief educator, and his books and teachings are shaping how we in the funeral profession help families at the time of loss," said Kris Seale, President and CEO of Funeral Directors Life. "It's an honor to sponsor Dr. Wolfelt at this year's ICCFA Convention."
Dr. Alan Wolfelt is a noted author, educator, and grief counselor who has dedicated his life to coaching medical practitioners, social workers, and funeral professionals on how to help families grieve in a healthy manner and move from painful internal grief to healthy outward expressions of mourning.
Dr. Wolfelt will be speaking at the 2020 ICCFA Annual Convention & Expo on Tuesday, March 31st with a book signing from 12:00 – 5:00 pm at booth #2065.
"In the funeral profession, part of our job is to help families process their grief as they lay a loved one to rest," said Seale. "Dr. Wolfelt will have a lot of valuable information to share with us about how we can serve our families even better with a deeper understanding of why we do what we do. Everyone is welcome to stop by our booth to get your books signed on Tuesday afternoon. We're very excited to be able to offer this opportunity!"
Dr. Wolfelt's recent book, Grief One Day at a Time: 365 Meditations to Help You Heal After Loss, will be available on a first-come, first-served basis.
About Dr. Alan Wolfelt
Alan D. Wolfelt, Ph.D. is an internationally noted author, educator and grief counselor. He serves as the Director for the Center for Loss and Life Transition in Fort Collins, Colorado. Perhaps best known for his model of "companioning" versus treating the bereaved, Alan is committed to helping people mourn well so they can live well and love well. For more information on the center or the writings of Dr. Wolfelt, visit his website at www.centerforloss.com.