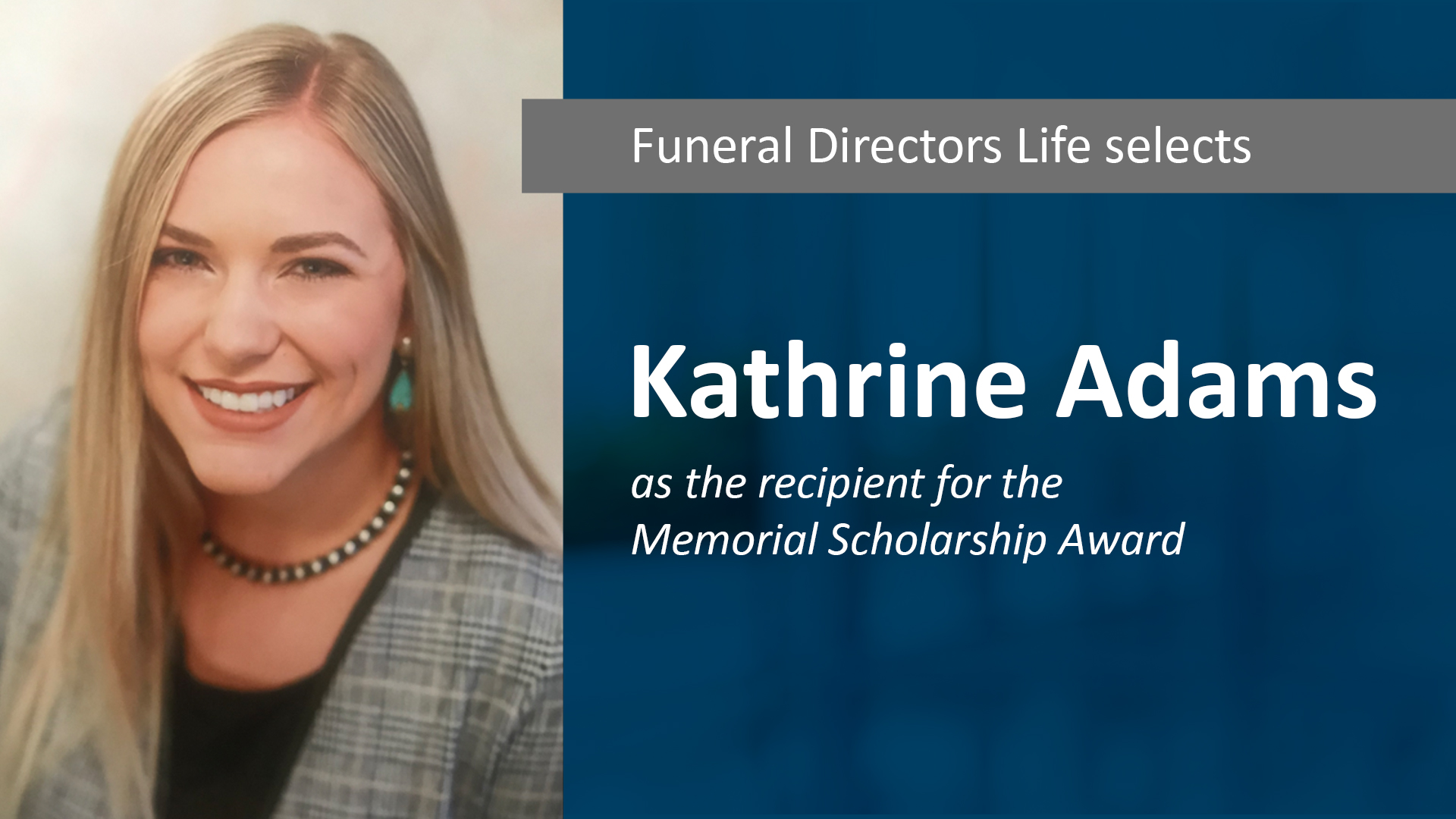 Funeral Directors Life Selects Kathrine Adams for the Memorial Scholarship Award
Funeral Directors Life Insurance Company is pleased to announce that the 2019 Memorial Scholarship Award will go to Kathrine Adams, a funeral assistant at Robertson Funeral Directors in Clarendon, TX.
Adams began working at Robertson Funeral Directors as visitation hostess in 2015 and then, while away at college, she worked for Combest Family Funeral Homes & Crematory. "We have no doubt that Kathrine's future in the industry will be impactful," said Tonya Combest, Co-Owner and Funeral Director of Combest Family Funeral Homes & Crematory. Combest went on to say that Kathrine has a heart for people, attention to detail, and great pride in honoring a life well lived.
"In reviewing Kathrine's scholarship application, it was very apparent to our committee that this young woman was a prime example of the type of person who excels as a funeral director," said Ray Thompson, Scholarship Committee Chairman. "Working in funeral service is not an easy job, and it takes a lot of heart. I believe Kathrine has a sincere heart for service, and she will do an incredible job serving families."
When asked what led to her interest in the funeral profession, Adams stated, "I had interest in pursuing a career in the funeral home business because I have several family members in the field, but my passion for helping families really sparked when I started working at a funeral home." Adams also shared that she was very honored and humbled to be a recipient of the Memorial Scholarship Award.
Adams is attending the Amarillo College Mortuary Science Program in the fall of 2019. Previously, she graduated from Texas Tech University with her bachelor's degree in May of 2019.
Funeral Directors Life is proud to support future funeral service professionals through the Memorial Scholarship Fund. The Memorial Scholarship Fund is perpetually supported by Funeral Directors Life and by the generosity of donors. The mission of Funeral Directors Life is "to be known as the best, most-respected provider of service to the funeral industry." For more information about Funeral Directors Life, please visit www.funeraldirectorslife.com.