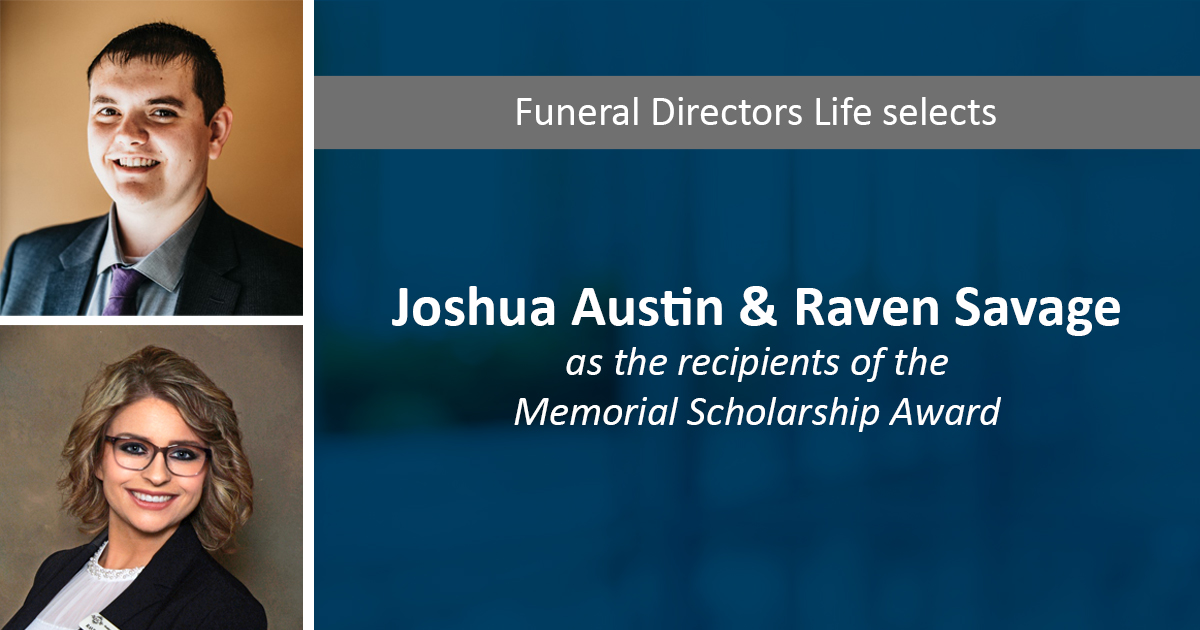 Funeral Directors Life Selects Joshua Austin and Raven Savage as Recipients of the Memorial Scholarship Award
ABILENE, TX – Funeral Directors Life Insurance Company is pleased to announce the recipients of our Memorial Scholarship Award: Joshua Austin, a part-time funeral assistant at Cozine Memorial Group in Wichita, KS, and a student at the Dallas Institute of Funeral Service, and Raven Savage, an Embalmer Apprentice, Funeral Director Apprentice, and Insurance Agent at Medders Funeral Home in Crossett, AR.
"Both of these candidates stood out to our committee as individuals who had a passion for service and the perseverance needed to have an outstanding career in funeral service," said Ray Thompson, Scholarship Committee Chairman.
Joshua and Raven were also highly recommended by their supervising funeral directors.
"After a short time, it was evident that Joshua had a true passion and desire to pursue a career in funeral service," said W. Ashley Cozine, President of Cozine Memorial Group, "He is a wonderful person who will make an outstanding Funeral Director and Embalmer."
Keith Medders, President of Medders Funeral Home, Inc. said, "Raven is currently an embalmer and funeral director apprentice with our firm. She has shown great initiative in generating and following up with all her preneed sales leads. Overall, she is an excellent employee and strives hard to excel in the funeral industry."
Both Raven and Joshua were grateful to be recipients of the Memorial Scholarship Award. "I am very thankful and excited for this opportunity in a career I love," said Raven. Joshua also expressed his appreciation, saying, "I do not take for granted this support, and I am grateful to receive this award."
About the Memorial Scholarship Award
Funeral Directors Life is proud to support future funeral service professionals through the Memorial Scholarship Fund. The Memorial Scholarship Fund is perpetually supported by Funeral Directors Life and by the generosity of donors. The mission of Funeral Directors Life is "to be known as the best, most-respected provider of service to the funeral industry." For more information about Funeral Directors Life, please visit www.funeraldirectorslife.com.