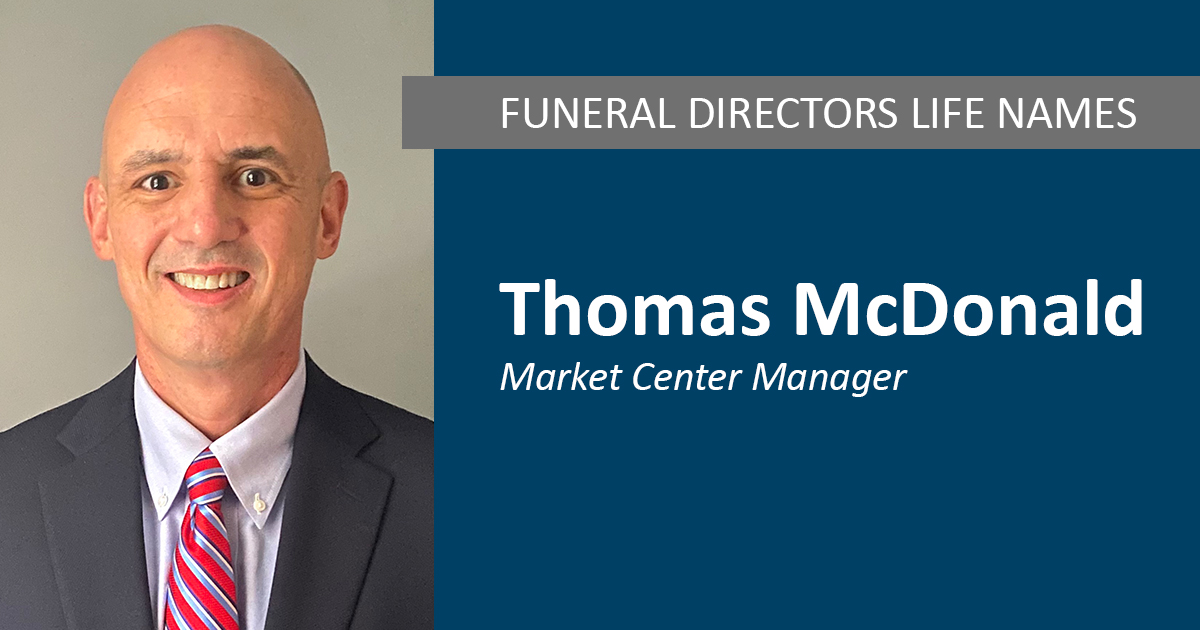 Funeral Directors Life Names Thomas McDonald as Market Center Manager
ABILENE, TX — Funeral Directors Life is proud to announce Thomas McDonald as the Market Center Manager for South Carolina.
"We are happy to add Thomas to our sales team at Funeral Directors Life," said Kris Seale, President and CEO of Funeral Directors Life. "Thomas has a deep understanding of the funeral profession, and his knowledge will be very valuable to our client funeral homes in South Carolina. We're glad to have him."
Thomas brings more than 30 years of experience in the funeral profession to his new position. He has served as a funeral director, embalmer, and most recently, a preneed sales professional.
"We are very excited to have Thomas joining our sales management team," said Stewy Stewart, Regional Sales Vice President at Funeral Directors Life. "He brings a wealth of experience both as a funeral director and a preneed sales professional. His ability to create and share value will be a huge asset in serving our customers in South Carolina."
Thomas is working towards a bachelor's degree in Anthropology from the University of South Carolina. He also earned a degree in Mortuary Science from Fayetteville Technical Community College. Thomas said the greatest reward of working in the funeral profession is being there for a family during one of the most difficult times of their lives.
He added that joining Funeral Directors Life seemed like a great opportunity after "seeing the preneed insurance product and interacting with the staff at FDLIC."
"That really sold me on the company and its commitment to excellent service and high standards," Thomas said. "I am as excited about this opportunity as anything in my career. I am looking forward to learning from the vast experience FDLIC has become known for and using those resources to provide innovative solutions for our profession, along with providing great customer service."
 About Funeral Directors Life
Funeral Directors Life, rated A- (Excellent) by AM Best Company, is a legal reserve life insurance company which specializes in the sale of insurance-funded preneed funerals. Our mission is "To be known as the best, most-respected provider of service to the funeral industry." For more information about Funeral Directors Life, visit us online at www.funeraldirectorslife.com.