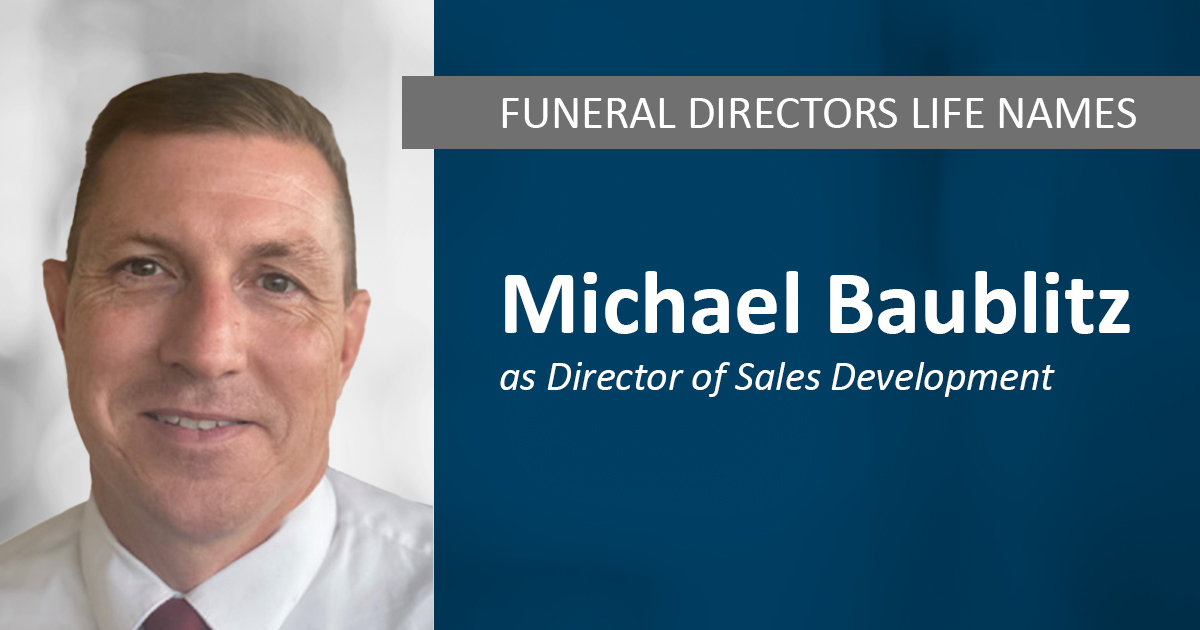 Funeral Directors Life Names Michael Baublitz as Director of Sales Development
ABILENE, TX — Funeral Directors Life is proud to announce Michael Baublitz as Director of Sales Development for Pennsylvania.
"We are very proud to welcome Michael to our sales team at Funeral Directors Life," said Kris Seale, President and CEO of Funeral Directors Life. "With his understanding of the funeral profession and his passion for serving others, Michael will be an important asset to our client funeral homes in Pennsylvania."
With more than 20 years of experience in the funeral profession, Michael served as a licensed funeral director in Pennsylvania and New Jersey. He also worked as a preneed sales professional.
"We are thrilled to have Michael on our team. He is well respected in the funeral profession, and his many years of experience as a funeral director will provide a tremendous amount of value to our customers," said Stewy Stewart, Regional Sales Vice President at Funeral Directors Life. "He is focused on the issues funeral home owners face and is excited to provide solutions that will help them achieve their desired outcomes."
Michael graduated from Penn State University with a degree in Business Administration. He furthered his education at Pittsburgh Institute of Mortuary Science before beginning a career in the funeral service profession in Pennsylvania and New Jersey. Michael said he grew up around funeral service, and that "somehow, it just seemed right for me to pursue a career helping people."
"I am looking forward to this opportunity to support, educate, and develop relationships with funeral homes and their communities," Michael said. "The funeral profession has seen many changes over the last few years, and it is important for us to have the products and services to meet these new challenges and expectations. I look forward to being an ambassador for Funeral Directors Life and to work in a profession and for a calling that I am passionate about."
About Funeral Directors Life
Funeral Directors Life, rated A- (Excellent) by AM Best Company, is a legal reserve life insurance company which specializes in the sale of insurance-funded preneed funerals. Our mission is "To be known as the best, most-respected provider of service to the funeral industry." For more information about Funeral Directors Life, visit us online at www.funeraldirectorslife.com.