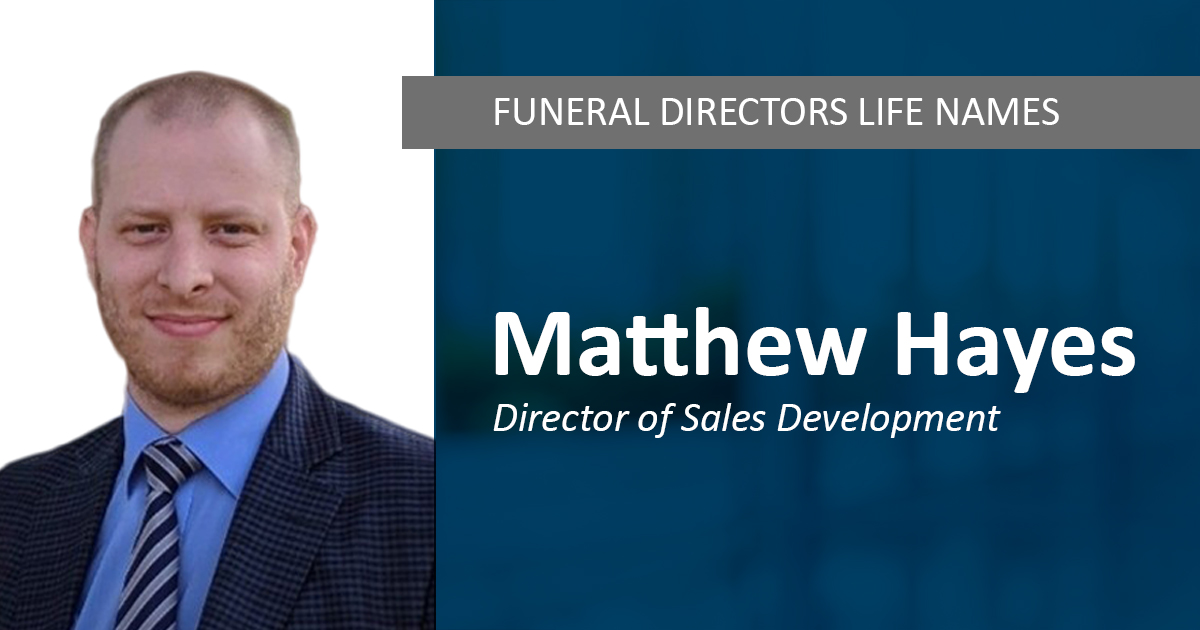 Funeral Directors Life Names Matthew Hayes as Director of Sales Development
ABILENE, TX — Funeral Directors Life is proud to announce Matthew Hayes as Director of Sales Development (DSD) in North Carolina.
"We're excited for Matthew to join the Funeral Directors Life sales team," said Kris Seale, President and CEO of Funeral Directors Life. "Throughout his career as a manager and prearrangement counselor, he has achieved success in leadership, management, and sales. His experience in these areas and passion for our profession will benefit the funeral homes we serve in North Carolina."
Matthew graduated from Loyola University New Orleans with a bachelor's degree and Tulane University with a master's degree. He has over 14 years of experience in sales and management within the funeral profession.
"We are so glad to have Matthew on board," said Stewy Stewart, Regional Sales Vice President for Funeral Directors Life. "His years of experience as a successful preneed sales professional will provide tremendous value and benefit the funeral home customers he serves."
During his career, Matthew has finetuned his skills in marketing, web design, technology, and sales to improve his service to families and funeral homes in North Carolina and Louisiana. As a DSD, he's eager to grow professionally and personally.
"I am thrilled to be part of a team that is dedicated to creating engaging and impactful tools for its customers," Matthew said. "I'm also excited about the opportunity to work with cutting-edge technology and tools that will help us achieve our sales and marketing goals. Overall, I'm excited to be part of a team that is passionate about helping people and committed to delivering top-notch results."
About Funeral Directors Life
Funeral Directors Life is focused on being the best, most-respected provider of service to the funeral profession with preneed solutions, financial services, and technology offerings. We help our clients improve their businesses and grow their profitability through our full-service solutions. Your business requires more than preneed solutions – that's why we're more than a preneed company. For more information about Funeral Directors Life, visit us online at www.funeraldirectorslife.com.