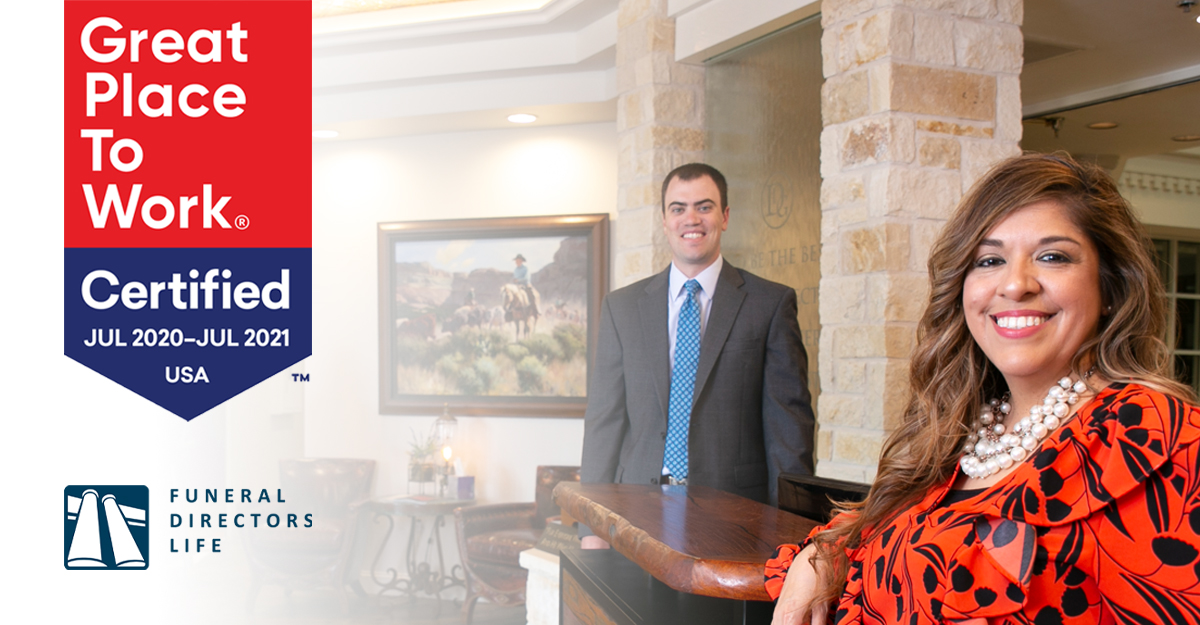 Funeral Directors Life Certified as a Great Place to Work®
ABILENE, TX – Funeral Directors Life has been certified as a "Great Place to Work" for the fifth consecutive year, earning certification for July 2020-July 2021. Great Place to Work® is the global authority on workplace culture, employee experience, and the leadership behaviors proven to deliver market-leading revenue and increased innovation.
"We are honored to once again be named as a 'Great Place to Work,'" said Kris Seale, President and CEO of Funeral Directors Life. "We try to create a culture of caring for one another, a sense of family, really. This year, we have expanded our facilities to add bright, open work areas, meeting rooms, and a courtyard where employees can gather to relax and enjoy their break times. It's all part of creating an atmosphere where we can focus, collaborate, and have fun at work."
For Funeral Directors Life to acquire certification, employees were asked to anonymously participate in a survey in which they ranked the workplace culture, leadership, and other factors within the company.
Using validated employee feedback gathered with Great Place to Work's rigorous, data-driven methodology, this certification confirms 94% of surveyed employees said Funeral Directors Life was a Great Place to Work, compared to 59% at a typical U.S.-based company. At Funeral Directors Life, 98% of surveyed employees said that people care about each other, and 99% of participants said that customers would rate the service delivered as "excellent," indicating a strong sense of pride and ownership in the service offered by the company.
"We congratulate Funeral Directors Life on their Certification," said Sarah Lewis-Kulin, Vice President of Best Workplace List Research at Great Place to Work. "Organizations that earn their employees' trust create great workplace cultures that deliver outstanding business results.
"Every time we have visitors come to our offices, they ask me, 'How are your people so happy? What do you put in the water?'" added Kris. "It's not a magic bullet. It's a sense of purpose and common goals. We really believe in what we do, and we believe what we do matters."
To read more about Funeral Directors Life's certification, click HERE.
For information about careers at Funeral Directors Life, click HERE.
About Funeral Directors Life
Funeral Directors Life, rated A- (Excellent) by A.M. Best Company, is a legal reserve life insurance company which specializes in the sale of insurance-funded preneed funerals. Funeral Directors Life is a wholly-owned subsidiary of Directors Investment Group (DIG).
About Great Place to Work
Great Place to Work® is the global authority on workplace culture. Since 1992, they have surveyed more than 100 million employees around the world and used those deep insights to define what makes a great workplace. To learn more, visit greatplacetowork.com.