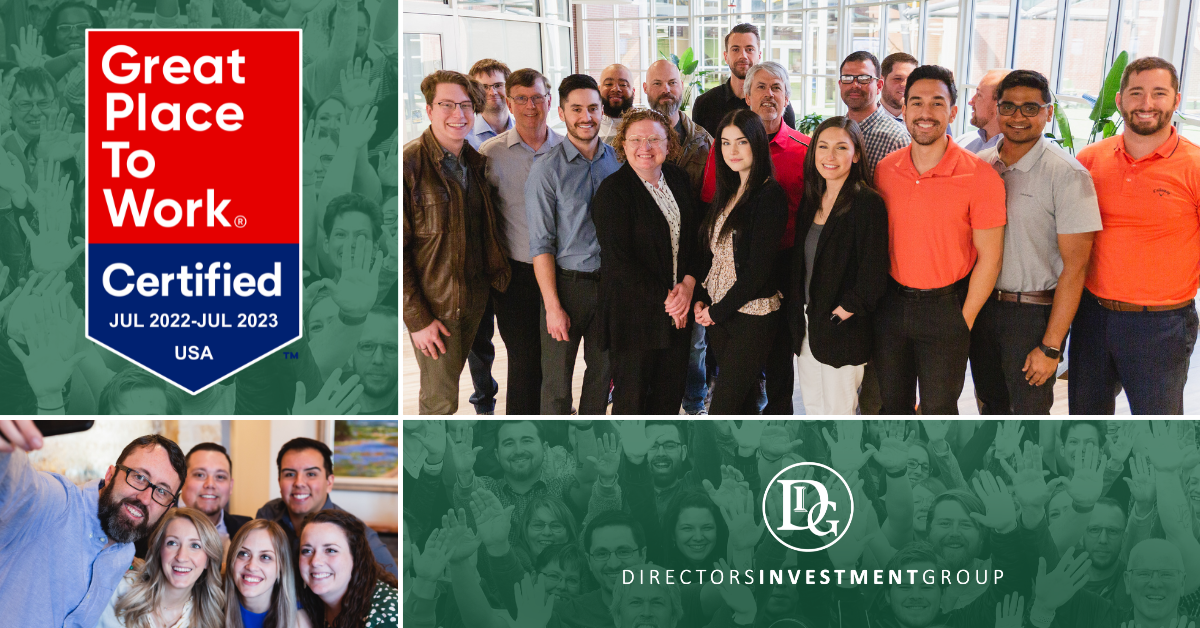 Directors Investment Group Earns Great Place to Work Certification™
ABILENE, TX — Directors Investment Group (DIG) has been certified as a "Great Place to Work," earning certification for July 2022-July 2023. Great Place to Work® is the global authority on workplace culture, employee experience, and the leadership behaviors proven to deliver market-leading revenue and increased innovation.
"We are proud to be certified again, but this time for DIG, not just Funeral Directors Life Insurance Company," said Kris Seale, President and CEO. "We place such a huge emphasis on culture at DIG and all our subsidiaries, so much so that we started our own Corporate Culture Department earlier this year. It is an honor that Great Place to Work® continues to recognize our efforts and our people."
To acquire certification, DIG's employees completed an anonymous survey in which they ranked the workplace culture, leadership, benefits, and other factors within the company. This survey feedback, combined with Great Place to Work's extensive data-driven methodology, confirmed that DIG earned the distinction of being a "Great Place to Work."
"Great Place to Work Certification™ isn't something that comes easily – it takes ongoing dedication to the employee experience," said Sarah Lewis-Kulin, Vice President of Global Recognition at Great Place to Work®. "It's the only official recognition determined by employees' real-time reports of their company culture. Earning this designation means that DIG is one of the best companies to work for in the country."
"Visitors to our building often comment on how happy and excited our people are to be at work," added Seale. "I tell them our 'secret sauce' is our people. We all have a common mission to love each other and serve others well. Respect, integrity, and a desire to see each other succeed are what drive us."
To read more about Directors Investment Group's certification, click HERE.
About Directors Investment Group
Directors Investment Group (DIG) is the parent company for a diverse group of companies, such as Funeral Directors Life, Parkway Advisors, Passare, CLAIMCHECK and more. Our mission is "To be known as the best, most-respected provider of service to the funeral industry." For more information about Directors Investment Group, visit us online at www.dig.family.
About Great Place to Work®
Great Place to Work® is the global authority on workplace culture. Since 1992, they have surveyed more than 100 million employees worldwide and used those deep insights to define what makes a great workplace: trust. Their employee survey platform empowers leaders with the feedback, real-time reporting and insights they need to make data-driven people decisions. Everything they do is driven by the mission to build a better world by helping every organization become a great place to work For All™.