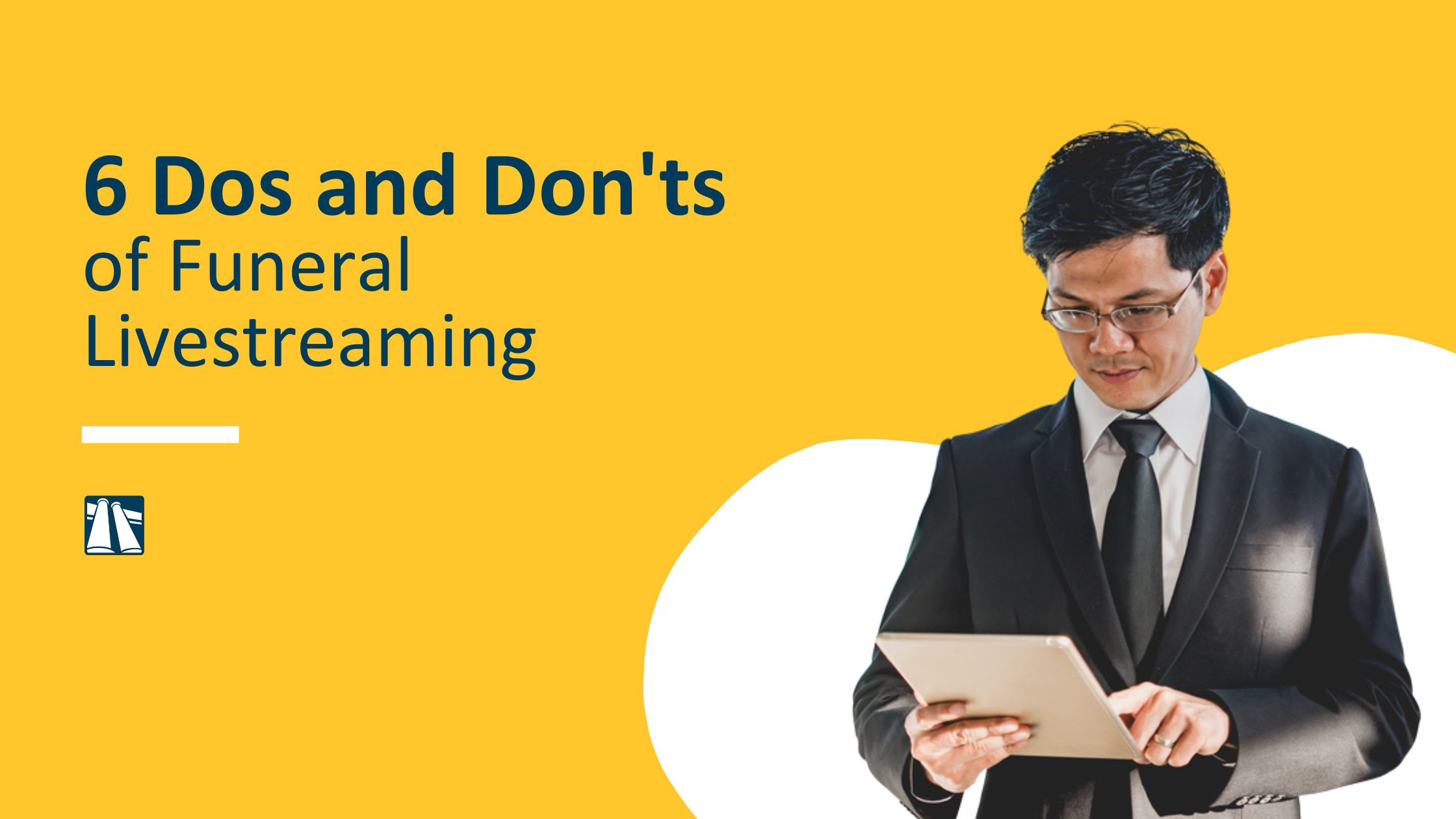 6 Dos and Don'ts of Funeral Livestreaming
By Tyler Ward, Digital Sales Manager
In a recent study we did of funeral consumers, we found that 42% of people are comfortable attending a funeral online.
While that doesn't mean they prefer attending online to in person, would your funeral home be able to accommodate them if they couldn't make the funeral for any reason (travel costs, illness, etc.)?
Comfort around attending funerals online will only increase (it increased 121% in the last decade), so you need an option now to help guests attend virtually from anywhere.
However, you shouldn't just grab your phone and hit record.
Here are 6 dos and don'ts of funeral livestreaming.
Don't – Use your phone for everything.
Your phone is a smart piece of technology – no doubt about that. But using it to video record a funeral is like using your camera app to capture wedding pictures. It just doesn't make sense if you want high quality.
With your phone:
You can't be hands free
You can only record from one angle
You have to use your phone microphone for audio (which is hard to hear)
Plus, if you get a call or text, it could disrupt the stream and distract you from the task of capturing the funeral for the family. No one wants that.
Save your personal device for answering family texts and calls.
Do – Use the right equipment.
You need a way to broadcast the events to your audience and record the funerals for families. You can't do that without the proper tools.
At minimum, you'll need:
A handheld camera or other device designated to capture video
A tripod to stabilize your camera and let you go hands free
A microphone to pick up audio
A way to monitor the livestream (a dedicated laptop or tablet is best)
A strong internet connection
You don't need expensive cameras or microphones. Check out this Quick Start Guide for more information.
Don't – Get hooked into using a "free" livestreaming option.
"Free" is tempting, but these options cost you in other ways, whether that be security issues or sacrificing quality.
For example, Facebook Live is still a popular option among funeral homes, which NFDA recommends not to use. What happens is funeral homes' livestreams get muted automatically if they play copyrighted music. And the streaming quality isn't great because people are likely using their phones to record. Plus, families must have a Facebook account to watch funeral livestreams, which is inconvenient for the audience.
If you use a free service, be prepared to give up control over streaming quality, security, and privacy. If you pay for a service, make sure it's worth your money – even making you money.
Do – Offer value to families to keep your funeral home competitive.
Think about livestreaming as a way to connect families while also using it as a competitive advantage for your funeral home.
One of our customers, Kristen, did exactly this. She emailed us and told us how livestreaming has made her funeral home competitive and has grown her business. She wrote:
"We have families that choose our funeral home for the very fact that we livestream. But what is just as exciting as that, is the number of churches and families who are now allowing us to work their memorial services for the sole fact that we will stream it for 'free.' Our memorial cremation calls have passed our direct cremation calls, and that is in large part due to us offering the livestreaming service."
Don't: Give up or get discouraged.
Many funeral professionals who tried a "free" option didn't end up livestreaming for long. They grew increasingly frustrated with its limitations and didn't want to let families down with a subpar experience.
We understand livestreaming is one more thing to do, but it's an important one!
And you don't have to be a tech expert to livestream funerals, especially if you have the right equipment and service. If you've tried a free livestreaming option in the past, you can find success when you start working with a funeral livestreaming company, our service included. Check it out here.
Do: Work with a partner to guide you through the livestreaming process step by step.
We understand that you're a funeral director, not a film director.
Learning how to livestream funerals on your own is tough. There's the trial-and-error process to find what works, troubleshooting issues, and making sure you are using the right equipment. We've tested everything, and we know what works. And as we learn more, we share that advice with customers.
Working with an expert is the best way to set your funeral home up for livestreaming success.
Ready to see get livestreaming up and running in your funeral home?
Get a demo of our service, and we'll take it from there.