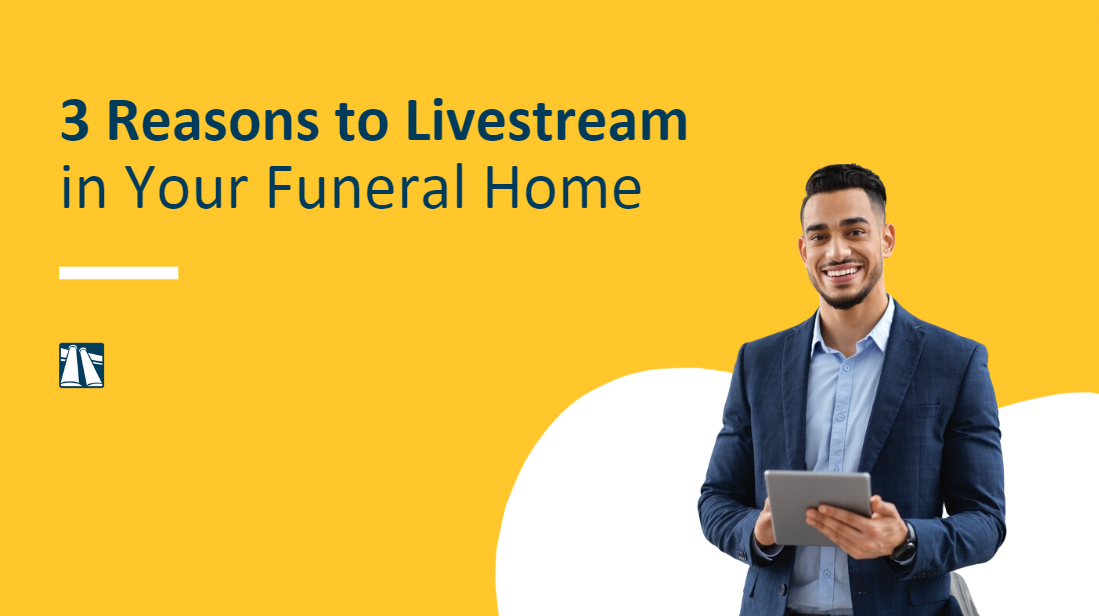 3 Reasons to Livestream in Your Funeral Home
By Tyler Ward, Digital Sales Manager at Encore
Looking back on 2020, I think we can safely assume that only a few in our profession knew what livestreaming was.
Social distancing. New restrictions. Those were some of the challenges funeral directors and families faced during the pandemic. To top things off, families found traveling to funerals more difficult and were worried about getting sick during their visits to say goodbye to their loved ones. The only option that seemed feasible to accommodate these families was with livestreaming.
Of course, livestreaming had existed in other industries for quite some time, but during the pandemic, this option became an advantage to funeral homes. Many families wanted the option to include more people in the service who couldn't physically attend due to travel restrictions, cost, and health concerns.
The problem was that livestreaming in the profession was confusing and difficult to use, leading to frustration if the technology didn't work as intended.
Let's take a look at an early livestreaming option as an example.
The Facebook Dilemma
During the peak of the pandemic, Facebook Live became the most readily accessible solution for funeral home livestreaming. Funeral directors could use their funeral home's Facebook account to stream video in real time just by using their cell phones and publish the recordings for anyone to view. Unfortunately, this option had complications.
Facebook would silence the audio permanently if a funeral home played a copyrighted song. A funeral home could only livestream from a cell phone or other internet-connected device, which meant there was only one angle. Sometimes the picture quality was fuzzy and pixelated. Funeral professionals and their families deserved better.
Livestream to Mainstream
Livestreaming was slow to take off in the profession because it was so new, funeral directors were too busy with their caseload to learn how to use it, and other factors. However, there's still a need to offer this option to families today because traveling and costs are still major concerns.
For livestreaming to become mainstream, funeral professionals nationwide need to understand its many benefits. I understand the hesitation when it comes to using new technology with families, but the advantages outweigh the learning curve.
The following are the top three reasons why your funeral home should consider a funeral livestream option.
1. To connect families near and far.
When churches shut down during the pandemic and/or had to limit capacity, did they only provide the message to those in the building? Of course not. They found a way (livestreaming) to reach anyone, near or far, who wanted to worship and hear the message. Now, churchgoers have two options: they can attend in person or view the sermon online. That way, even if they're sick or on vacation, they don't have to miss a service!
Why should attending a funeral service be any different? Let's face it: family dynamics have changed. Rarely are all family members living in the same town or state. Not to mention, purchasing a plane ticket or traveling to a funeral on short notice may pose a financial problem.
Livestreaming connects families near and far and provides the opportunity for families to grieve together. It gives everyone the chance to say goodbye, no matter where they're located. Plus, there's no limit on who can attend!
2. To offer the highest level of care with custom options.
As a funeral professional, you are the guide to your families. Whether they want a cremation option or full-service package, it's your role to advise them to make the decisions that are best for their loved ones. Most individuals only plan one or two funerals in their lives; therefore, they don't know what they don't know. You are the guide, but you can also be the hero by providing the highest level of care with custom options.
What I mean is, you'll have a solution ready when someone says the following:
"Most of my family is out of town and can't afford to travel here on short notice. Plus, my parents have health problems, so they'd love to be here, but it's impossible."
You can present the livestream option and make their impossible reality a possible one. In their eyes, this option makes you the hero that saves the day and solves a problem they didn't know was fixable. For example, a family that was against a viewing due to no family in town could be convinced to hold one via livestream.
Because every family deserves a healing and meaningful funeral, livestreaming is another way to customize a service and help families experience the highest level of care – without limitations. See livestream success tips here.
3. To generate additional revenue for your funeral home.
Livestreaming shouldn't simply be one more thing you do without benefitting your funeral home. I understand most funeral directors entered this business because they care about serving families. However, to continue serving families the best you can, you must generate revenue for the services you provide.
The average revenue per call has been shrinking over time. So, why not combat that by offering additional services? People will spend the money on if they see the value of something.
Let's take purchasing a vehicle, for example. Why would someone want to spend an extra ten to twenty thousand dollars on a custom dashboard display when the base model will perform the necessary functions just fine? Because people appreciate and will pay for quality.
This reality is no different with services you provide. Families will pay for a high-quality service if they know the value of what they are receiving. There is value in providing a livestreaming option for families, especially if you record the service and document every moment. Including livestreaming and a recording of the service as part of your package offerings could lead to additional revenue and help families grieve long after the service is over.
Some funeral homes provide livestreaming for free but charge for copies of the service. Others add it to their plans as part of the package. What you do with the service is up to you.
The Livestreaming Frontier
Believe it or not, though livestreaming boasts many benefits to funeral homes and families, some funeral professionals still drag their feet when it comes to providing this option. I've heard some say the following:
"I'm not good with technology."
"My families don't ask for it."
I understand the hesitation when it comes to a new service option. Change is hard! But it is doable.
Technology can be learned – just look at the cell phone in your hand. Your families may want this option but don't know it's possible. Livestreaming technology for the funeral profession can be easy to use.
To sum up, the pandemic and its numerous restrictions felt like a new world we were all forced to acclimate to. Livestreaming felt like one of the faraway lands. But I promise you, once you step into this new frontier, you don't have to traverse this path alone. You'll learn how to trek across the technology terrain.
And when you reach the other side, your funeral home will experience the many benefits, and families will thank you for connecting everyone when it mattered most.
Request a livestreaming demo today!
Want to learn how to livestream in your funeral home?
Learn more benefits of livestreaming here.
Discover how to introduce livestreaming to your families.