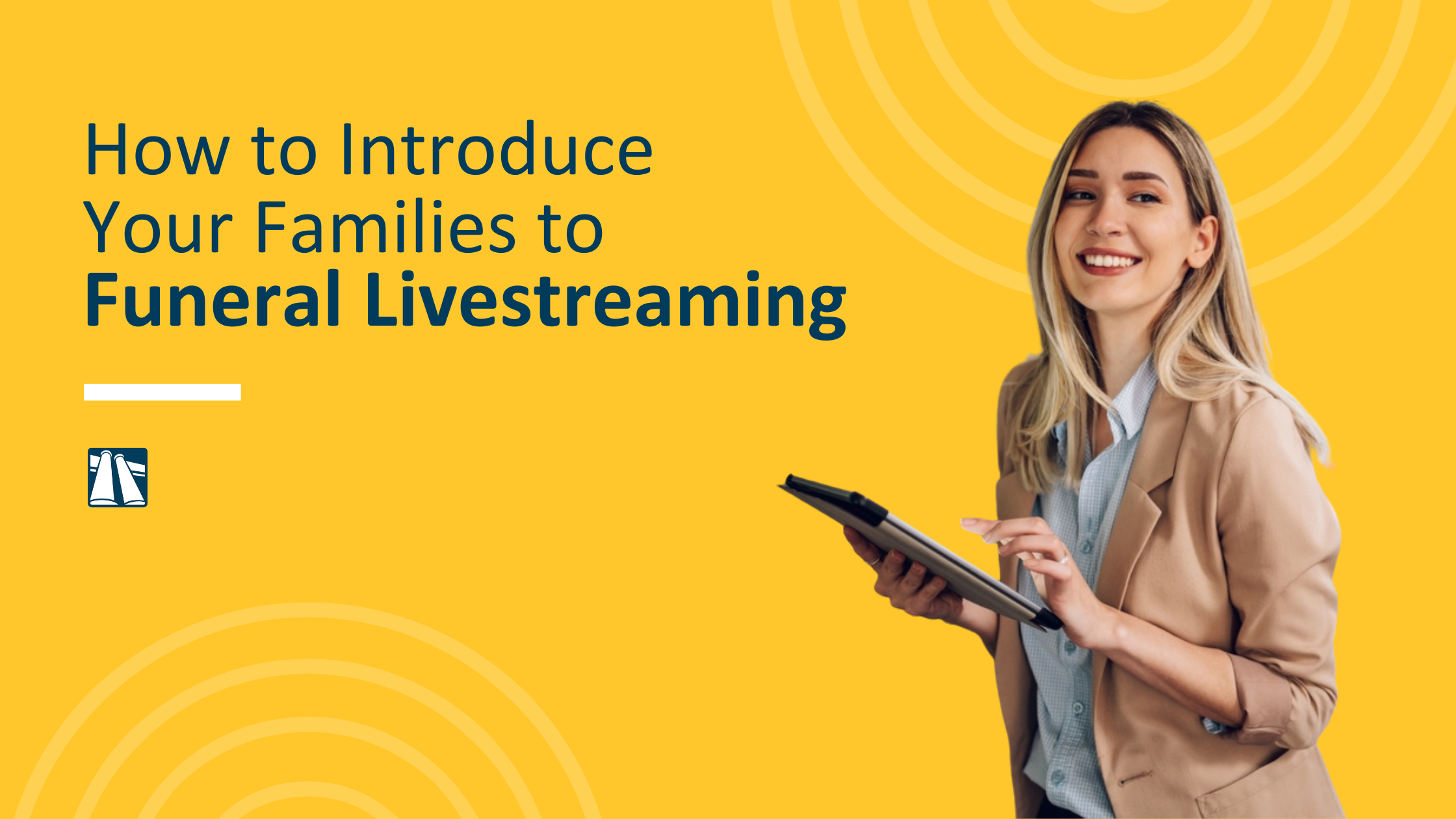 How to Introduce Your Families to Funeral Livestreaming
By Tyler Ward, Digital Sales Manager with Encore Livestreaming
In a recent consumer study we did, only 41% of participants said they'd been responsible for planning a funeral in the past. That means close to 60% of your families know little to nothing about funeral planning.
People only plan a handful of funerals in their lifetime, whether it be for a parent, a spouse, or other loved one. They don't know what they can do to have a healing and meaningful funeral and start a healthy grieving process. They're looking to you to guide them on the best decisions for their loved one's service.
That's why not offering a funeral livestreaming option because your families don't ask for it is a mistake.
If you don't offer livestreaming yet, start here.
Understand funeral livestreaming benefits for families
If you have a livestreaming service, you likely know the benefits it provides for your funeral home. Click here for the top 3.
But it provides additional benefits to families, including:
1. Bringing everyone together, no matter where they are located
2. Giving everyone a chance to share memories, offer condolences, and say goodbye
3. Allowing everyone to attend in person or online to honor the loved one
If you don't know what the benefits are to families, you won't get buy-in from them when you tell them you offer funeral livestreaming. You have to share the value with them!
But first, you need to identify which families could use livestreaming for their services.
How to find out if a family needs funeral livestreaming
We realize that livestreaming might not make sense for every family, especially for those with family members and friends who all live in the same area. However, more dispersed families (those with relatives in different towns or states) would benefit from this offering.
Pay close attention to the families' words, especially if they mention relatives in different cities or states. Or you could ask this one question: "Is there anyone who will be unable to attend the funeral?"
If the family says "yes," you can introduce them to livestreaming. Here are three ways to let families know you offer this service.
Mention it during the conversation
The easiest way to introduce families to livestreaming is through a one-on-one conversation. If you notice a family mentions relatives from out of state, that's the perfect opportunity to bring up livestreaming as an option that will work for them.
You can say:
"I heard you mention your family and friends don't all live in [your town]. We know plane tickets are expensive, so we have an offering that would be perfect for your situation. We offer funeral livestreaming, which means we will video the service, and your distant family members can attend online in real time, offer condolences, and feel like they're participating in the event. From there, we will provide a recording of the service so you can rewatch it and remember your loved one. Families have even said watching the recording has helped their grief process even months after a funeral. Is this offering something you and your family would be interested in?"
If you offer the service for free, you can mention that as well. Some funeral homes charge for the recordings but offer the actual funeral livestreaming at no extra charge. Others slightly offer a funeral livestreaming package. It's up to your funeral home. Get a demo to discuss all your revenue options.
Provide a handout with information
Another way to share the news about your livestreaming option is to provide all information on a handout.
For our livestreaming clients, we provide the option to order flyers that explain the three benefits of livestreaming, especially if family members can't make it to the service for any reason. We've even seen funeral home display this flyer on their bulletin board and around their funeral home so families know it's offered.
If you're a busy funeral home or have families who want to take this information with them, this option is for you.
Post about it on social media
The last way to introduce families to livestreaming is by sharing it on social media.
According to a recent consumer survey we did, 90% of people use social media (Facebook, TikTok, Youtube, etc.). So, posting about your livestreaming offering online can help spread the word. We help our social media management clients spread the word in their community that they provide livestreaming services. For some funeral homes, it's a great competitive differentiator.
Simply create a post that says something along the lines of:
"[Your funeral home] now offers livestreaming.
If your family members can't make it to the service, ask us about funeral livestreaming. It's the perfect addition to a service to give everyone the chance to say goodbye and bring everyone together to remember the loved one.
We're here to serve your every need!"
We recommend using all 3 strategies mentioned above to get the word out about this funeral livestreaming offering.
What's next?
Once a family commits to livestreaming their loved one's funeral, it's time to prepare for the big day! You want to make sure you invite the family members, get the word out, and provide the recording (with our help, of course)! Read this article to find out how our livestreaming service works.
And when you go above and beyond for families, you'll see that pay off in other ways, whether through positive Google reviews or referrals.
If you don't provide a livestreaming option, Get a demo of Encore today.