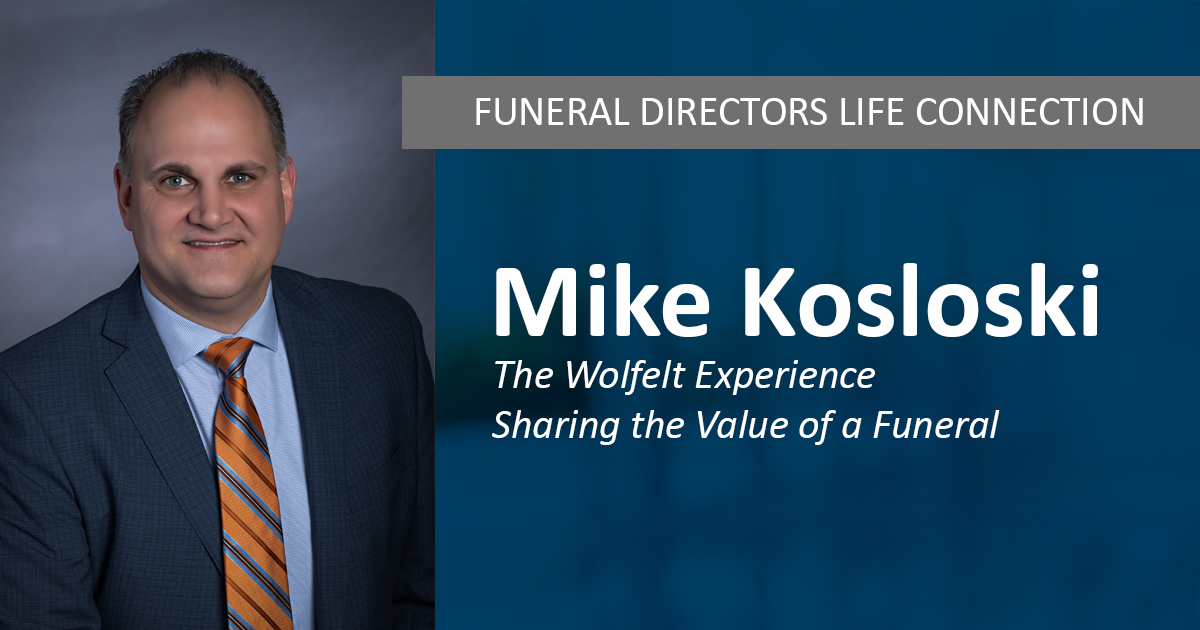 The Wolfelt Experience: Sharing the Value of a Funeral
Mike Kosloski, funeral director and owner of Hamlin-Hansen-Kosloski in Moose Lake, MN, recently sent his entire team, including his maintenance crew, to The Wolfelt Experience, a training workshop developed by Funeral Directors Life in partnership with renowned author and grief educator, Dr. Alan D. Wolfelt. "I've been involved in the funeral industry for 33 years, and the trainings we get don't often deal with the aspect of how to make the experience for families better," said Mike. "The Wolfelt Experience really added a whole new dimension to how I serve families now. I felt that, by far, it was the best training that I've ever received."
What's your experience been like working with us at Funeral Directors Life?
The thing that has always intrigued me about Funeral Directors Life is the amount of time and energy they put in to helping others get better at what they do. FD invests a huge amount of not only time but resources in making funeral homes better. That's a major reason why they have me as a customer.
What was it that made you want to send your entire staff to attend the Wolfelt Experience training?
When I went through the training myself, I came back into the office the next day and looked at everyone on my staff and said, "You are all going to this training." I've been involved in the funeral industry for 33 years, and the trainings we get don't often deal with the aspect of how to make the experience for families better. The Wolfelt Experience really added a whole new dimension to how I serve families now. I felt that, by far, it was the best training I've ever received.
What challenges has the Wolfelt training helped you and your staff overcome?
We sometimes have families come in and say, "We don't want to have a service," or they want to skip parts of the ceremony, and as funeral directors, we don't typically have the tools or language to explain why it is so important to have a meaningful funeral. This training gives you the ability to talk with confidence about these things with families. For everyone else on my staff, even the maintenance crew, they still talk to families in the grocery store or when they are out and about in town. If people know you work at a funeral home, sometimes they are more likely to approach a part-time assistant or member of the grounds crew with questions. Having that training through The Wolfelt Experience gives them the ability to communicate why a funeral is important.
What changes happened after you came back from The Wolfelt Experience?
One thing that we're seeing, and this is just an outcome, not necessarily our goal, but I think it's a product, is just better satisfaction and compliments about the funeral service. Our goal is to provide a healing service and remember the loved one. When you do those things, the family satisfaction comes automatically. You strive for that satisfaction, but if you take care of all those other things, the family satisfaction comes automatically, which creates value.
When you get to the business side of things, you have a cost for doing business, and sometimes people are shocked at the cost. But when you create value and give them so many healing things in the service, suddenly that cost doesn't become as big of a factor. Now, we have higher consumer satisfaction and lower accounts receivable, so we are taking care of the family's needs and the business side is taking care of itself.
Do you have a specific example of the Wolfelt training in action?
After attending a meaningful private family ceremony, the significant other of the deceased told me he didn't think he needed to go to the public service where friends and more family awaited. Had it not been for the training, I would never have stepped out of my comfort zone and told him how important it was for him to attend the service, not just for himself, but for everyone else. This type of information is never taught in school. As funeral directors, we are not very well trained about some of the things that really matter when you get into the field. I think that the Wolfelt training needs to come as early on in careers as possible because that's what's going to change how effectively we can help guide people into a healing and positive experience.
Is there anything else you'd like to add about The Wolfelt Experience?
If there is anyone out there who is hesitant about attending a training workshop, my question would be why? If you have the opportunity to go to one of these trainings, it's going to be such an incredible experience, and you will see a change in who you were before the training and who you are after the training. This training is career changing. One of my friends in a nearby town told me, "I wanted to go to that, but I wasn't sure about the cost." I told him I would have paid double for it! I said, "You don't realize how good this training is. The reason you don't want to pay that price is because you've paid for training and didn't get much out of it before, but this is a very, very small cost for the value that you're going to take away and use in your career. You just can't find this kind of training anywhere else."
Want to experience the training for yourself?