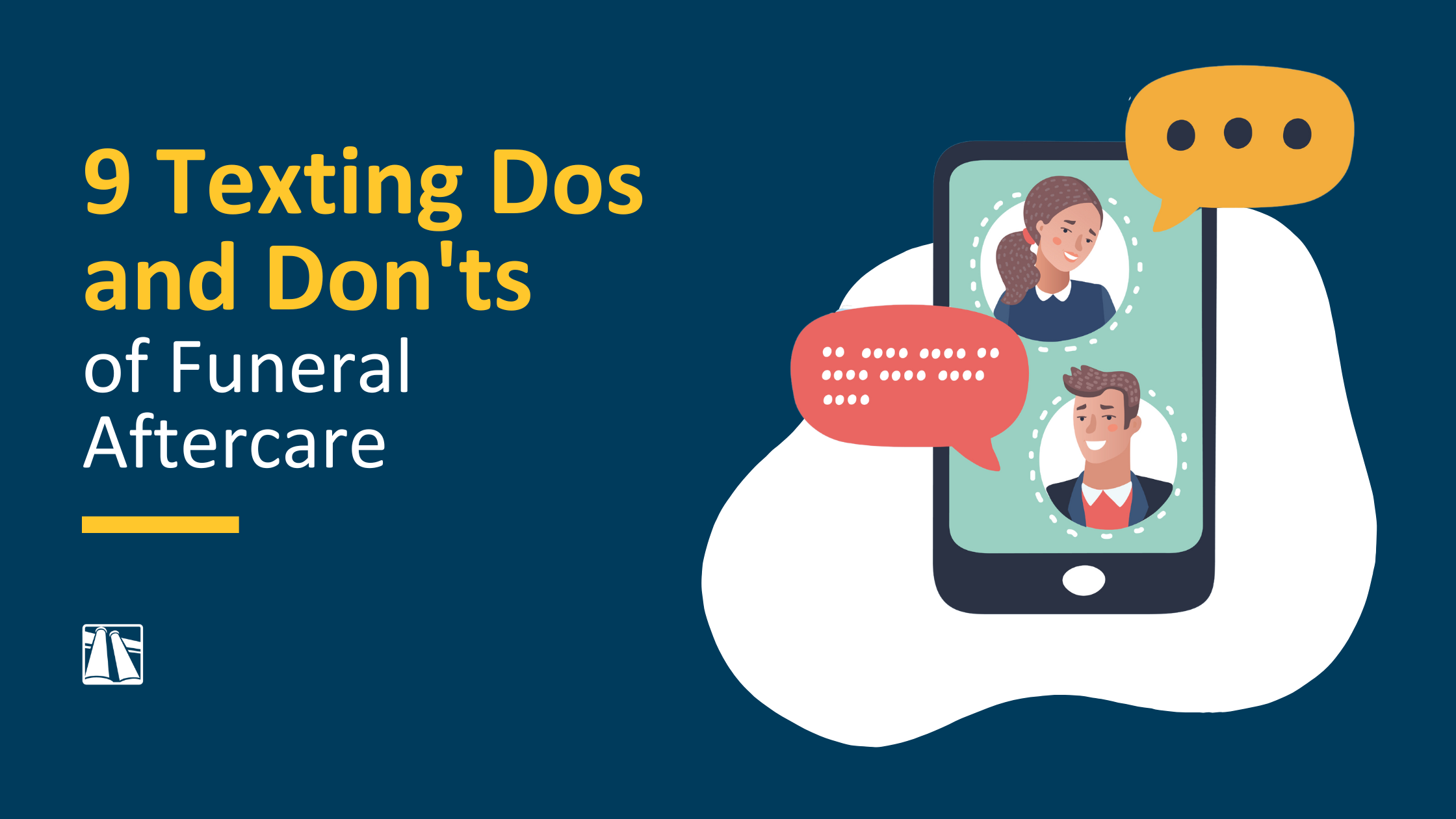 9 Texting Dos and Don'ts of Funeral Aftercare
By Haley Laurence, Digital Marketing Supervisor
Your funeral aftercare program is more important than you may think.
It helps you:
Get Google reviews

Set preplanning appointments

Share valuable content about grief
But did you know it can also help you stay connected to families and turn them into advocates for your funeral home?
But many funeral homes wonder: What's the best way to stay in touch with a family?
Sure, you can call and email them, but texting is becoming the most popular method of communication.
Why?
About 9 in 10 consumers want businesses to interact with them this way. Texts have better open rates, read rates, and reply rates, according to Avochato. In short, texting is the way to go with funeral aftercare.
But don't pick up your phone just yet.
Let's go over some dos and don'ts when it comes to text-based aftercare.
Don't – Text a family without permission
You ever go to your doctor or dentist and fill out paperwork asking you if they can contact you via SMS? They're asking if it's okay to text you. That's why you need to provide your signature as proof of consent. If you don't, the business will likely call you instead about appointment reminders and other notifications.
You need a family's consent to text them from your business. Just because you have their personal phone number doesn't mean your funeral home can start texting them about aftercare. Get permission first.
Do – Make the text personal
The worst text you could send to a grieving family is something impersonal and generic. When you write a text, address them by name, use a kind yet professional tone of voice, and double-check spelling to make sure there are no errors.
You also want to reach out on special days, such as the loved one's birthday and anniversary of the death.
Don't – Forget to reply
According to Avochato, the response rate for text messages is 45%, and 9/10 people read a text within 3 minutes of receiving it. Those are astounding numbers!
Since you're likely to get responses from people via text, you need to be prepared to reply back. For instance, if you send a text and get a heartfelt text back, you need to be prepared to write an empathetic response to the family and keep the conversation going for as long as they need you.
Do – Allow people to opt out
Much like with email, you need to provide a way for people to opt out or "unsubscribe" from your text messages for any reason. It's a way to keep your business protected from laws of the Telephone Consumer Protection Act.
Don't – Ask for something without providing value first
Imagine if you went to the dentist and had a terrible experience. Then, a week after your appointment, you received a text message with a link to leave a review. Would you opt to leave a positive or negative review?
If you're asking a family to complete a feedback survey, set up a preplanning appointment, or leave a Google review, make sure you've provided best-in-class service and shared valuable content before you ask. And in your first text message to a family, don't ask for anything. Express condolences, offer sympathies, and share grief resources.
Do – Send a variety of resources
Every family's grief journey looks different. Some may need a lot of grief resources, like articles, videos, or Q&As with licensed therapists. Others simply want to know everything they need to do after a death, like how to close accounts, transfer titles, and more. Then, there are those who want a bit of everything.
With texting, you can share valuable content with them at any stage of the grief journey.
Don't send them information too late
To truly connect with families after a service, you need to send information at the right time. For example, if you know a family had questions about settling the estate, you don't want to text them 5 months later with a link to an article about how to close a social media account. Timing is important!
Do – Have a plan
So, you want to start texting families during the funeral aftercare process. That's a great way to connect with them after a service! But you need a plan for how you're going to continue the relationship.
Ask yourself:
What should I say in each text?

How often should I text them?

What valuable information will I share with families?

How should I ask them for a Google review? To complete a survey? To preplan?
If you don't have a plan for the above questions, you need one to stay organized! That's where we can help.
Do – Use a funeral aftercare service to handle everything
Want a quick and easy way to incorporate texting into your aftercare process? Sign up for a funeral aftercare program with this option built in!
For our clients, not only do we write all the texts (and not charge you per message), but we've tried and tested questions with families nationwide to know what works best. We even have live text responders who check in with families on the regular. We also provide families with helpful grief resources and information about settling an estate. Learn how technology is changing aftercare for the better.
You get to maintain your relationships with families. We handle the rest!
Get a demo today!