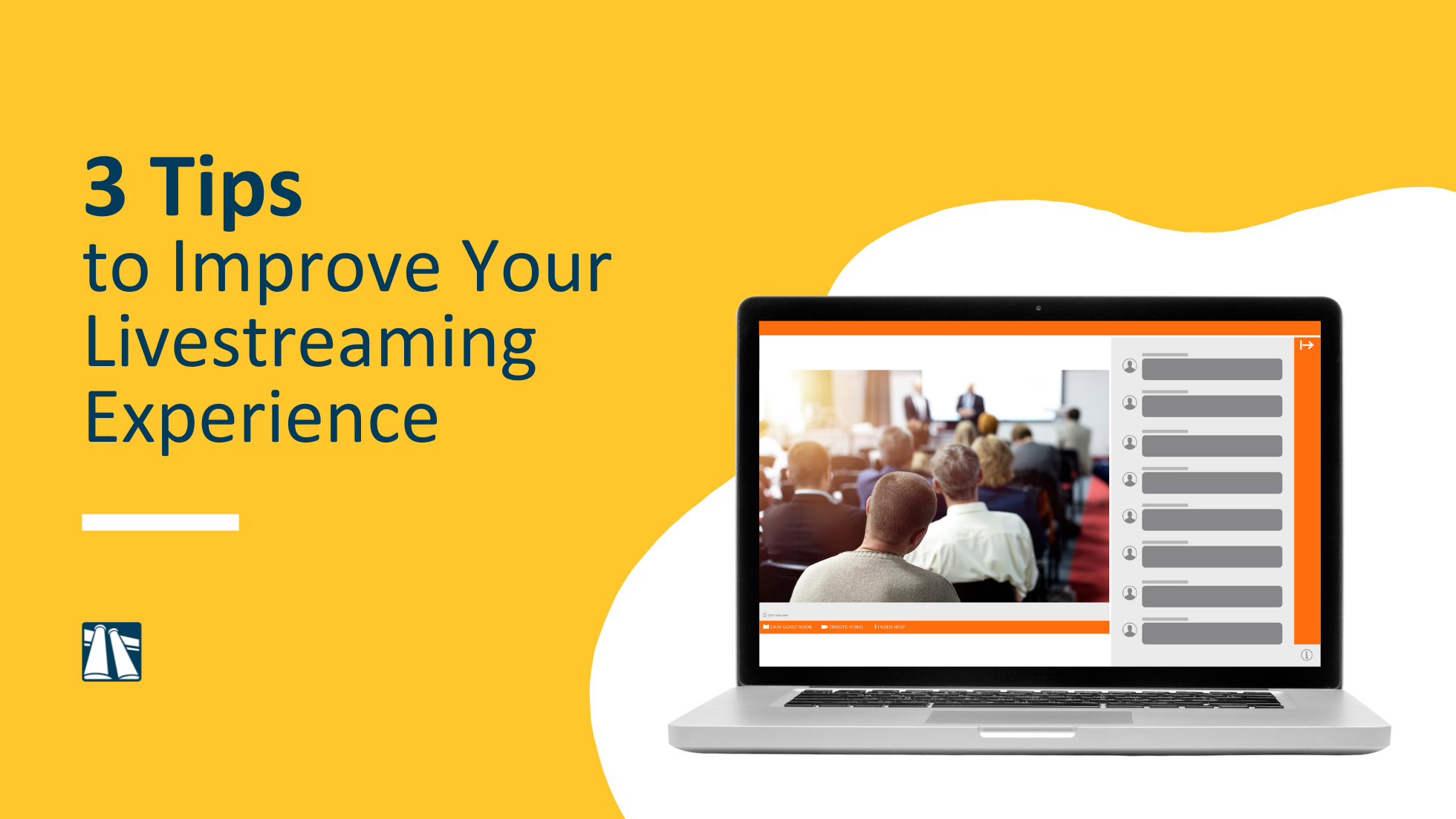 3 Tips to Improve Your Livestreaming Experience
By Tyler Ward, Digital Sales Manager with Encore
According to a recent study we did with McKee Wallwork + Co., 42% of people feel comfortable attending a funeral online. Just 10 years ago, this number was 19%.
Considering there was a 121% increase in comfort, it's safe to assume livestreaming funerals is here to stay.
But not all solutions are equal. During the pandemic, some funeral homes tried many different livestreaming options to include more family members in the service. Those stories usually didn't end in success. Read this article for an example.
If you're trying to figure out if you even need livestreaming, that statistic shows that it's inevitable. But you want to make sure you do it right.
Here are three tips to improve your livestreaming experience for your families.
1. Improve your internet speed
Back in 2020, some funeral directors used their cell phones to stream from Facebook live. Typically, they would use Wi-Fi or their data plan from their cell phone. As a result, the live video would cut out, drop audio, and appear grainy.
One thing we recommend to all funeral homes is to invest in a stronger internet plan to have a more stable connection. We recommend funeral homes improve their upload speed to 10+ MBPS. That will ensure the video feed is stable and won't cut out. Talk to your internet provider to see if your current internet plan meets this requirement.
Want to check your upload speed for yourself? Simply use the Google Chrome web browser and Google "speed test" from a computer connected to your funeral home's internet.
2. Get a music webcasting license to avoid copyright issues
The National Funeral Directors Association (NFDA) posted an article last year where they recommended to not use Facebook or YouTube to livestream or post recordings of funerals. Why?
Copyright issues.
Many – if not all – funerals feature songs or music as part of the service. Companies are allowed to use copyrighted songs as long as they have a license to use it. During the pandemic, most funeral homes didn't have the time to investigate copyright law, so they livestreamed the service and posted recordings with the music. As a result, funeral homes' streams were blocked or muted.
In NFDA article stated, "Facebook and YouTube have entered into lawsuit settlements with music companies that prevent them from allowing some copyrighted music to be played over their systems. The blocking and muting are done by algorithms…If the user continues to stream the copyrighted music over their systems, eventually they will block the user from using the system."
That's not good.
But with a music webcasting license (like the one NFDA offers), you can experience stress-free streaming knowing your audio and video are protected.
You can also use a funeral livestreaming platform, like Encore, to avoid this.
3. Try multiple camera angles
Want a better viewer experience? Where you place the cameras matters.
Many funeral homes put their camera on the chapel wall, which gives a bird's eye or top view of what's happening. We believe viewers should also feel like participants, so it's important they see what the audience would see.
Watch this clip to learn why multiple angles is best.
Want even more tips to improve your livestreaming experience? We'd love to help you out.
About the Author: Tyler Ward is the Digital Sales Manager for Encore Livestreaming, a new service from Funeral Directors Life. Tyler graduated from Hardin-Simmons University in Abilene, Texas, with a bachelor's degree in both accounting and finance. He is passionate about helping funeral directors discover new ways to serve their changing families, especially through technology solutions. If you have livestreaming questions, you can reach him at [email protected].