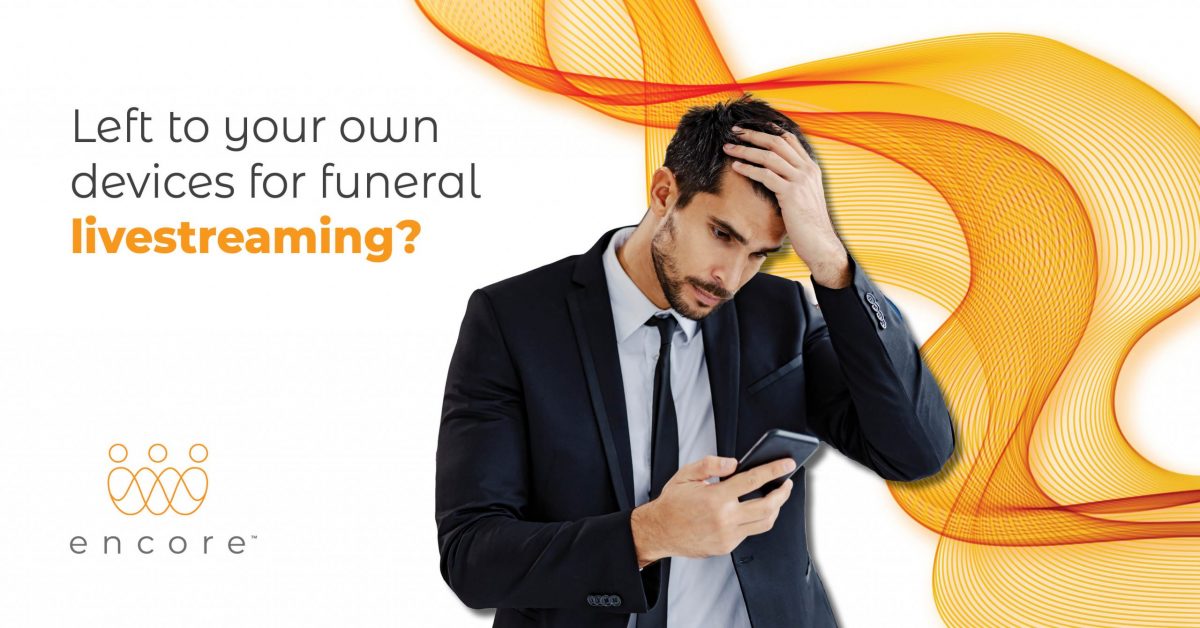 Four funeral livestreaming mistakes to avoid (and what to do instead)
Local news. Radio programs. Late night talk shows. What do all of these have in common? Yes, they're forms of entertainment, but they're also broadcasted live to their audiences and recorded for future use.
The concept of recording and streaming live video isn't new, but it's still fairly new to our profession. And there's a lot to consider before you can just start livestreaming in your funeral home. You need to ensure you have a proper internet connection (broadband, wired, Wi-Fi, or hotspot), the right equipment (cameras, other devices), and a willingness to try it, to name a few things.
Because there are so many things to consider and pitfalls that can come your way, it's understandable that you might be nervous to try livestreaming or have questions. That's OK. We've compiled a list of four things to avoid to ensure you create a successful livestreaming experience for your families.
Mistake #1: Not having the right equipment.
If you were an early adopter of the Facebook Live movement during the pandemic, you know full well how livestreaming from your cell phone works. One of our livestreaming clients from Texas, Bryan Hicks of Elmwood Funeral Home & Memorial Park, had this to say about his past livestreaming experience:
"Before Encore, I was running around with my phone and trying to get shots that would make a family happy. Then, I would have to field complaints about how bad the livestreaming was! What I was doing wasn't working." 
Nothing is worse than technology that doesn't work properly when you need it most. High-quality equipment shouldn't be a luxury; it's a necessity. If a company doesn't provide the right tools for success, it's time to find one that does. Encore provides the option to purchase or lease equipment, customized to your needs. And you don't need to be a technology expert.
Karen Robbins, manager and funeral director at Pecan Grove Funeral Home had this to say about her experience with our livestreaming service, Encore:
"Even if you're scared to death of technology, it's easy enough to use that within two to three times, anyone could learn how to use it. Definitely give Encore a shot."
Mistake #2: Not having the right support.
When you're livestreaming, you want everything to be perfect and to go according to plan. Your families depend on it. But if the audio cuts out or the video blurs, you need to be able to get help immediately. Much like Karen mentioned above (and in her full-length Q&A), our support team is available whenever you need them. She also emphasized:
"I'm not the biggest technology expert, and I was on my own with the first service because I was at a church, not the funeral home. Even though Encore gave us three cameras for multiple angles, I only took one because I was so nervous to try it by myself. Luckily, the Encore team was the behind the scenes watching the stream and texting me going, 'Okay, you need to straighten your camera a little bit, zoom in, zoom out, and you've got this.' The support was amazing."
Encore gives you the confidence to livestream with ease by guiding you through your first 5 events. From there, they're just a text message away to give you peace of mind and guidance.
Mistake #3: Not using it as a revenue generating service.
Many describe this profession as "a calling," but you still deserve to be paid for what you do. Documenting every moment for families via livestream is a necessity so they can grieve long after the service is over. If you're not including recordings as part of your package offerings, you could be missing out on additional revenue. Some funeral homes offer livestreaming for free and provide the recording for purchase. Others charge for the livestreaming service itself. It's all up to you, the goals you have for your funeral home, and what works best for your families.
Encore ensures high-quality recordings online and via MP4 that you can share with families any way you see fit, whether you charge for the service or not.
See what this funeral home does.
Mistake #4: Not building a sense of community with families.
During a service, remote family members should have the opportunity to be a participant, not simply an observer. Build a sense of community by hosting your livestreams on a platform that encourages comments on a live feed for family members and friends to leave their sentiments, links to donate to the family, and other tools that provide an interactive experience.
You go above and beyond for your families. Offer an option for them to grieve together even if they're apart.
Now that you know how to avoid these livestreaming mistakes, the next step is to make sure you partner with the best livestreaming service for you.