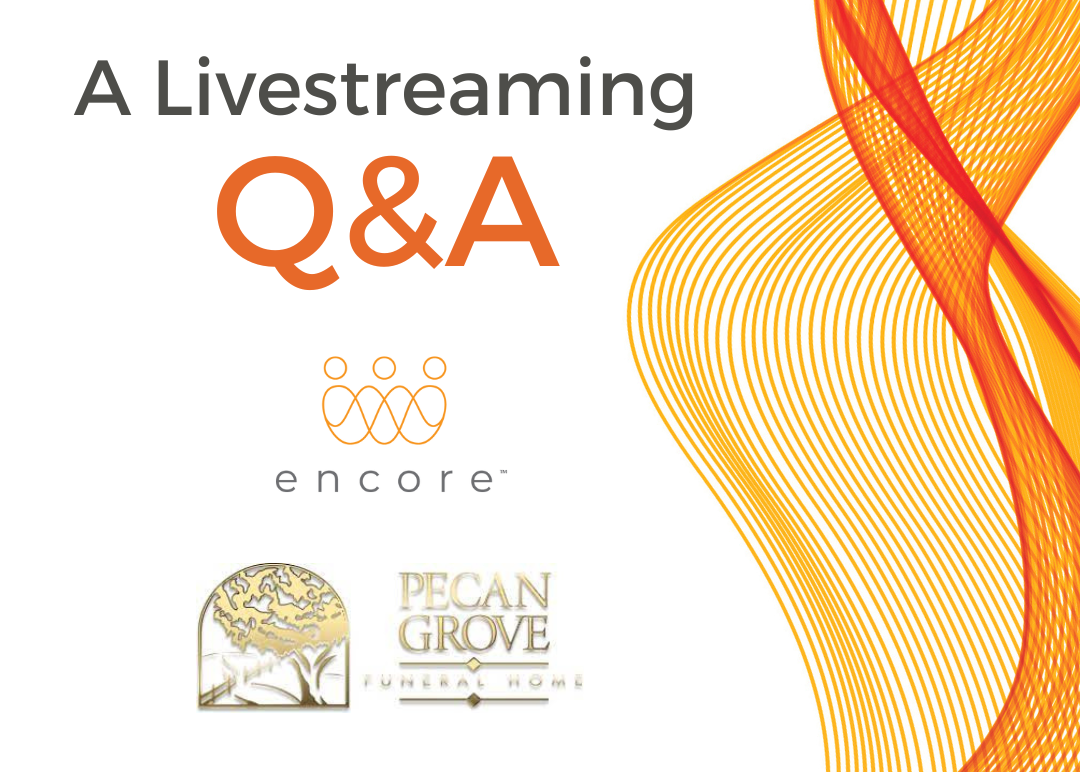 Livestreaming with confidence: One funeral director's experience with Encore livestreaming
An interview with Karen Robbins, Manager and Funeral Director in Charge at Pecan Grove Funeral Home in Waco, TX

After a difficult experience with funeral livestreaming, Karen Robbins was hesitant to try a new service, especially since she didn't consider herself a technology expert. Once she heard about Encore and how it could help her funeral home, she decided to meet with the team and give livestreaming another try. Blown away by the support, ease of use, and benefit to families, Karen found that livestreaming was, in her words, "easier than what I thought it was going to be."
Had you tried any livestreaming before Encore?
We actually tried Facebook Live about three times, and all three times, it went awry. After we upset a family, we had the attitude that we couldn't do it. At the time, we did not have good Wi-Fi at our building, so I kept thinking, there's no way we can ever try livestreaming again because we don't have reliable Wi-Fi.
How did you hear about our livestreaming service?
We heard about it through Grace Gardens, one of our sister funeral homes. We saw the presentation for Encore, but to be honest, I blew it off at first due to our spotty Wi-Fi. Once we upgraded our internet to a faster speed, we knew livestreaming would be much easier.
Before you streamed your first service, how did you feel?
I was scared. I'm not the biggest technology expert, and I was on my own with the first service because I was at a church, not the funeral home. Even though Encore gave us three cameras for multiple angles, I only took one because I was so nervous to try it by myself. Luckily, the Encore team was the behind the scenes watching the stream and texting me going, "Okay, you need to straighten your camera a little bit, zoom in, zoom out, and you've got this." The support was amazing, and everything went well. The family was happy, and I found out livestreaming was a lot easier than what I thought it was going to be.
What did you think it be like?
I thought it was going to be very difficult to learn. In our funeral home, I thought we wouldn't be able to handle running the music, taking care of everything for the service, operating the iPad, and livestreaming. Once we got it set up, Brian at Encore gave me tips about using the cameras, switching angles, and other best practices. With that support, I thought, we can do this by ourselves. It's not that hard.
How has this option helped your funeral home and families?
Before we had this option, several families asked us if we could livestream and were upset when we shared that we couldn't do it. Now that we do offer it, I have some families that go, "Well, we don't know if anybody will watch, but it'll be awesome if we have it on video because later we can go back and watch it." They seem very pleased. The last few times we've done it, several family members that were out of state and not able to make the trip to the funeral tuned into the livestream and were very happy they got to watch it remotely.
Plus, we are not charging for the livestream or recording. I think it needs to be optional for every single family regardless of if they could afford it or could not. Nowadays, there are so many people that can't get off work and things like that for funeral services. Even if they have to go back and watch the service later, the recording is such a benefit to the families.
What would you tell people about your Encore experience?
I would say definitely give Encore a shot. You all give such great support. Even if someone is scared to death of technology, it's easy enough to use, and the support is there that within two or three times anyone can learn how to livestream.
Learn more about Encore and how it can help your families.