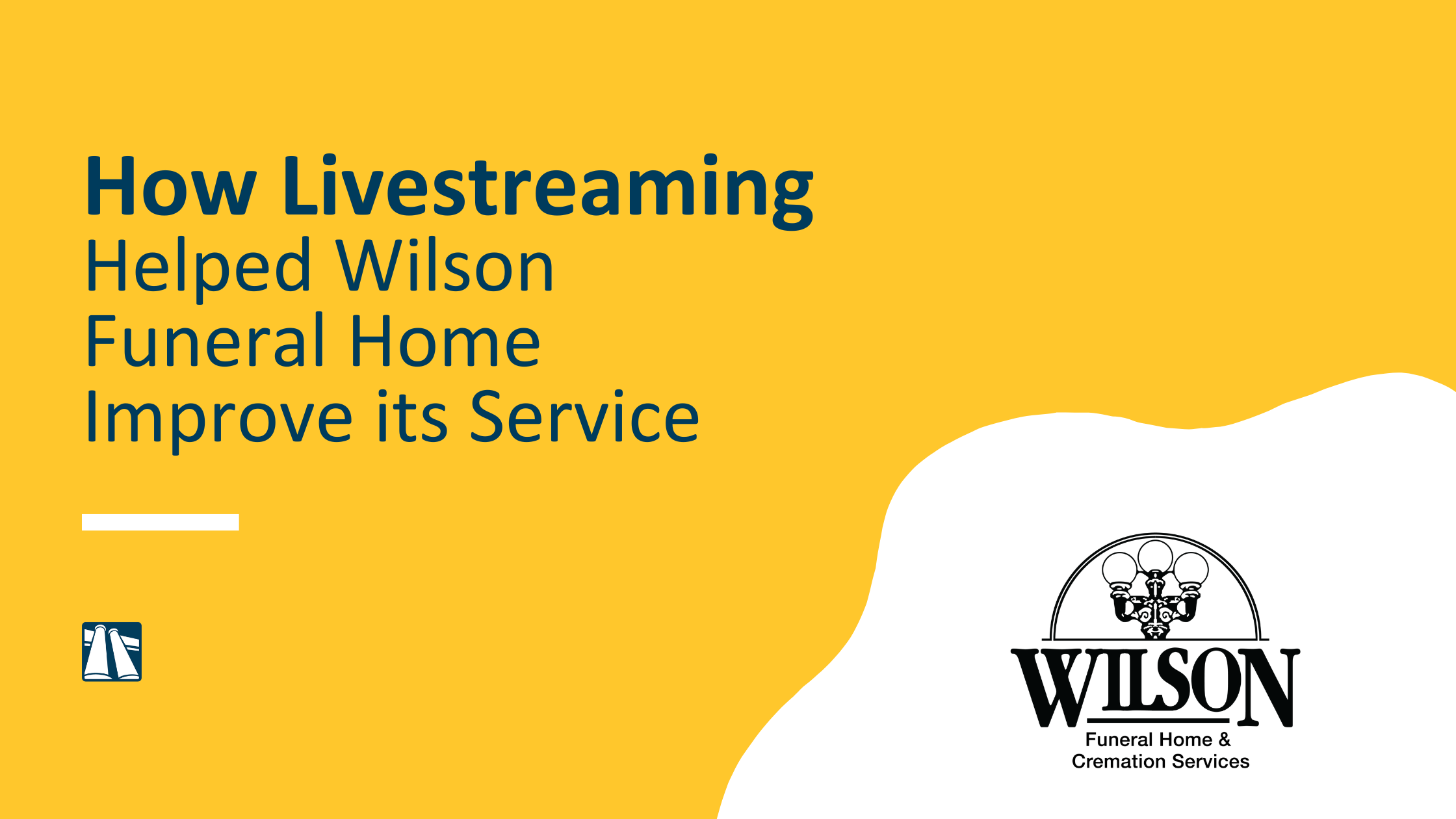 How Livestreaming Helped Wilson Funeral Home Improve its Service
Managing Funeral Director Jason Wilson, Sr. of Wilson Funeral Home & Cremation Services in Ohio wanted a way to improve his excellent care to families in Eastern Ohio, a region he says is "behind in technology." After a failed attempt with Facebook Live, he knew he needed a more professional livestreaming platform. Enter Encore by Funeral Directors Life. With its simple technology and amazing customer service, Encore has helped Jason and his team serve families like never before.
Had you tried any livestreaming before Encore?
We tried Facebook Live during the pandemic because families wanted and needed a way to attend funerals online. It wasn't successful for us. There was no chat feature, it didn't look professional, and the streaming quality wasn't always predictable. That's why we were excited to hear about Encore.
Before you streamed your first service with us, how did you feel? Were you nervous? Excited?
We were excited and felt comfortable using the technology. The Encore team did a training with our funeral director apprentice, Jo, and she became our Encore point person. We wanted one person who was proficient in using it so they could train a small group of staff to use it. We have 8 locations and are expanding, and we want the technology to scale with us.
How has this option helped your funeral home and families?
Our staff is comprised of older generations and younger generations, which means comfort level around using technology is all over the place. Our younger staff members have found purpose and ownership in using Encore and being the designated livestreaming experts in our funeral home. They're helping our older staff members see the benefits, who can then explain those benefits to our families.
Our families have asked us if we can do Facebook Live since their relatives live all over the place, and we're able to say, "We don't offer Facebook Live; we offer something way better."
Do you have any success stories from providing livestreaming?
We got a call on a Tuesday night about needing livestreaming on Thursday morning for a well-known individual in our community. Our team was able to set everything up and provide that option in such a fast turnaround, and it was perfect. The family was very happy.
Another time, my brother [Jarrett] got a call from a woman he went to high school with, and she said her mother passed away. They had a large family spread out in the U.S. with service members overseas. Two days before the visitation, the woman asked if we could do a Facebook Live, and that's when we brought up Encore livestreaming. My brother called the Encore team to see if they could make a service happen in 30 hours, and they were all for it. They set up the livestreaming link in the obituary quickly, and we were ready to go.
Overall, the family was thrilled that their extended family members were able to participate in the service and attend all over the world. But near the end of the visitation, a grandchild got upset and started crying. She was right next to the cameras, too. We quickly turned off the audio and asked the Encore team if they could do anything about the sound in the final version of the recording before we gave it to the family. Sure enough, they were able to make the edits we needed.
How would you describe the customer service of the Encore team?
The customer service is incredible. During one service, we noticed the cameras weren't working. So, we contacted the Encore team who diagnosed that the cameras needed to be connected to our new internet network. They fixed the problem in minutes. You don't get that on Facebook Live!
How do you make money from this service?
We decided not to charge for livestreaming until we became proficient with the technology, which I recommend funeral homes do. When you start, offer the livestreaming for free while explaining that mistakes may happen. Families were usually very understanding and willing to try livestreaming, even if it meant it wasn't "perfect." Now that our staff knows how to use Encore effectively, we bundle the livestreaming as part of a package.
What would you tell people who are hesitant or nervous to try livestreaming?
I understand that funeral professionals are hesitant to change in general. It's hard. It's scary at times. But over the past 3 years of the pandemic, we've seen our industry evolve to serve families in ways we would've never dreamed of, including through livestreaming.
Encore is easy to use, but if you're not a tech whiz, don't be afraid to have a younger staff person or funeral director explore the benefits. You'll be amazed by the value it provides. Don't let your fear of change stop you from trying something new to enhance your service to families.
Want a demo of Encore? Fill out the form below!