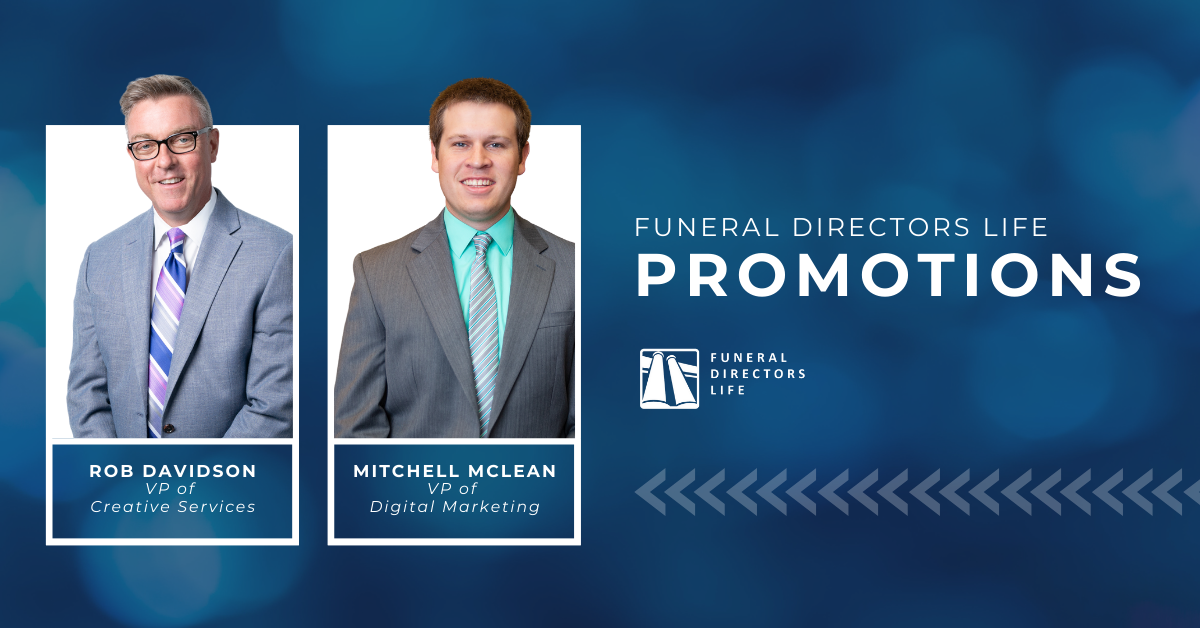 Funeral Directors Life Names Rob Davidson and Mitchell McLean as Company's Newest Vice Presidents
ABILENE, TX — Funeral Directors Life is proud to announce the recent promotions of Rob Davidson to Vice President of Creative Services and Mitchell McLean to Vice President of Digital Marketing.
"We are so thrilled that Rob and Mitchell are stepping into their new roles as vice presidents within the company," said Kris Seale, President and CEO of Funeral Directors Life. "Rob has a wealth of experience with audio/visual solutions that he has used to help our funeral home clients across the nation, and Mitchell has utilized his digital marketing background to help our customers reach their families online. They both possess the passion and experience to be successful in their new roles."
Since 2015, Rob Davidson has served as Funeral Directors Life's Director of Audio/Visual Solutions. Prior to joining the company, Rob accumulated over 20 years of experience creating exceptional video content for his clients through his own production company and through his previous work in the telecommunications field. Rob honed his skills as an artist, producer, and creative professional at McMurry University.
"For me, the most challenging and most rewarding part of my time here has been the thrill of helping both our internal and external clients put their best foot forward with the messaging and communications they bring into the marketplace," Rob said. "I am excited and very grateful for the faith Funeral Directors Life has placed in me with this new role, and I am looking forward to contributing all I can to this company's overall growth and continued success."
Mitchell McLean began his career with the company in 2015 as a web designer. In 2017, he transferred to Funeral Directors Life's Marketing department to become the Internet Marketing Manager. Two years later, he became the Director of Digital Marketing. Mitchell received his bachelor's degree from Abilene Christian University and his MBA from West Texas A&M.
"I'm excited and humbled to have the opportunity to develop as a leader at Funeral Directors Life, which is a company that values innovation," Mitchell said. "I enjoy the ongoing challenge of keeping up with digital marketing trends, honing my skills, and helping our funeral home clients succeed with custom solutions, no matter the market."
"Rob and Mitchell are both knowledgeable, thoughtful, strategically-minded marketing professionals who are wonderful representatives of Funeral Directors Life," said Jeff Stewart, Executive Vice President and Chief Marketing Officer. "I am very thankful for the talents of these men and their contributions to the ongoing success of our company."
About Funeral Directors Life
Funeral Directors Life, rated A- (Excellent) by AM Best Company, is a legal reserve life insurance company which specializes in the sale of insurance-funded preneed funerals. Our mission is "To be known as the best, most-respected provider of service to the funeral industry." For more information about Funeral Directors Life, visit us online at www.funeraldirectorslife.com.