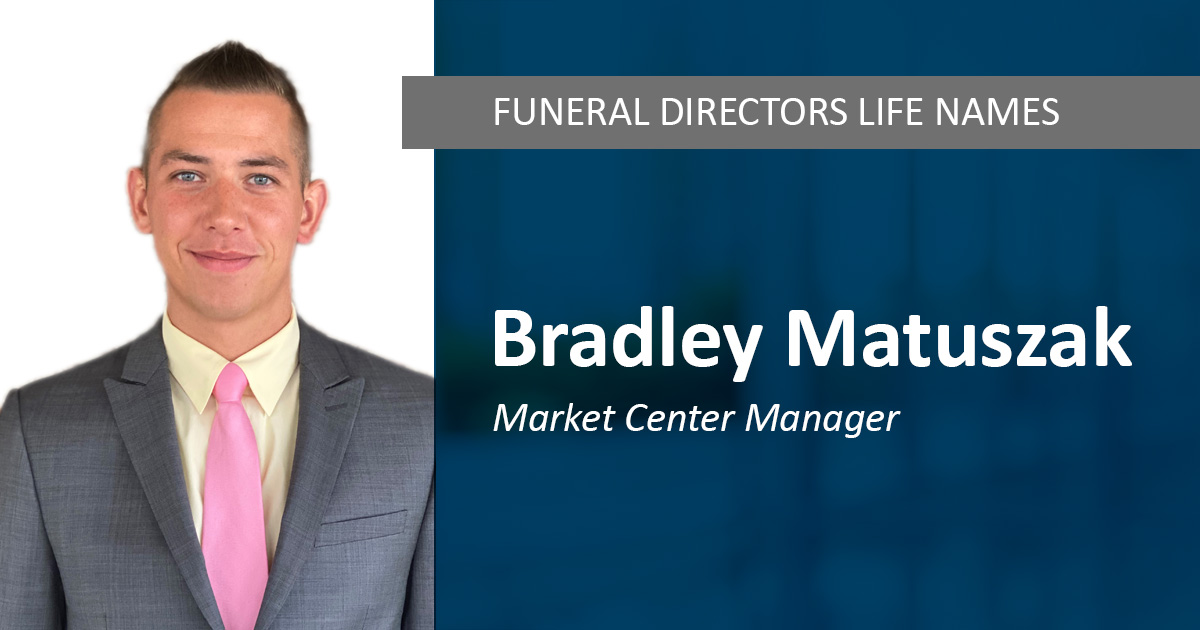 Funeral Directors Life Names Bradley Matuszak as Market Center Manager
ABILENE, TX — Funeral Directors Life is excited to announce Bradley Matuszak as Market Center Manager (MCM) in Indiana.
"We are thrilled that Bradley is joining the Funeral Directors Life sales team," said Kris Seale, President and CEO of Funeral Directors Life. "Bradley spent six years working in a funeral home and learned a lot of the ins and outs of funeral service. His dedication and passion will be tremendous assets to our clients in Indiana."
Bradley graduated from Holy Cross College in Indiana and studied mortuary science at Mid-America College of Funeral Service. In 2017, Bradley joined the staff at Saint Joseph Funeral Home and served as a funeral assistant and information technology manager.
"Bradley's experience will provide value to the funeral homes he will serve," said Kevin Gaffney, Regional Sales Vice President for Funeral Directors Life. "His passion for the profession and desire to make a positive impact on funeral service and our company will greatly contribute to the momentum we have in the state of Indiana."
Though he treasures his time spent in the funeral home, Bradley is eager to take this next step in his career and help Indiana funeral directors serve their families better.
"As the child of a funeral director, funeral service has been instilled in me my entire life," Bradley said. "I consider it a great honor to help funeral homes connect with their communities and provide the best possible service. With the support of Funeral Directors Life and its Christian values, I truly believe I am in the right place to serve."
About Funeral Directors Life
Funeral Directors Life is focused on being the best, most-respected provider of service to the funeral profession with preneed solutions, financial services, and technology offerings. We help our clients improve their businesses and grow their profitability through our full-service solutions. Your business requires more than preneed solutions – that's why we're more than a preneed company. For more information about Funeral Directors Life, visit us online at www.funeraldirectorslife.com.