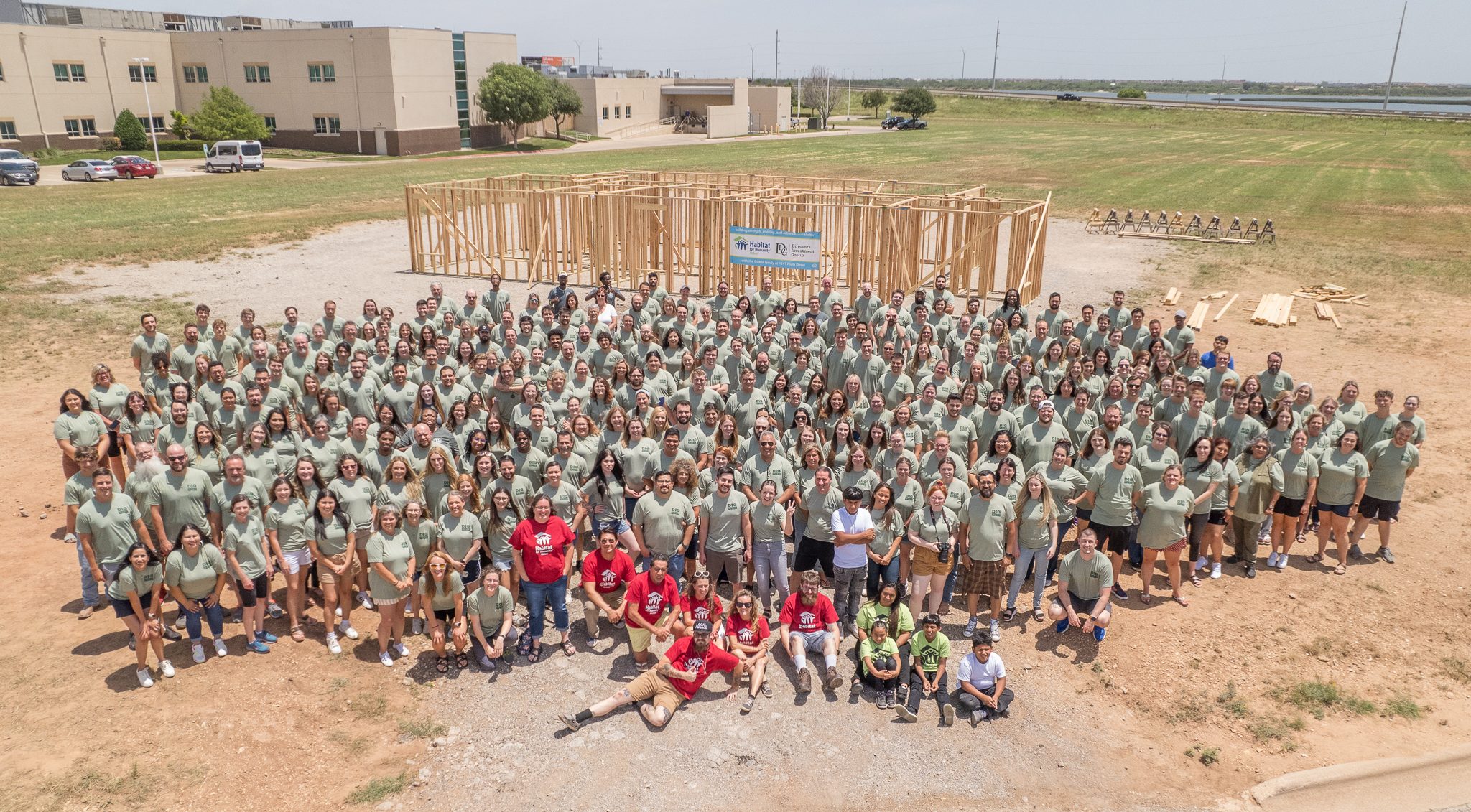 Called to Serve as Helpers of People
"Give, and it will be given to you. A good measure, pressed down, shaken together, and running over, will be poured into your lap. For with the measure you use, it will be measured to you." – Luke 6:38
When people think of Directors Investment Group (DIG), we want them to think of one quality in particular: helpers of people. Whether we're serving our community or each other, that mission is always top of mind and ready to be carried out by our people.
Recently, DIG employees were presented with an opportunity unlike anything they had ever experienced. Our people responded to the call to serve this July. What happened next was indescribable.
Bringing an Idea to Life
President and CEO Kris Seale approached Jeff Stewart, Executive Vice President and Chief Culture Officer, with a unique and ambitious idea. What if our employees did a service project during DIG Week? What would it look like for our people to work on something together – during the workday?
The two thought deeply about this idea and all the questions it raised: Would people volunteer? What should we do for the project? Is a week enough time to complete something significant?
Then, Jeff remembered previous conversations he had with Krista Masci, a DIG employee and member of the Habitat for Humanity Abilene Board of Directors, about opportunities for DIG employees to volunteer with Habitat for Humanity.
Jeff gathered his team together, spoke with Krista, and decided a home build during DIG Week was a possibility for DIG employees. They ran the idea past Kris, and he quickly approved it!
For months, Krista, Stephen Corbett, and Amber Rush-Jones (part of DIG's Corporate Culture Department) worked on the logistics of the build and coordinated with Habitat for Humanity.
At a luncheon, Jeff and Stephen shared that employees had the opportunity to frame a house for a very deserving family in Abilene during DIG Week.
He and his team were blown away by the response.
More than 230 employees and summer apprentices volunteered for the 3-day build. Talk about being helpers of people!
Building a Foundation and Camaraderie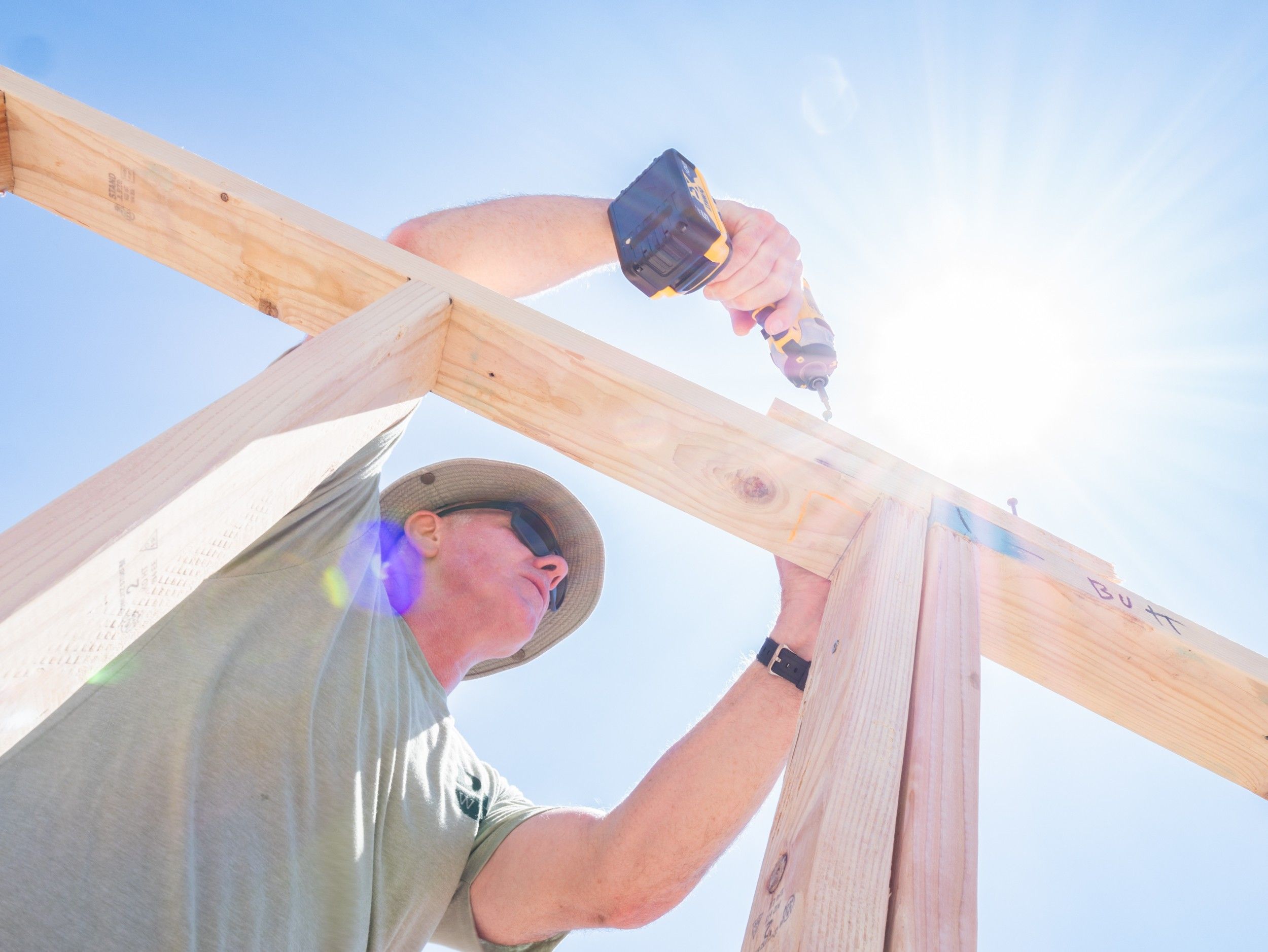 The project broke ground on July 11 in the lot across from the Home Office. Our mission? Complete the framing for a new home and most importantly – have fun!
Over the next three mornings, dozens of volunteers on the hospitality team arrived early to prepare food, spray sunscreen, clean, and keep the build teams hydrated during the 108-degree heat. They also wrote encouraging messages and blessings on the wood.
The build teams also arrived in the morning to work on the framing for the house. They blessed the wood, cut boards, drilled screws, measured walls, and worked together to accomplish their goal. They also built, sanded, and stained a few picnic tables, too!
The Goana family even stopped by to help the build teams frame their future home.
After three days, our DIG volunteers completed the goal.
"Getting an opportunity to take work time and give back to the community while on the clock is unbelievable!" said Jessie Martin, Director of Support.
"It was an incredible experience to serve, meet new people, and grow the community at DIG!"
Krista Masci said, "It was an honor to frame the house at DIG and see hundreds of our people show up! Framing a house is hard work, but everyone on the site faced the challenge with determination and joy. I'm beyond grateful to work for a company that values our community and its employees!"
All of our employees did their part to make this build happen, whether they were out serving or keeping business operations going while their co-workers helped with the build.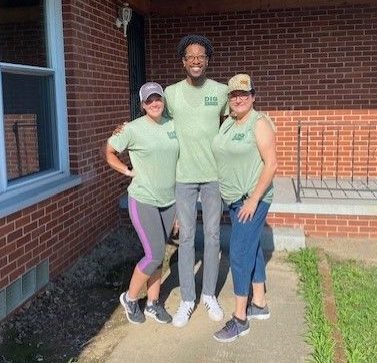 In fact, Chandler Jones, Market Center Manager for Illinois, heard about our Home Office build and was inspired to give back to his community during DIG Week. He reached out to his local Habitat for Humanity organization in Peoria and recruited Select Producers Melody Stuart and Hope Alyea to assist with a home renovation for a veteran family in need.
"This was truly a great experience, and I'm so glad we got the opportunity to be a part of it," Chandler said.
We were honored to lend a hand (or 460!) to support Habitat for Humanity and all they do to help families.
The Aftermath of the Build
On DIG Day, the last day of DIG Week, we invited the Goana family and the Habitat for Humanity team to our luncheon as our guests of honor. Throughout the week, our remarkable AV Department took photos and video of the build. Their recap video was shown at the luncheon, and Corporate Chaplain Ray Thompson prayed over the family.
Afterward, Jeff and the Corporate Culture team sent out a survey to the volunteers and asked them to describe their experience in one word. The most popular word was JOY.
"When you do things for others, you want to do more because you realize the impact of your actions is bigger than yourself," Jeff said. "My hope for DIG Week is that our employees take our culture and look for ways to share that with people in their daily lives. When we do that, the blessings will multiply.
"We want helpers of people to be our legacy."
Overall, we saw how a pile of lumber transformed into an unshakeable structure. It was a reminder of how God can take all our parts – large and small – and turn us into something extraordinary. We'll never stop trying to do more for others because it's what we're called to do.
To all the volunteers, including the Habitat for Humanity team, thank you for being helpers of people.
About DIG
Directors Investment Group (DIG) is the parent company for a diverse group of companies focused on serving the funeral and insurance professions, including Funeral Directors Life and Passare. At DIG, our mission is to be known as "the best, most-respected provider of service to our industries." DIG serves funeral home clients across the country, offering a variety of services including sales programs, training, technology, marketing, and financial services.