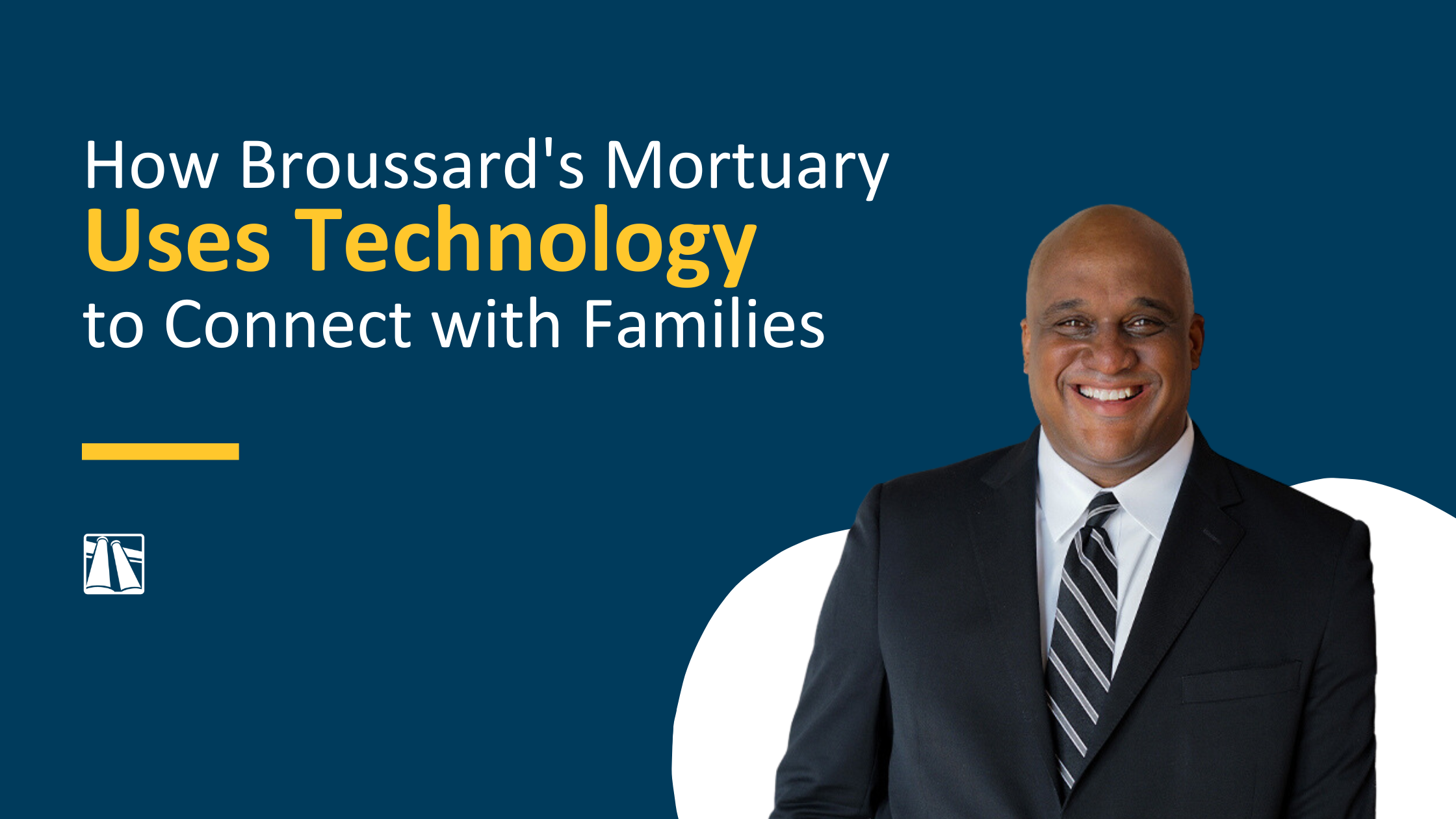 How Broussard's Mortuary Uses Technology to Connect with Families
James Rawlings, Director of Funeral Operations
Broussard's Mortuary
Beaumont, Nederland, Silsbee, Winnie, and Kountze, TX
1,200 calls/year
Broussard's Mortuary in Beaumont, TX, is known for its high level of service to families. When they were looking to grow their preneed program, they knew they needed to work with a professional, dedicated team. Enter Funeral Directors Life. Seven years later, Broussard's preneed volume is higher than ever, and they've even improved their at-need and aftercare solutions through technology. While reminiscing about his time with Funeral Directors Life, James Rawlings concluded, "I'm so glad we partnered with them."
James, what do you do at Broussard's?
I'm the Director of Funeral Operations at Broussard's, which includes 6 locations, a crematorium, and a care center, as well as 78 employees. Alongside our leadership team, I am responsible for ensuring our service delivery is at the highest level by our professional staff.
Can you describe Broussard's preneed program?
In May 2017, we began the Select Producer Program and started seeing immediate results. We now have 3 designated preneed sales representatives through the program who have grown our preened volume year over year.
That's amazing. What other results have you seen?
Our average preneed sale amount is the highest it has ever been and has even surpassed our average at-need sale.
Plus, the training of our Select Producers (preneed salespeople) is superior to anything I've seen. They've even received training on how to adapt to rising cremation rates to still explain the benefits of having a service, which not only increases the sale but the value to families.
They host preplanning presentations for families in our community as well. We promote the presentations on Facebook and hand out flyers to local churches. At one recent event, our agent was able to generate 10-11 preneed leads.
Funeral Directors Life has talented staff and high expectations for their Select Producers. Ours are professional, punctual, and skilled at what they do. We're very happy with the results, training, consistency, and how seriously they take their job. From preneed to at-need, there's no gap in the quality of our service.
How has Arrangement Guide helped your funeral home? What do you like about it?
Arrangement Guide is a great tool for our preneed families who want to make prearrangements remotely or from home. Though our market is more traditional and conservative, we still see people creating accounts and starting the preplanning process online. They can do everything online, including paying for their plans, or they can call our preneed counselor for help.
I like how it gives people the flexibility to look at merchandise and service options. Plus, it's interactive for the family and educates them on important parts of a service. It's also personalized to our funeral home and includes our branding, so it not only looks professional, but it helps us reach families who maybe don't want to preplan in person. And our Select Producers have gotten preneed leads from the tool as well. Arrangement Guide is another way we can provide our excellent service to families that we may not have reached without it.
You also utilize our digital aftercare program, Circle of Friends+. What benefits has your funeral home experienced from that?
At Broussard's, we've always been intentional about offering something for our aftercare families. We've asked for the help of grief personnel and a clinical psychologist to meet with families. We've held quarterly seminars for people to gather.
We started the digital aftercare program, Circle of Friends+ (COF+), about 6-8 months ago, and it has been great. We're able to get an idea of how our families are doing, what they're interested in learning more about, what questions they have, etc. It's a great program for families especially because we're checking in with them via text and email, which are preferred ways to communicate with people these days. But any family can find answers to their questions through the wide variety of resources available on the COF+ website.
And the COF+ team texts families and is very responsive. If a family has a question they can't answer, they'll forward the question to a Broussard's staff member to follow up with the family.
Overall, we can still keep a close connection to the family after a service with this program, which is what we want.
What would you tell a funeral director that is hesitant to adopt technology?
Technology helps you be digital and reach your families in several different ways. You just have to find a platform that's easy to use and helps you monitor your business while providing accurate reporting.
Though I'm not tech-savvy, a lot of our funeral directors are. No matter your age or skill set, anyone can use the technology provided by Funeral Directors Life. We love it, and using it is a no-brainer.
In your opinion, what's something that sets Funeral Directors Life apart from other companies?
Funeral Directors Life stands out in terms of training, professionalism, and working hard for the client. Your team sees clients' needs, dives into the details, and works on a game plan for anything that can be improved upon, including sales, production, training, etc.
Your organization takes this seriously. I've worked all over the country and have met a lot of people. When I met some of the Funeral Directors Life leadership team at conventions, I thought, "They are 'A' players." We had high-level conversations. I could tell they cared about finding the perfect solutions for us and all funeral homes they work with.
If you were to ask me if I'd recommend Funeral Directors Life to others, I'd say, "Absolutely. I'm so glad we partnered with them."
Ready to improve your preneed program?
Request a consultation below to see how Funeral Directors Life can improve your business!