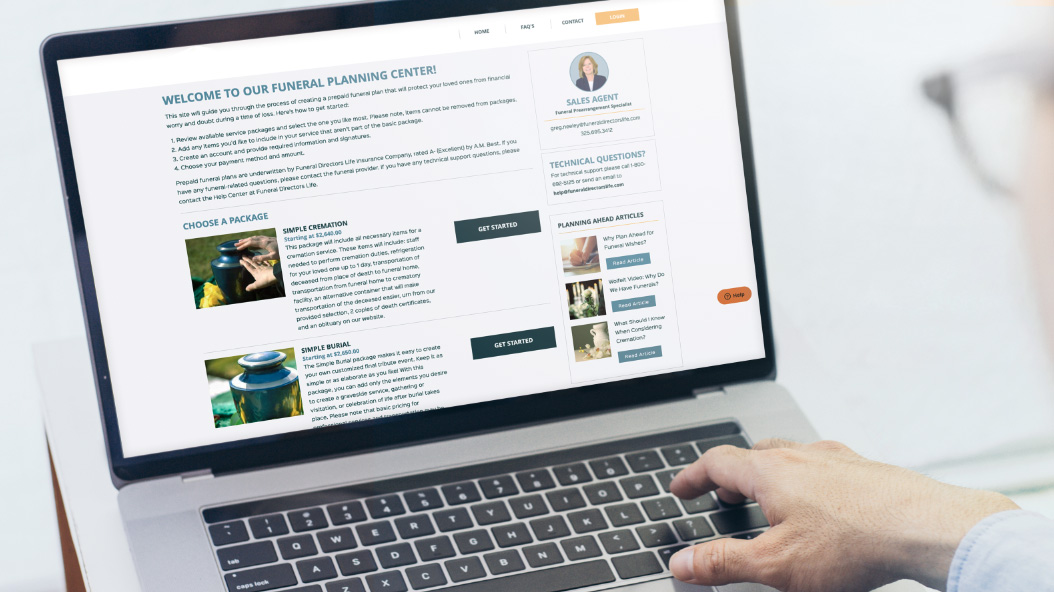 Your families are looking for convenience and simplicity.
It's inevitable. Consumers are going to plan ahead online. The question is whether or not you will be able to capture those families in time. The fact is, if you want to compete in today's complex funeral market with online competitors, you need a simple and convenient solution to help families plan ahead in the way they prefer.

Offer a best-in-class experience
PreCare is designed to fit seamlessly into your website for an unmatched online buying experience.

Be there when they need you most
Built-in connection tools keep you and your staff front and center throughout the process.

Provide flexibility that families expect
Families can plan and fund their plans online or finish them later, either online or in person.
Questions? Request a Demo Today!
Created in partnership with Passare and Funeral Directors Life, PreCare is the funeral profession's most advanced online preplanning and funding tool. With PreCare, you can start connecting with preneed families the way you've always dreamed.

At Funeral Directors Life, we understand that being a funeral director today is harder than ever. That is why we provide a one-stop-shop solution for every area of your business, from preneed, to at-need, and beyond. It's time to get your life back. Learn more at www.funeraldirectorslife.com.

Families are changing. Their needs are evolving. To help you stay ahead of the curve, Passare offers the funeral profession's most advanced collaboration software with integrated business management tools. Start saving time, streamlining processes, and enhancing your service to families today with Passare. For a free demo, visit www.passare.com.