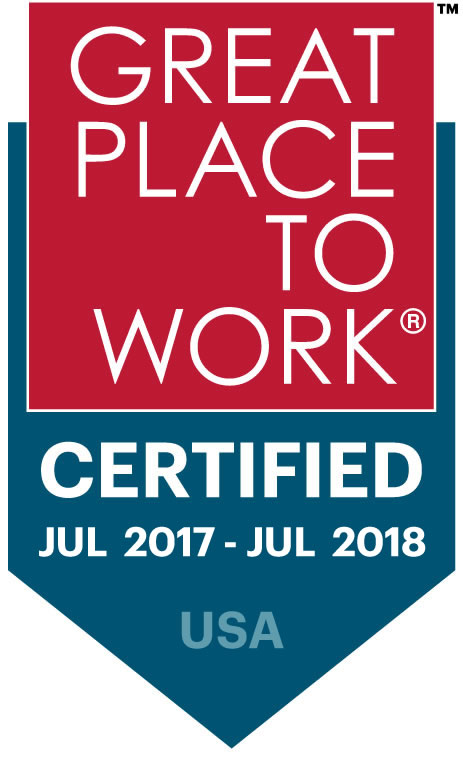 Funeral Directors Life was recently certified as a great workplace by the independent analysts at Great Place to Work®. Funeral Directors Life earned this credential based on extensive ratings provided by its employees in anonymous surveys. A summary of these ratings can be found at http://reviews.greatplacetowork.com/funeral-directors-life.
"We are excited to once again be certified as a Great Place to Work," said Kris Seale, President and CEO of Funeral Directors Life. "Every year, our leadership team strives to enhance our facilities, programs, benefits, and perks that make this a great place to work, and the results from this survey are an indication that we are on the right track. The survey found that 100% of employees think our workplace has a great atmosphere, facilities that contribute to a good working environment, special and unique benefits, and that they feel good about the ways we contribute to the community. Those are incredible results!"
"We applaud Funeral Directors Life for seeking certification and releasing its employees' feedback," said Kim Peters, Executive Vice President of Great Place to Work's Certification Program. "These ratings measure its capacity to earn its own employees' trust and create a great workplace - critical metrics that anyone considering working for or doing business with Funeral Directors Life should take into account as an indicator of high performance."
"According to our study, 99 percent of Funeral Directors Life employees say it is a great workplace," says Sarah Lewis-Kulin, Vice President of Great Place to Work Certification & List Production.
About Funeral Directors Life
Funeral Directors Life is the only full-service preneed insurance company that helps funeral home clients grow their business and improve profitability in a rapidly changing marketplace. Our mission is "To be known as the best, most-respected provider of service to the funeral industry." As a company, we are committed to serving our clients, policyholders, and employees as the leading provider of service to the funeral profession. For more information, visit us online at www.funeraldirectorslife.com, like us on Facebook, or follow us on Twitter at @fdpreneed.
About Great Place to Work®
Great Place to Work® is the global authority on high-trust, high-performance workplace cultures. Through proprietary assessment tools, advisory services, and certification programs, including Best Workplaces lists and workplace reviews, Great Place to Work® provides the benchmarks, framework, and expertise needed to create, sustain, and recognize outstanding workplace cultures. In the United States, Great Place to Work® produces the annual Fortune "100 Best Companies to Work For®" list and a series of Great Place to Work® Best Workplaces lists including lists for Millennials, Women, Diversity, Small and Medium Companies and over a half dozen different industry lists.
Follow Great Place to Work online at www.greatplacetowork.com and on Twitter at @GPTW_US.