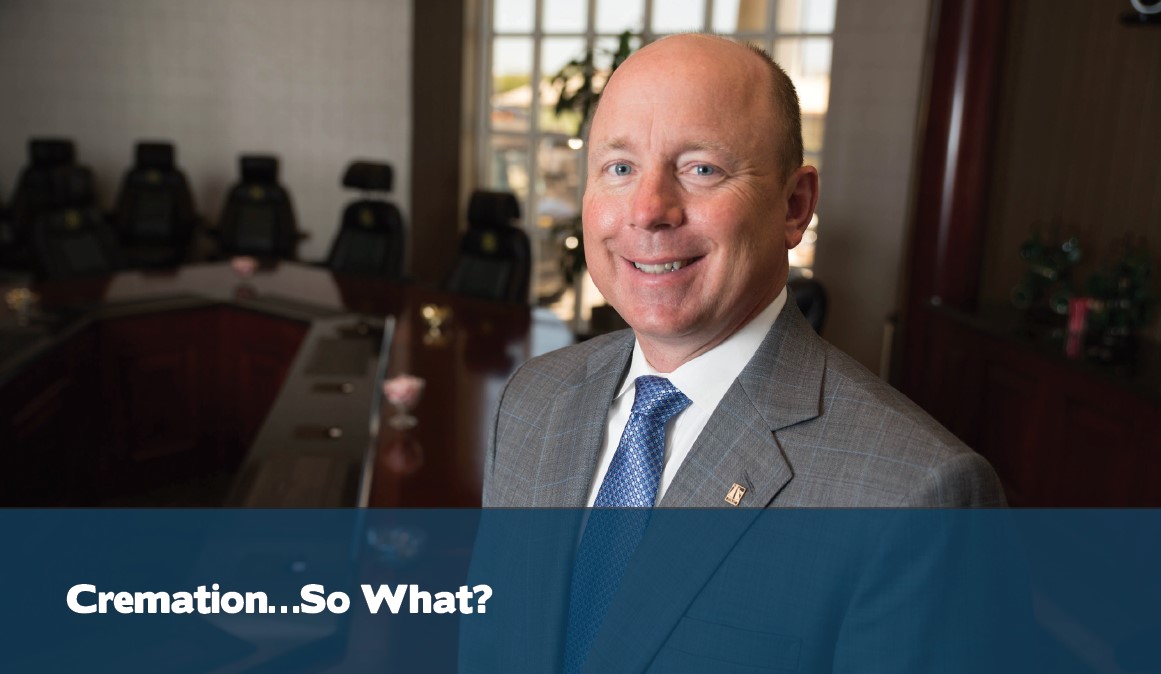 BY PAUL LOVELACE, Vice President of Corporate Development, Funeral Directors Life
Do you ever notice how great leaders seem to ask the best questions? Seeing an inspirational leader ask powerful questions is like watching a highly skilled musician who seems to know what note to play, or a professional athlete who knows what move to make at just the right time.
In our conversations with funeral directors almost every week, we are often asked, "So, what about cremation? How can you help me lower my cremation rate?"
I believe that's the wrong question. In this day and age, cremation is here to stay. The cremation rate will likely even continue to grow before it plateaus. Don't get me wrong. I get it. Too many cremations in a row might keep you up at night. You worry about long-term profitability and how your tried and true revenue streams like traditional services charges, funeral vehicles, caskets, outer burial containers, etc. are dwindling before your very eyes. How can you sustain a business that depends on those revenue streams when they are no longer there?
No, I don't want to dismiss the fear that we are in uncertain times. Not at all. It's because we are in uncertain times that I want to encourage my fellow funeral professionals to ask different questions so that we can gain greater clarity during a time of great uncertainty.
One of my favorite authors is John Maxwell, and he likes to say, "Good leaders ask great questions."
This got me to thinking (which can sometimes be a dangerous thing for a sales person). "What questions should we be asking about cremation in the funeral profession?"
Andy Stanley, who is senior pastor at North Point Community church and the author of the Next Generation Leader, has a sign in his office that asks one of the most thought-provoking questions I have ever seen. It goes like this:
"What do I believe is impossible to do in my field, but if it could be done, would fundamentally change my business?" Joel Barker – Paradigms: The Business of Discovering the Future
Andy also likes to say that "the greater the uncertainty, the greater the need for leadership." He knows what it means to lead during uncertain times. He goes on to say: "When leaders are no longer willing to dream, it is only a short time before followers are unwilling to follow. Uncertainty is a permanent part of the leadership landscape. It never goes away. Where there is no uncertainty, there is no longer the need for leadership."
The funeral profession has never faced more uncertainty than today, especially when it comes to cremation. However, in the midst of great uncertainty there is also great opportunity. There are many in the funeral profession who would like to grow and improve their businesses, however, they often have difficulty
seeing just how to accomplish that goal. It can feel almost impossible to make progress.
But what if there was a way? What if there was a certain path that if discovered, could fundamentally change the way we look at our business in the funeral profession? Andy Stanley found that path for his organization. The vision and path he set forth was to create a "church that the unchurched would love to attend." I think I can safely say this was a fundamentally different vision and path than most church leaders opt to take.
He also recognized that it was time to try something different in his field of expertise. Andy's good friend Craig Groeschel inspired him to seek this path when he shared this powerful quote: "To reach people no one else is reaching, we must do things no one else is doing." Craig Groeschel, Senior Pastor, LifeChurch.tv LifeChurch.tv, which is now one of the largest churches in the United States, has twenty-four locations in seven states. They experienced a breakthrough, and now the video church concept has spread across the nation. What does all of this have to do with the funeral profession?
Like you, as an organizational leader, both Andy and Craig realized they had to do something different in an uncertain environment. Their "market" (church goers) was declining, so they, like you, had to ask themselves some tough questions to turn the challenges they faced into an opportunity. Churches, like any organization, grow because they meet the needs of their "consumers." Just like Craig Groeschel did, if we want to reach people, no one else is reaching, we have to do some things no one else is doing. Don't we?
I believe it starts by asking some very specific and challenging questions of ourselves:
So what if my cremation rate is rising? Some funeral home owners we talk to have restructured their service fees and re-trained

their staff to emphasize ceremony over disposition and merchandise. Some have seen their "direct cremation" families change

their mind and ask for a full service with cremation upon learning about the WHY behind funeral service.

How do we meet the needs of the changing funeral consumer? We must begin to think about how we can reach families early

and educate them about the value of funerals.

What am I doing to create value for today's consumer? What is the payoff for a family if they spend $8,000 to $10,000 with you

on a full service? Are they getting a meaningful and healing funeral experience? Is your staff actively looking for ways to help

families personalize events, or is every funeral "business as usual"?

How do I position my funeral home for the next generation of funeral planners? The next generation of planners is here, and

as Baby Boomers, we are all trained to value efficiency, convenience, and speed. Hey, cremation seems to fit the bill! So, how

can we encourage busy Baby Boomers to slow down and really take in this experience? We focus on meaning and the purpose

behind every aspect of the funeral.
Someone who spent a lifetime facing the impossible was Nelson Mandela, and he said: "It always seems impossible until it's done."
Just because it might seem impossible to do today, doesn't mean it can't happen in the future. When you stop and think about other businesses that have been disrupted in recent years, the changes came largely from outside forces. For example, AirBnB could have been started by a successful hotel chain and Uber could have been launched by a taxi cab company. Let's embrace this uncertainty in the funeral profession and do something about it, together. The future of funeral service is in our hands.
About the Author:
Paul Lovelace is the Vice President of Corporate Development for Funeral Directors Life. He has over 30 years ofexperience in business, including retail sales, banking, finance, and funeral home operations. Paul specializes in helping funeral homesdevelop active, thriving preneed programs that increase preneed sales and grow market share. Paul has a bachelor's and master'sdegree in Finance from the University of Texas San Antonio.