By Patti Martin Bartsche
From its azure waters to diverse inland adventures, there may be no better place to soak up the sun than in the Dominican Republic.
So it's no wonder that MasterCard recently declared Punta Cana, Dominican Republic, the No. 1 summer travel destination.
But for nearly 200 top sales professionals, clients, employees and their guests of Funeral Directors Life Insurance Co., an incentive trip in April also included helping make the difference in the life of a family that calls the Caribbean island home.
"One of our strategic objectives as a company is to be 'helpers of people.' We are also a company that was founded on Christian principles of service, integrity and respect, treating others as we would want to be treated," said Nadene Smith, FDLIC mission project coordinator. "Serving others is a very important part of our culture and in our day-to-day tasks, from how we answer phones to how we care for and encourage one another as a team."
In keeping with that objective, company president and CEO Kris Seale several years ago challenged his team to develop a mission trip component to the annual company-sponsored incentive trip.
"Back in 2010, as the executive team was developing our plan for what we wanted to see our company accomplish by the year 2020, we developed a series of imperatives, among those was the imperative to incorporate a mission component into our incentive trip," said Jeff Stewart, FDLIC vice president and chief marketing officer.
"We didn't know what it would look like, who would be involved, or what to expect," Seale said. "We just knew that we wanted to organize a mission trip or service project that would be a blessing to others and would allow us to work together toward a common goal: to advance the Kingdom of God and to be the hands and feet of Christ. That first trip, and every other trip since, has been the result of that dream."
Over the past four years, the company has successfully launched four mission trips, expanding the program to accommodate more and more volunteers.
From the start, FDLIC employees and partners have embraced the mission trips.
"We wanted to leave these countries better than we found them and make a positive impact by helping others," Stewart said. "We didn't really know what our clients or sales professionals would think about this initiative, but the response has been overwhelming."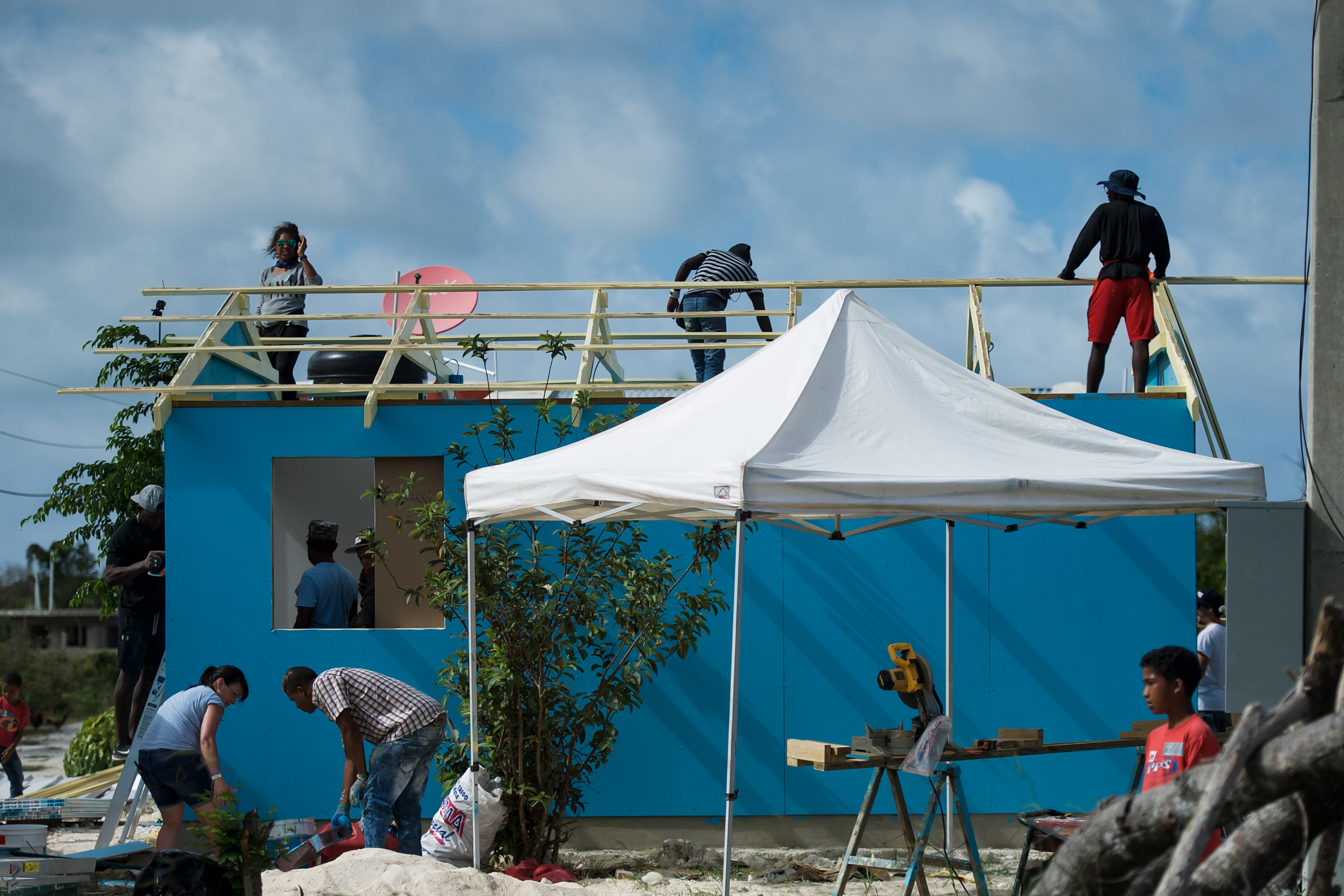 Project managers from Youth with a Mission directed volunteers, and after the first day, the walls and framing for the roof were completed.
(Photo courtesy of Funeral Directors Life)
"In Aruba, we partnered with an orphanage to build a self-enclosed garden, conduct major landscaping and tile work and to interact with the children. The next year, we partnered with two mission-oriented organizations in Cancun to pray for shut-ins, build a church and organize a neighborhood party for over 100 children in poverty," Smith said.
In 2017, FDLIC built a home – start to finish – in Costa Rica during the incentive trip. "We enjoyed that project so much that we decided to build another home for a family during our trip to the Dominican Republic this year," Seale said.
As it did with the Costa Rica build, FDLIC partnered with Vital Seed Ministries and Youth with a Mission (Homes of Hope) to build a home for a deserving family in the Dominican Republic.
Life in the Dominican Republic
While luxury resorts dot the coastline of the second-largest Caribbean nation, it's a different story for most inland residents.
"While our luxury resort was beautiful, just 10 miles down the road, people were living in extreme conditions with no electricity, running water or bathrooms in their homes," Smith said. "Thousands of people walked the streets without shoes (cars are available only for the wealthy), and you could sometimes see up to six people riding a motorized cycle."
Equally disconcerting, Stewart noted, are the large number of children roaming the streets. Because many children in the Dominican Republic are refugees from Haiti without the proper paperwork, they are not allowed in public schools.
With a minimum wage that comes to about $7 a day, more than 30 percent of the households live below the poverty line.
Partnering with Vital Seed Ministries has been such a blessing for FDLIC, Seale said. "They have a similar vision to ours. Together, we want to ensure that the work we do is an initial seed planted in a neighborhood/community that will continue to grow and make a difference," he added.
With the Dominican Republic build, Vital Seed, Youth with a Mission and three local churches met with the local municipality several times before the Funeral Directors Life group arrived.
The goal was to bring together the entities for a collective cause: improving the well-being of families and ensuring people have an opportunity to know Jesus Christ.
Vital Seed worked with Youth with a Mission to identify the family that met the following criteria, which included that the family:
Owned their own land.
Was part of a local church congregation.
Had a huge need for a home.
Showed a willingness to be a light in their neighborhood and help others.
Preparing to Build
Homes of Hope, a Youth with a Mission program, was immediately on board to address the desperate need for shelter among the poor in the Dominican Republic.
As part of the program, Homes of Hope provided the materials necessary (tools, wood, sheetrock, etc.) along with specialized project managers that directed volunteers as they showed up to work.
FDLIC provided the volunteers and decided on which home package to purchase for the family. Including the mother and father, FDLIC was building a home for nine people. The company, Smith said, purchased the "upscale package" for the family that included: two bedrooms, kitchen, living room, electricity, windows, tin roof and furnishings for the home.
As this was Homes of Hope's first build in Punta Cana, the organization conducted research and selected materials for the 400-square-foot home that would hold up well in the weather and elements.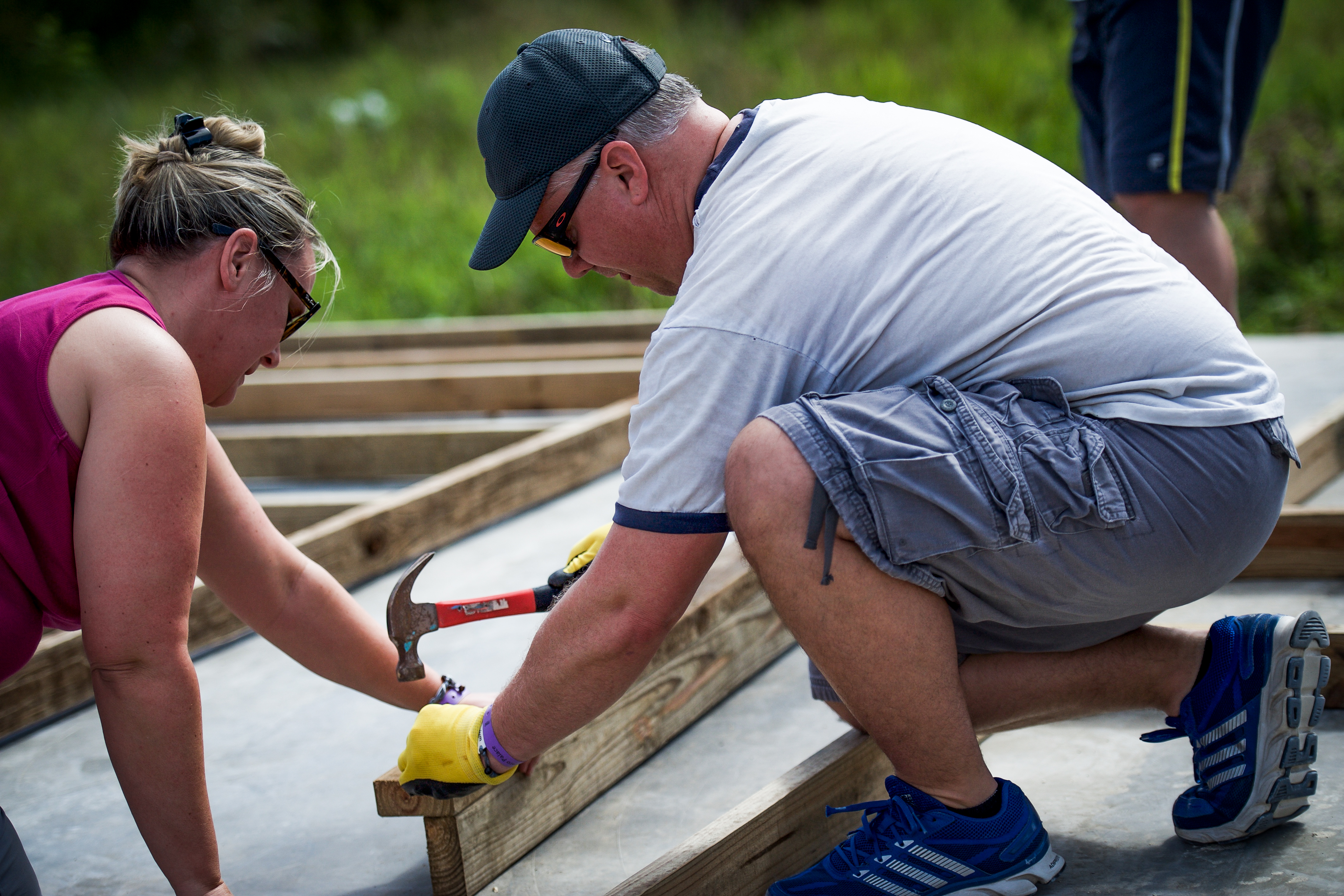 The family – including the seven boys ranging in age from two months to 14 years – was onsite during construction, helping out throughout the three-day build. The father is a truck driver, Smith added, and the mother stays at home to raise the children.
The family spoke no English, so the mission build participants leaned heavily on a translator for communication. A light-hearted moment occurred when the mother told the group, "I'm done having children."
Getting to Work
For the Dominican Republic build, Funeral Directors Life had 102 volunteers who physically helped on the build, including FDLIC employees, funeral directors and owners, marketing organization partners, top sales professionals, and their guests. Smith said many others wanted to participate but couldn't due to the country's extreme heat, and instead donated money, brought home items for the family and helped take the family shopping during the build.
"In fact," Smith said, "we had over 175 people who participated in making this project a huge success."
While the number of volunteers may seem large, Smith said that from the start, the mission build component has been widely embraced.
"For our first mission trip in Aruba, we emailed our group of trip attendees about the opportunity on a Friday, and before Monday, all of our available slots for volunteers were full," Smith said. "We expected a group of 25 but had over 70 incredible volunteers who participated that year. From that time, word spread within our organization, and we have never had a shortage of volunteers."
In fact, Stewart added, FDLIC has had to increase the scope of its projects every year to make room for more volunteers. The company sent out emails several weeks before the trip to the Dominican Republic with videos to introduce the mission and the impact it would make on the family chosen. "As usual, volunteers were eager to sign up to be part of the project," Stewart said.
Individuals could sign up for a half-day or a full-day shift. Some volunteers chose to return for a second and even third shift. After a 15-minute orientation, volunteers had a time of prayer, and then loaded up on buses to travel about 20 minutes to the job site.
Once there, volunteers chose their assignments (painting, roofing, framing, sheet rocking, etc.), and were able to meet the family. After the end of the shift, another group of volunteers came in, and they shared lunch together.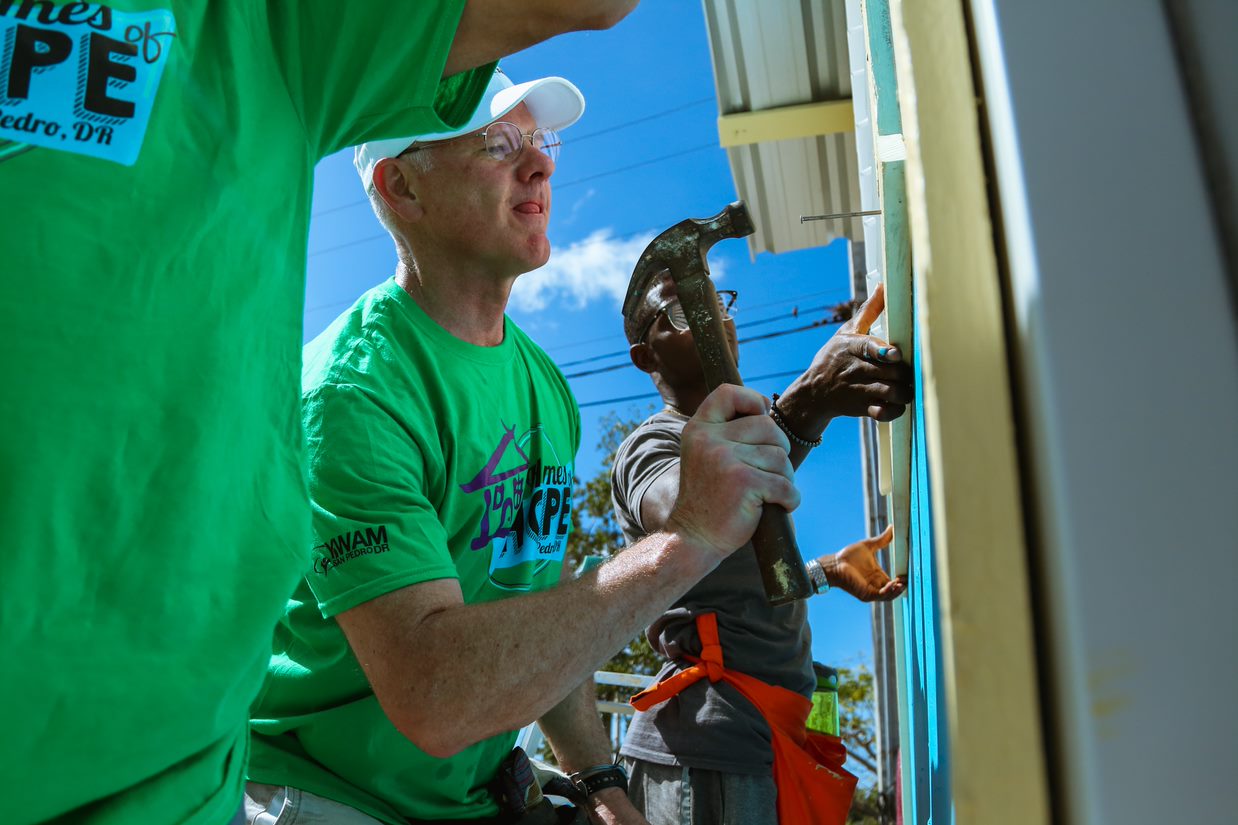 Volunteers from Funeral Directors Life worked in half-day shifts and were able to finish the home build in 2 1⁄2 days. (Photos courtesy of Funeral Directors Life)
Volunteers worked a total of five half-day shifts over three days.
By midday on the third day, a house was built.
For the family, who was working alongside the volunteers, the completion of the home was a dream come true ... a hope for a new beginning, a new life. The family, who had never owned a home before, called their new living quarters the "largest and most beautiful home they had been in," Seale said.
"They saw it go from nothing, to a concrete slab (the week prior), to quickly becoming a home," Seale added. "When we 'locked them out' the last day and took them shopping so we could furnish the home, their reaction to seeing the home being fully furnished was priceless. There wasn't a dry eye in the crowd at that moment."
While it might have been easier to just write a check to fund the project, the hands-on experience was meaningful for everyone involved.
"Writing a check is great ... and we need that to bring in experts, buy furniture and home goods and fund the project," Seale said. "(But) the sights, sounds, smells, food, fellowship and camaraderie that comes from working side-by-side with others toward a common goal is such an amazing experience."
The work was hot and it was a sacrifice for people to give up a half-a-day or an entire day to come out and help. "We got to bond with each other and interact with the family, the neighbors, and the missionaries, and experience the culture of the island," Stewart said.
Smith said there are countless moments that stood out from the most recent trip. She recalled a group of young mothers who brought a diaper bag full of boys' clothes for the 2-month-old; the group of neighborhood girls who came every day to the build and presented homemade flowers to the workers; a funeral home owner asked why the family didn't have more beds, and then seeing him take money out of his wallet and bought them a bunk bed; and the shouts of joy heard when the family went into their home and realized it had been furnished with beds, linens, dining room table, cook stove, refrigerator, food, dishes, toys for the boys and more.
Another moving moment occurred when a neighbor of the family came to help with the build but wanted to be paid. "We told him he could volunteer, but it's 'brother helping brother.' He helped every day on the build," Smith said. "He shared that his brother was at home and in a wheelchair with cancer. He shared in passing that his brother needed a new wheelchair. A new one was purchased for him, and we were able to pray for him and his family."
While the full impact of the mission trip on participants might not be known for a very long time, there is no question that it has changed lives.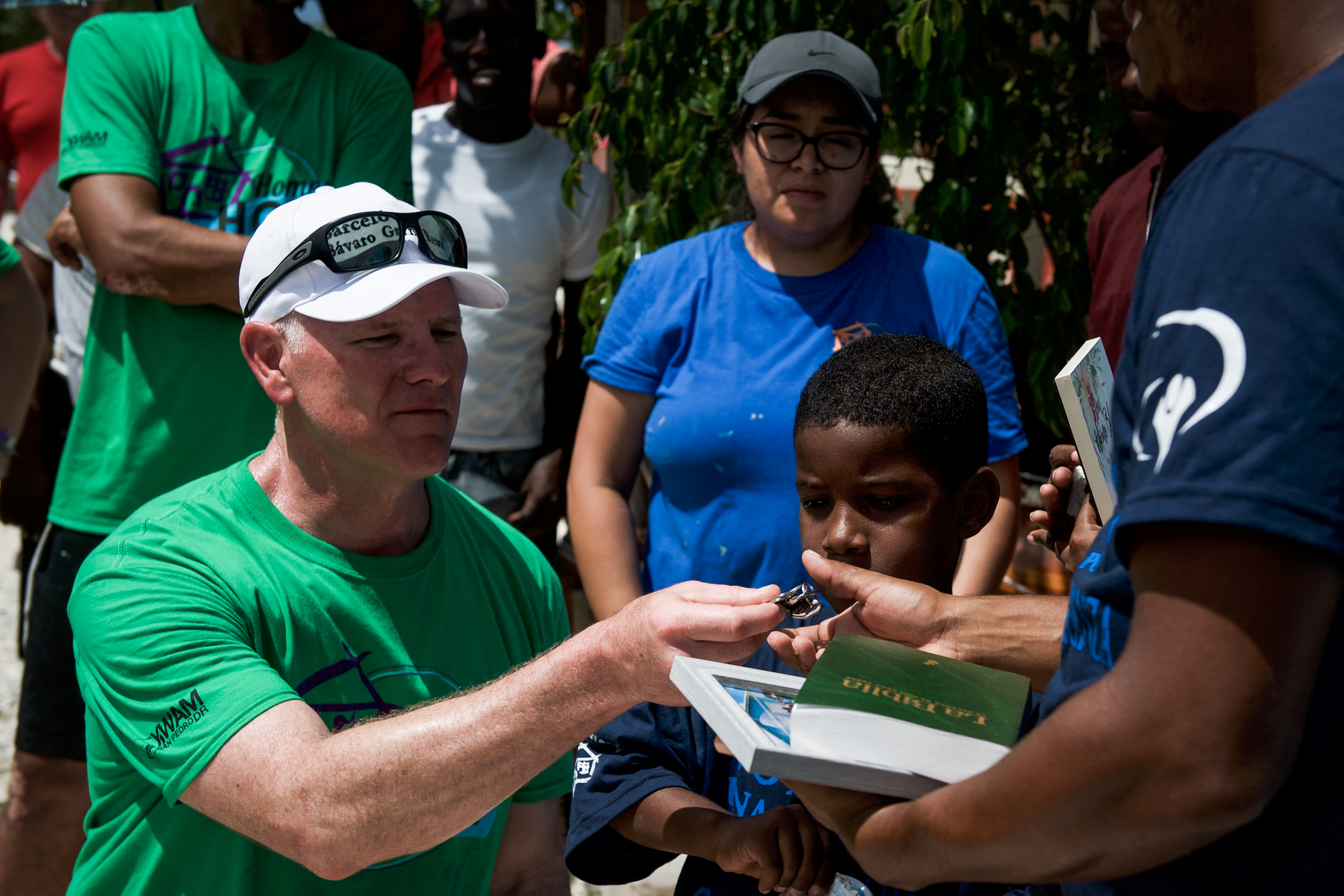 Kris Seale, president and CEO of Funeral Directors Life, presents the new house key to the Luciano family. (Photo courtesy of Funeral Directors Life)
For FDLIC employee Scott Butler and his wife, Seleena, the impact was so profound that the couple reached out to their home church in Texas to organize a mission trip for young families where they will build another family a home in three days.
"To be a part of this event is so special," said Gary Hoff of Hoff Funeral & Cremation Services, which has multiple locations in Minnesota. "I had no idea the poverty was so great, and what we're doing is making a big impact in the lives of this family and this community."
The trip also proved to be a catalyst for Glynn Walker, a guest of his son, Patrick, an FDLIC employee. "I work for a very large company," Walker said. "Our incentive trips involve 800 people, and I've already got a meeting set up with Vital Seed Ministries to talk about doing this type of mission-oriented project with my company. It was such an incredible and meaningful experience."
Michael Soper, CEO of Legacy Funeral Group, has been on a number of mission trips and projects, including several with FDLIC, since founding the Houston-based company in 1998.
"Growing up, my father taught me always to give back," Soper said. "I've been very blessed in my life, and it is important to give back in as many ways as I can."
Soper, who joined FDLIC in Costa Rica last year as well as in the Dominican Republic this year, says the mission trip provides an eye-opening experience.
"I don't think people realize how others live in other parts of the world," he said. "When you see for yourself the conditions people live in, it really does give you a better appreciation for the life you have."
Soper brought several members of his senior management team on the trip to the Dominican Republic. "These mission trips are a great team-building experience," Soper said. "You have people – from sales to industry leaders – dividing up the roles and working as a team. It's an opportunity to see and get to know people in a very different way."
On this trip, Soper had the opportunity to take the family to a big box store, much like a Walmart in the U.S., to shop. "We gave them a budget to get things for each of themselves and used the rest of the money to buy things for the house, including a refrigerator, bunk beds and other home furnishings," Soper said. "It's hard to describe how grateful and thankful they were. This was not just about a house and things…it was about building a new life."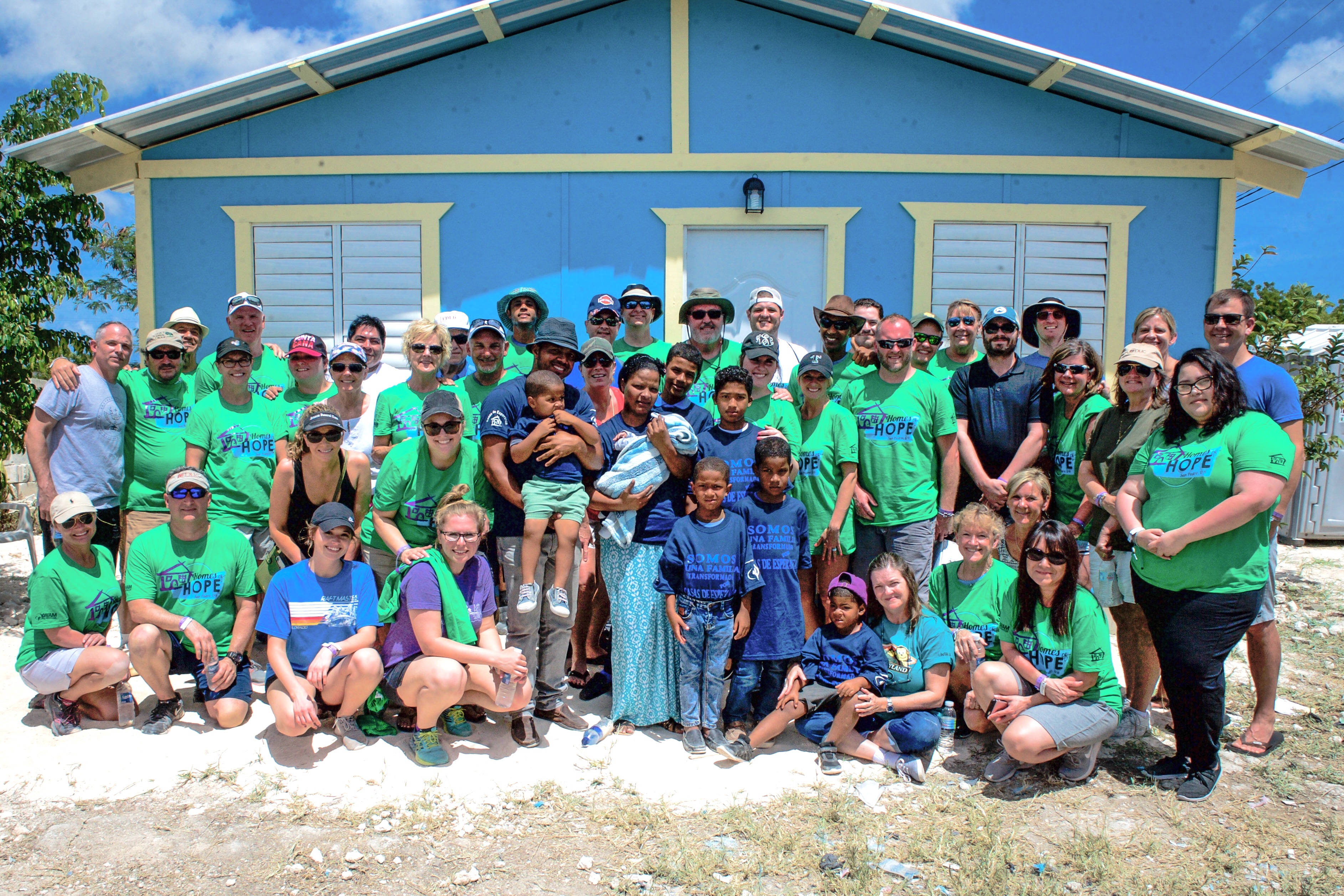 Volunteers gather with the family in front of their new home. (Photo courtesy of Funeral Directors Life)
While the days were long and hot, the takeaway for Soper was profound. "Watching other people realize the joy of service, that's remarkable," he said. "To watch people take time out of their vacation and work so hard to help others because it is just the right thing to do is powerful. It is an incredible feeling to help others."
Seale agrees.
"Nothing compares to the joy of serving others," he said. "As Scripture says, 'It is more blessed to give than to receive,' and that was certainly true for us."
This article originally appeared in the September 2018 issue of American Funeral Director, published by Kates-Boylston Publications, and is being shared with permission. Visit www.americanfuneraldirector.com to subscribe.