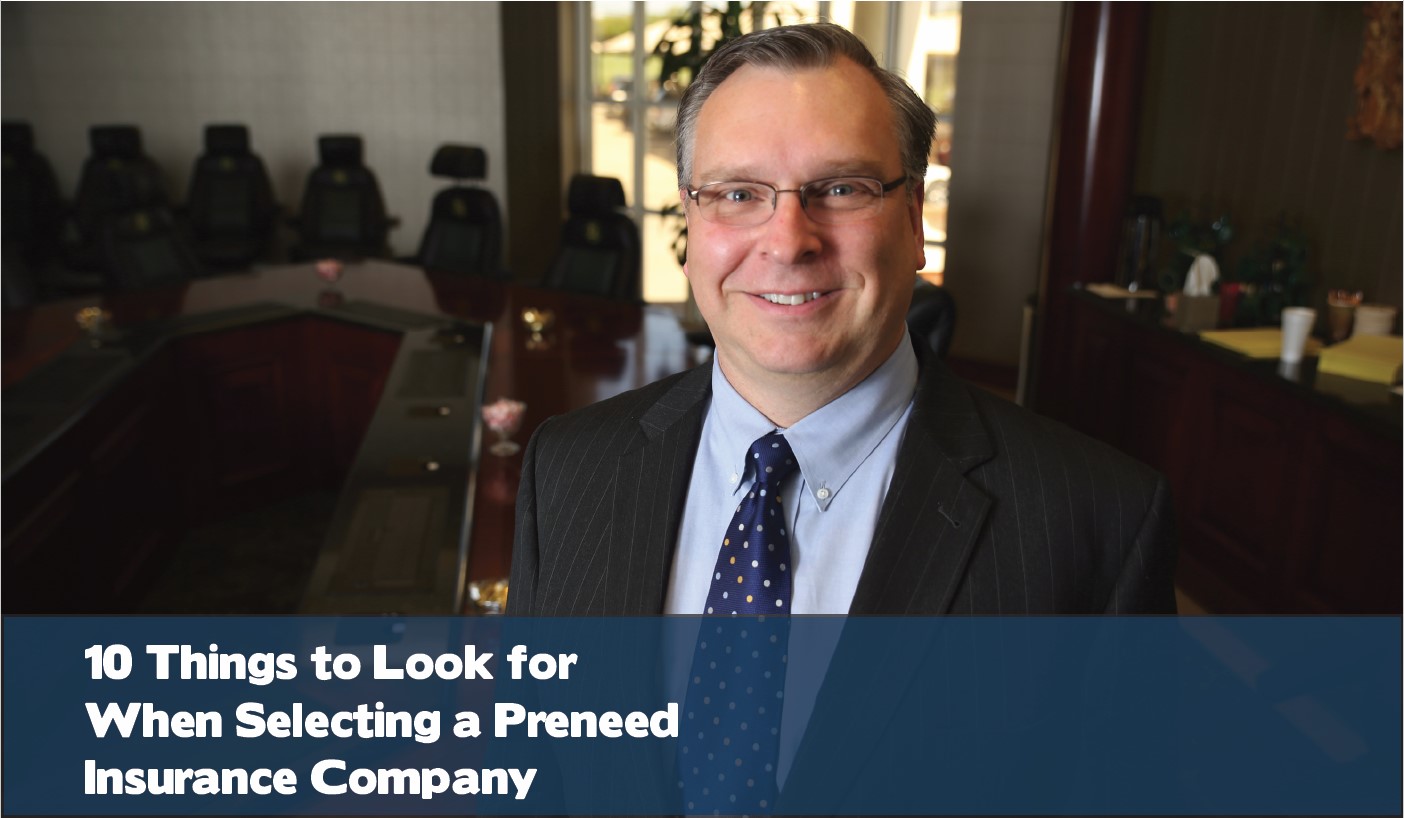 In today's increasingly complex and unpredictable market, it is more important than ever to seek out relationships with stable, reputable, and service-oriented organizations. Before selecting a preneed insurance provider in particular, there are several factors to consider. These are indicators of the company's ability to weather market trends, remain committed to the interests and needs of the funeral industry, and provide the valuable tools needed to build a firm's business and market share.
1. High A.M. Best Rating. An A.M. Best rating of A- "Excellent" or better is an absolute must. A.M. Best ratings reflect the opinion of an independent, third-party organization on the insurer's ability to meet policyholder obligations. Nothing is more important than an insurance company's ability to honor its promises. Unrated companies should be viewed with a suspicious eye.
2. Adequate Capital and Surplus to Total Assets Ratio. The ratio of Capital and Surplus to Total Assets is a key indicator of the financial health of an insurance company. You should look for a ratio that falls in between 8% and 10%. A low ratio can indicate a lack of Capital and too high of a ratio could indicate a company that is not growing its premium income.
3. Conservative Investment Mix. Look for a company that has a high percentage of bonds in their investment portfolio. A minimum of 80% bonds is recommended. And at least 95% of their bonds should be investment grade. Due to the risk of owning publicly traded stocks and the way insurance companies are required to report stock ownership in their financial statements, also look for a company that has less than 5% of their investments in publicly traded common stocks.
4. Total Assets. In general, larger companies have proven their ability to succeed in the marketplace. Look for companies who have at least $1 billion in assets.
5. Asset, Premium, and Capital and Surplus Growth. Financially healthy insurance companies time after time show growth in these key areas. The level of growth in these areas should be tightly correlated with each other and consistent over time. However, a company that is growing too fast may have its capital stretched too thin. Again, consistent growth over long periods of time is critical.
6. Commitment to the Funeral Profession. Choose a company that has shown over the course of time to be a champion of the funeral industry and that has shown itself to be a proven funeral industry partner.
7. Customer Service Department Sensitive to the Needs of the Senior Market. Companies who focus on preneed and the senior market are better equipped to deal with the challenges that result from a large "golden years" clientele. For example, look for a company who answers their phones with real people who really care. This results in families who feel that they are being listened to and understood.
8. Company Representation. The funeral service environment is more complicated than ever. Many funeral providers are looking for an insurance carrier who can help them navigate through these turbulent waters. Look for a company who has well-trained, knowledgeable, and accessible representatives who can help you grow your business and improve your bottom line.
9. Product. When considering products, it's helpful to visualize the five elements of product design as a pie. The slices of the pie are growth, commissions, premiums, value-added services, and company profit. Look for a company that provides a well-balanced offering. And because of the uniqueness of each customer, look for a company that has product options that allow you to pick how the wedges of the pie are distributed in a manner that best meets your needs. One final point on product design: If the product provides benefits that are outside of the industry norm, heed your father's advice: "If it sounds like it's too good to be true, it probably is!" This is because preneed insurance companies need to invest their reserves in the same environment. So any product that offers unusually strong benefits as compared to the market could be destined to fail.
10. Marketing. It goes without saying that every funeral home owner wants their business to grow. That's why it's important to locate a company that has an active marketing department – one that has made the commitment to provide your firm with ideas and support. A real plus would be to find a company whose marketing department is in step with its sales department, so that the synergy necessary for specific ideas and solutions will exist.
Every firm is as different as the markets they serve. Rather than taking a "shotgun approach" with your marketing program - trying different things while hoping you will discover something that works - consider how committed the company is to provide you with proven solutions, specific for your community-centered marketing efforts.
About the Author: Todd Carlson serves as the Executive Vice President of Sales and Chief Sales Officer for Funeral Directors Life and sits on the Board of Directors for Passare, Inc. Todd earned his Bachelor's degree in Mortuary Science from the University of Minnesota, and has gone on to accumulate over 25+ years of experience as both a funeral director and a preneed funeral sales professional. Todd joined Funeral Directors Life in 2006 and helped reimagine the company's sales management structure, contributing to sales growth of over 300% since he joined the company. Todd is dedicated to helping funeral home owners grow their businesses, implement innovative solutions, and become increasingly more relevant as they serve today's changing funeral consumer. He has previously presented strategies for connecting with today's consumers at the ICCFA, MN FDA, ND FDA, PA FDA, and MO FDA conventions.