Welcome back to the Benchmark series.  It's been several months since our last Benchmark production, and my how things have changed – at least from an economic perspective.  Let's take a look at a few interesting things that have affected our economy and the preneed funeral environment over the past 12 months – the Fed Funds rate, the yield on the 10-year U.S. Treasury Bond, and the Tax Cuts & Jobs Act.
In December of 2015, the Federal Reserve did something that they had not done for more than nine years – they raised the Fed Funds rate.  For those of you who don't know what the Fed Funds rate is – you're not alone.  Most people hear it on the news, but never understand what it is.  The Fed Funds rate is the interest rate used by depository institutions (banks and credit unions) to lend reserve cash balances to other depository institutions overnight.  So, essentially it's a loan from one bank to another for less than one day – overnight – not a month, not a week, not even a day – overnight!  I'm no financial genius, but that's an extremely short-term loan!
The Fed raised the fed funds interest rate in December of 2015 from a range of 0% to .25% to a range of .25% to .50%.  Then, they raised the interest rate again by .25% in December of 2016, and in 2017, they raised the interest rate 3 times, a quarter of one-percent each time.  The fed funds interest rate closed 2017 at 1.25% to 1.50%.  Through these rate increases, the Fed has basically said that the economy looks better and so, it can support higher interest rates as a means of controlling the growth of the economy.  You may not believe it, but that's what they say.
Here is a chart that shows the fed funds interest rate since January of 2014.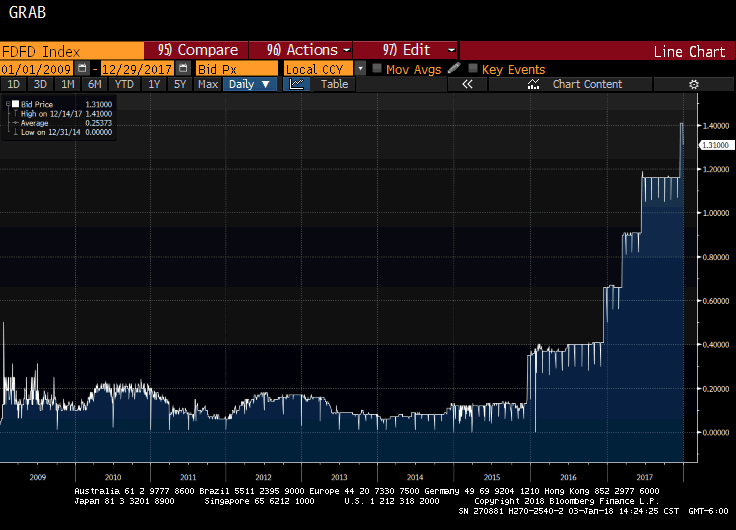 By looking at this chart, you would think that all interest rates must be trending up.  Well, you would be wrong.  Let me explain, insurance companies, banks, and other lending institutions look at the 10-year U.S. Treasury yield as the benchmark for setting their interest rates for loans, not the fed funds interest rate.  Here is what the 10-year U.S. Treasury yield has looked like since January of 2014: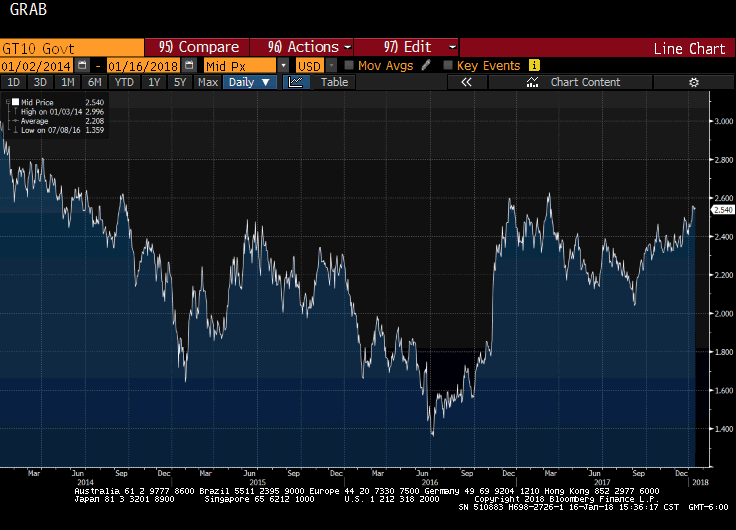 From January of 2012 through 2013, yields were really looking up.  As the chart indicates, the yield hit a whopping 3% by January of 2014 - happy days were here again!  But since the beginning of 2014, the 10-year U.S. Treasury yield has been falling.  Look at July of 2016, the yield hit a record low of 1.38%!
In November of 2016, something happened – a new President was unexpectedly elected and interest rates shot up quickly.  Since the election, yields have stayed in a pretty tight range between 2.2% and 2.5%.  So, even though the Federal Reserve has tried to influence interest rates upward by increasing the fed funds interest rate, the market is not responding in kind.
Believe it or not, I do have some good news on the interest rate front – yields may be increasing now that the Congress has passed, and the President has signed, The Tax Cuts & Jobs Act.  Lowering the corporate tax rate from 35% to 21% should stimulate the economy and cause more businesses to borrow money for expansion.
You might be wondering – "how does all of this interest rate mess and the lower corporate tax rates affect me?"  Here's one way – since the corporate tax rate was cut and since interest rates moved up a bit in 2017, FDLIC did NOT have to make any growth rate adjustments to our products!  This is great news for funeral homes and for preneed funeral purchasers! 
The next 12 months should be very interesting.  I can't wait to see what happens.  Let's watch and see what interest rates do, and maybe more importantly, what effect the tax cuts have on the U.S. economy.  Personally, I'm feeling pretty good about the future!
Thanks for checking in with us – we'll see you next time.